Joe Buck Fires Back at Past 'Jeopardy!' Winner Who Savagely Took a Shot at His Sports Broadcasting Career: 'I'm Not Going to Bed Crying and Sucking My Thumb'
Over the past couple of decades, sports broadcaster Joe Buck has been at the wrong end of criticism from fans everywhere.
When looking at his work, though, (don't read this if you're a Buck hater) he's actually pretty good at what he does. His job just has him in the national spotlight frequently, and since he's in sports media, he's not only on TV, but he's in front of passionate football and baseball fans. They think he hates their team if he just makes one semi-negative comment about it.
However, Buck recently tried out a new job, as he was a guest host on Jeopardy!, and this time he received criticism from one of the show's stars: James Holzhauer, who took to Twitter to troll him.
Joe Buck hosted 'Jeopardy!' amid an already successful sports broadcasting career
Throughout the past 20-plus years, Joe Buck has been one of the most recognized voices in sports. 
According to his Fox bio, he has been the network's lead MLB play-by-play announcer since 1996 and its top NFL play-by-play commentator since 2002. In total, Buck has called six Super Bowls for Fox, 23 World Series, and 25 league championship series.
All in all, his career has actually been so great that he received the Pro Football Hall of Fame's Pete Rozelle Radio-Television Award in 2020.
However, with the show looking for someone to hold the spot permanently, Buck recently tried out a new job as a guest host on Jeopardy!
The internet had mixed reactions to Buck's performance, but many of the haters were people who already disliked him for his NFL and MLB work.
As mentioned above, though, one person who took a shot at Buck was a past Jeopardy! winner.
Joe Buck responded to 'Jeopardy!' legend James Holzhauer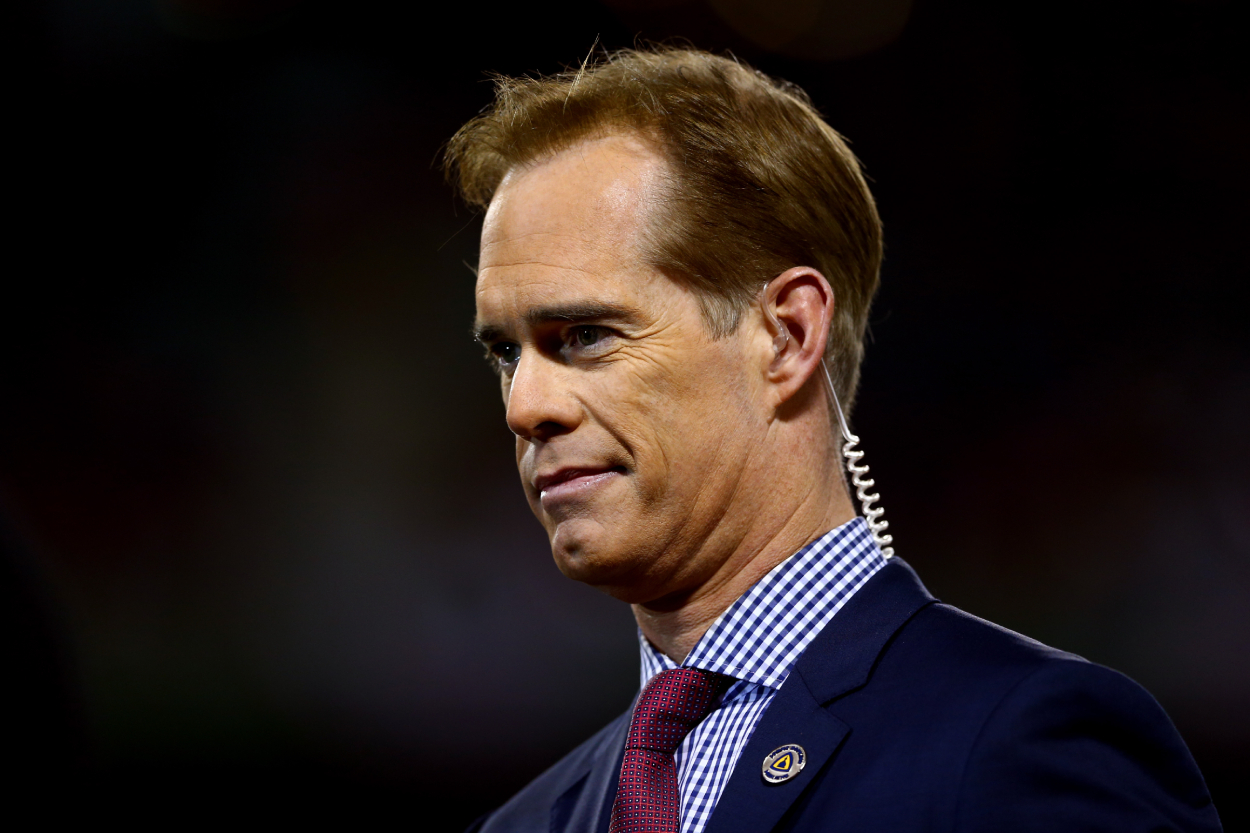 James Holzhauer is a Jeopardy! legend and a 32-time champion. So, producers and fans should hold his opinion in high regard. But his reasoning for wanting Joe Buck to permanently host Jeopardy! has nothing to do with the broadcaster's performance on the show.
"Jeopardy says whoever hosts full time will have to quit their other job, so I'm crossing my fingers it's Joe Buck," Holzhauer tweeted on Aug. 9.
Obviously, this was likely a joke. According to the New York Post, Holzhauer supposedly likes the Chicago Bears, and there are fans from nearly every team who dislike Buck for some reason. The Jeopardy! legend also said he would love for Aaron Rodgers to be the host so that the QB would no longer be on the Green Bay Packers.
Still, Holzhauer must not like Buck too much as a sports broadcaster, and the announcer recently responded on the Sports Illustrated Media Podcast.
"I wouldn't know James Holzhauer if he was sitting here in my room," Buck said on the Aug. 19 episode. "I don't know much about him. I know about his success on the show, but I don't know what kind of a guy he is. I have no idea. I couldn't care less. I'm to the point now where I am so over reacting to Twitter."
Buck said he took it as Holzhauer wanting him to accept the gig so that he has to quit being a sports broadcaster. But he also stated that criticism and Twitter reaction like that "is becoming less relevant in" his life.
"It's one of those things that I would never see if not for people in my life who can't wait to go, 'Oh, I don't know if you saw this, but James Holzhauer is ripping you,' so I don't have any context," Buck added later. "… I'm not going to bed crying and sucking my thumb because James Holzhauer doesn't like me."
The broadcaster is no stranger to receiving criticism
As mentioned several times above, Buck has dealt with criticism for years; Holzhauer's comment is nothing new to him.
Probably the biggest complaint about Buck — who was even the subject of a fan petition for him to no longer call Green Bay Packers games — is that he likes the other team. Who's the other team? Well, it's no NFL or MLB franchise in particular; every fan just thinks that he hates their squad and roots for the opponent.
Some people also still hold on to what was potentially an overreaction by Buck over 16 years ago when he was vehemently upset about Randy Moss' fake moon celebration. Many football watchers, though, don't actually have a reason to dislike him at all. They just say they hate Buck because the internet tells them that's how they're supposed to feel.
All in all, whether Buck gets a hosting job on a show like Jeopardy! or not, James Holzhauer and other sports fans must come to terms with the fact that his football and baseball coverage isn't going anywhere.