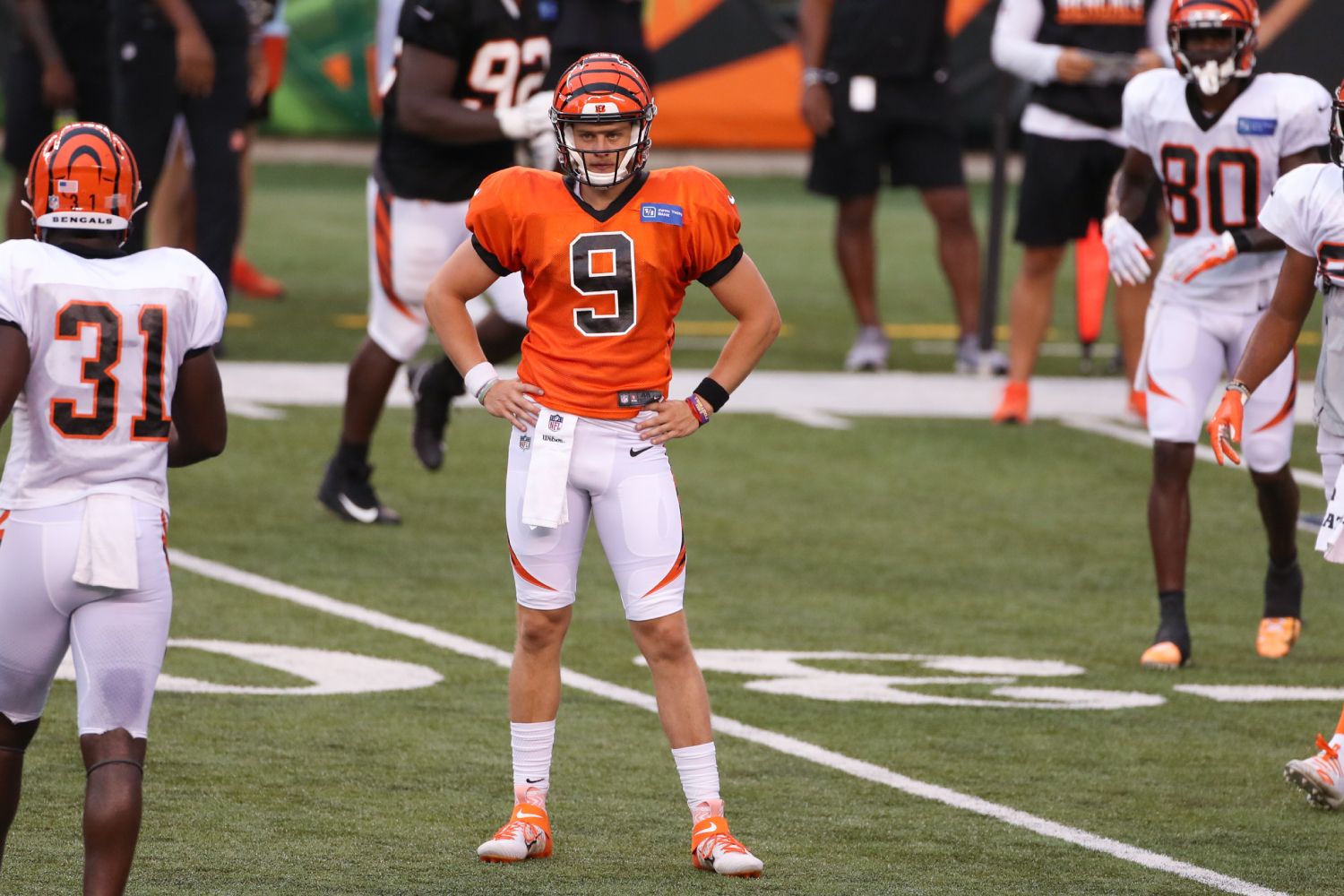 Joe Burrow Could Be Part of NFL History With Just One Snap
Cincinnati Bengals rookie quarterback Joe Burrow could be a part of NFL history with just one snap on Sunday.
He hasn't taken one NFL snap yet. Cincinnati Bengals quarterback Joe Burrow is expected to make his first professional start Sunday when the Bengals host the Los Angeles Chargers. When Burrow takes that first snap from center, he could be a part of NFL history.
Joe Burrow's road to the NFL
Joe Burrow may be coming off the greatest NCAA season ever by a quarterback. Burrow's path to a national championship wasn't a traditional one. The 6-foot-4 quarterback began his collegiate football career at Ohio State. After red-shirting his freshman year, he spent the next two seasons as a backup.
Burrow realized he didn't have much of a chance to dethrone Dwayne Haskins, so he transferred to LSU. As a junior, he became the starting quarterback for the Tigers. He threw for 2,894 yards and 16 touchdown passes in 13 games. He also rushed for seven scores.
Burrow's senior year was one for the record books. He passed for 5,671 yards and tossed 60 touchdown passes while throwing just six interceptions. Burrow also rushed for 368 yards and five touchdowns. He won nearly every award. He captured the prestigious Heisman Trophy and was named AP and Sporting News Player of the Year. Burrow guided LSU to the national title and then was the No. 1 pick in the 2020 NFL draft.
Confident Burrow very impressive in camp
During training camp, Joe Burrow has looked like anything but a rookie. He's shown why he was the top pick in the 2020 NFL draft. Burrow has been a leader on the field and has shown a high level of confidence among his teammates.
"He's a beast, an absolute beast. He's an animal out there," said Bengals tight end C.J. Uzomah to Sports Illustrated. "(Burrow is) making all the right reads. He's getting us in and out of all the right protections and making all the right checks and certain checks I didn't even know we were allowed to check into."
Burrow said he's excited for Sunday's opener against the Los Angeles Chargers. He said he isn't nervous about making his NFL debut. "Very confident," Burrow told SI. "I feel very comfortable with the offense right now. I feel comfortable with my guys and I think we're gonna be pretty good on offense. I'm excited more so than nervous, I would say."
With one snap, Burrow could be part of history
Joe Burrow is no stranger to setting records. His final season at LSU was record-breaking. Burrow can make his way into the NFL record books Sunday just by taking one snap from center.
The Cincinnati Bengals host the Los Angeles Chargers on Sunday. If Burrow makes his first start, he can add another record to his collection. If he, Baltimore's Lamar Jackson, and Cleveland's Baker Mayfield all start Sunday, as expected, the AFC North will become the first division in NFL history to have three different Heisman-winning quarterbacks start in the same week.
It's not one of the more standard records, but it might be the first of many Burrow lands in the NFL.
All statistics courtesy of Sports Reference.