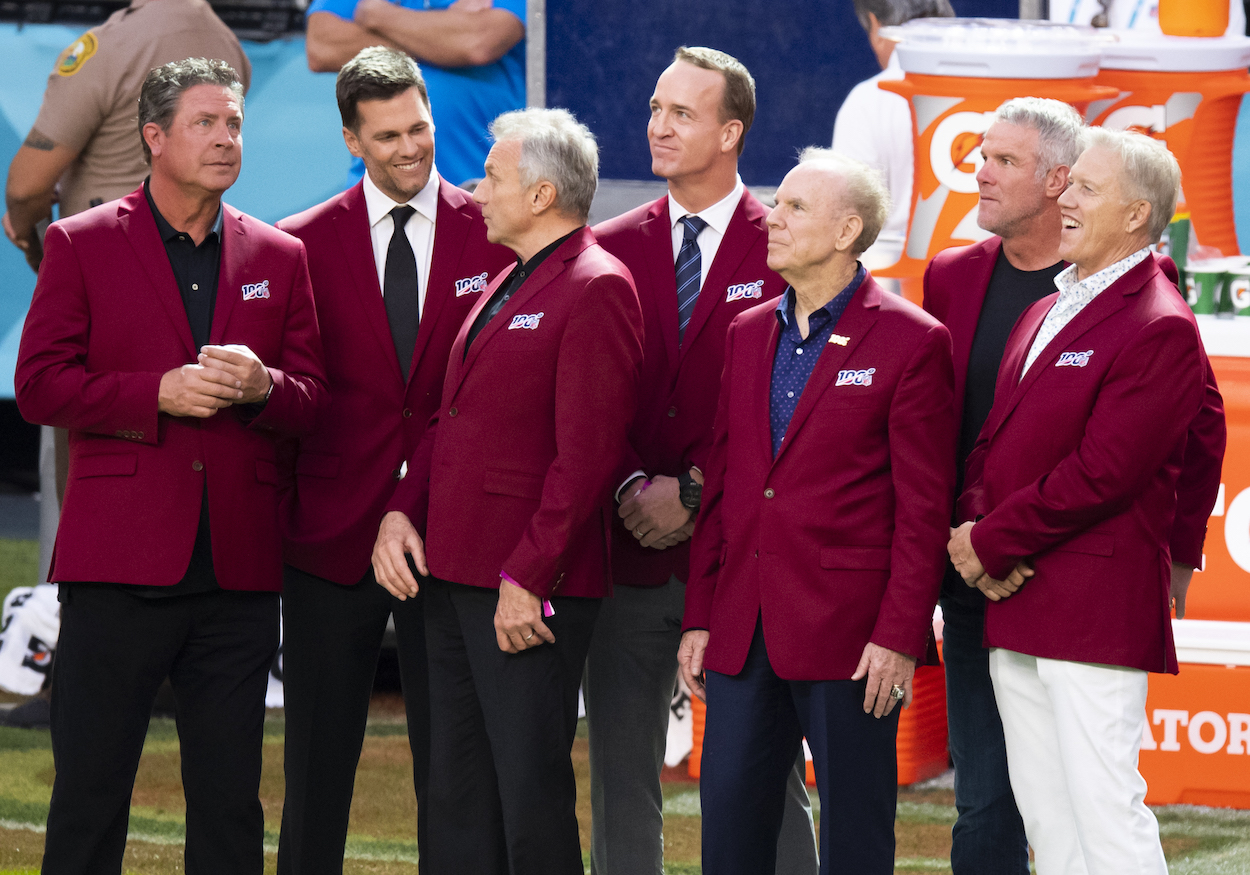 Joe Montana Definitively Puts an End to the NFL GOAT Debate Between Him and Tom Brady
The NFL GOAT debate between Joe Montana and Tom Brady is a heated one, but Montana himself just ended it for good.
Ah, the age-old GOAT debate. Sports fans nowadays are obsessed with naming the greatest of all time in any specific sport. We can't just equally appreciate the legends for what they accomplished during their careers. We have to rank them, and there has to be a clear GOAT.
In the NFL, the debate normally rages around Joe Montana and Tom Brady. Brady is the clear leader in the clubhouse with his record seven Super Bowl titles, but there's still a portion of the NFL fan base that clings to Montana as the greatest to ever do it. Well, they might want to rethink their position in the GOAT debate after Montana himself admitted Brady is at the top of his list.
Joe Montana vs. Tom Brady: Who's the GOAT?
In the ever-popular NFL GOAT debate, two names always stand out above the rest — Joe Montana and Tom Brady. And how could they not? Eleven Super Bowl rings. Twenty-two Pro Bowl selections. Five NFL MVP awards. No two quarterbacks in the history of the NFL are as decorated as Montana and Brady.
But who has earned the right to be named the true greatest of all time? Let's look at the numbers, shall we?
Brady has Montana (and everyone else) beat in Super Bowl victories with seven. Montana won four during his career. Brady also holds the NFL record for passing touchdowns with 581. Montana only managed 273, but it was a different game in the 1980s. Brady also leads Montana in completion percentage, passing yards, NFL MVP awards, and Pro Bowl selections.
The stats all point to Brady in a blowout, but some old-school fans still contend that Montana was a more impressive winner and the most clutch player to ever suit up in the NFL. Well, it might be time for those fans to officially switch sides.
Joe Montana admits Tom Brady is the GOAT
You would think Joe Montana would quickly vote for himself in the NFL GOAT debate, but that's actually not the case. Montana appeared on ESPN's First Take on Wednesday and admitted Brady has him beat after winning his seventh Super Bowl.
"I think Tom has taken his place on the top up there a long time ago," Montana said. "He's had a tremendous career, he's fun to watch. Everybody always contests over that, but I think if you look at what Tom has been able to accomplish in his time that he's played, I think it puts him definitely up there at the top of the list.
"There's a lot of great guys, as I said, before me, you go back to Otto Graham, who won 10 or 11 championships. It's hard to compare them, but if you're looking at it, yeah, definitely Tom at that point."
Well, there you have it. The GOAT debate has officially been settled.
Tom Brady will be touched by Joe Montana's kind words
Growing up as a San Francisco 49ers fan, Brady idolized Montana. When he started to chase a football career of his own, he wanted to be like Montana. Brady will never admit that he's passed his childhood hero as the greatest NFL player ever, but hearing it from Montana directly will put a huge smile on his face.
"I don't ever see myself like him," Brady said of Montana in 2016. "He was so spectacular and I think he's in a league of his own. I'm going to try to keep finding ways to help my team and be the best I can be every week. I feel like I've learned a lot over the last few years with my style of play. I love being here, competing and hopefully winning.
"And that's what Joe did. He was a winner. Every time he took the field, it felt like the 49ers were going to win. I remember rooting for that team when Joe was playing quarterback and you always felt like they were going to win, no matter who they were playing, where they were playing at."