Joey Logano Battled Terrible Personal News While Nearly Winning Another Championship
NASCAR star Joey Logano prides himself on being able to compartmentalize his personal and professional life to be at his best in both. Fans saw that at the start of the 2022 season when the Team Penske star won the Busch Light Clash while knowing his wife would be giving birth the next day.
What none of us saw, however, was the heartache Logano and wife Brittany endured 15 months earlier. The two-time NASCAR Cup Series titlist nearly logged another championship performance under the most trying circumstances of his career.
Joey Logano is heading for the NASCAR Hall of Fame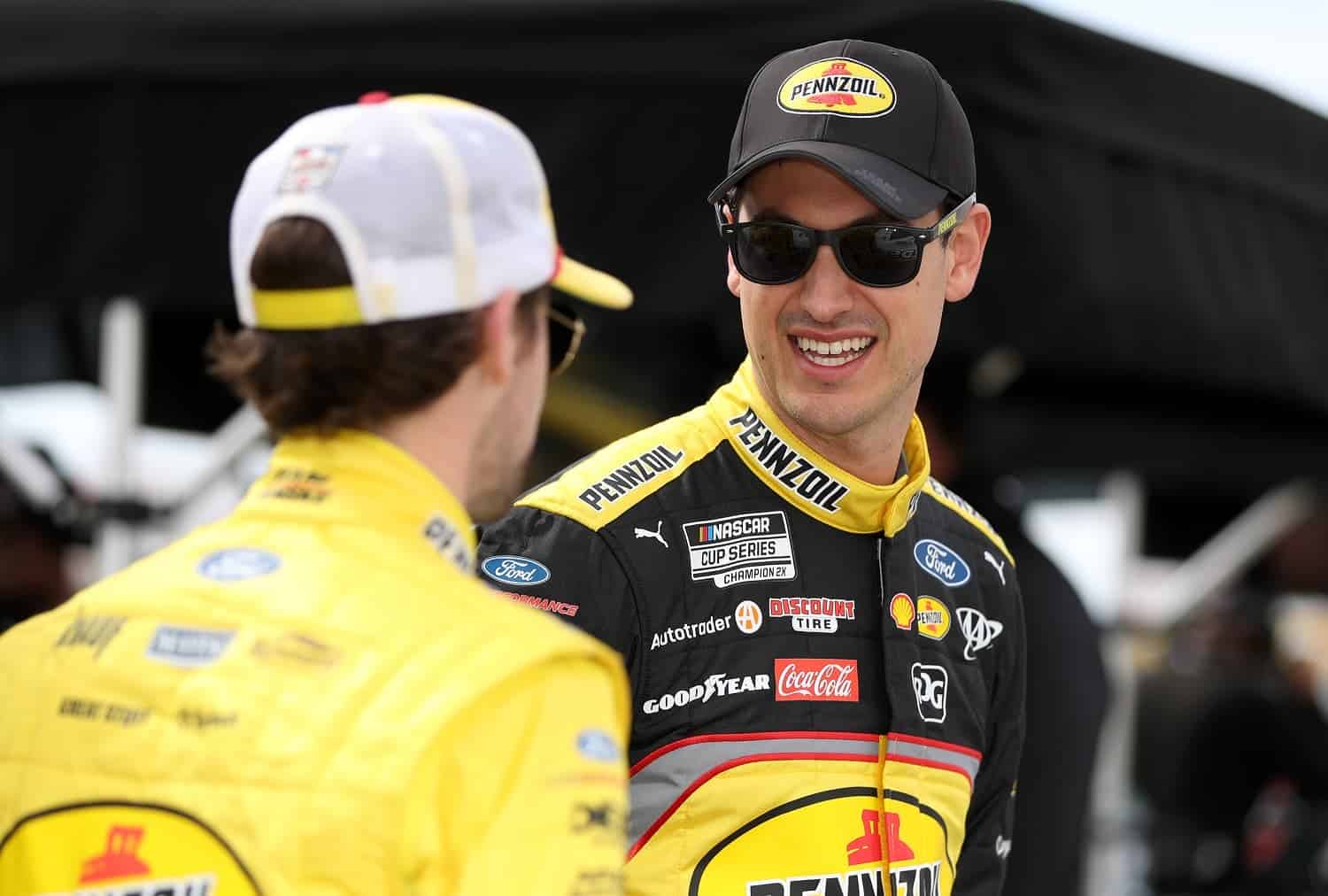 Team Penske star Joey Logano is already sitting on a pair of NASCAR Cup Series championships and could be in the mix for more every season between now and when he retires. Considering that he is only 32 now and five years or so away from when drivers typically peak, there could come a day when he's on the cusp of matching the seven titles apiece earned by Richard Petty, Dale Earnhardt, and Jimmie Johnson.
Logano already owns 31 Cup Series wins and 30 more in Xfinity Series cars. His triumphs in the top series include the 2015 Daytona 500 and the Championship 4 races wrapping up the 2018 and '22 seasons.
Those are the credentials of a future Hall of Fame inductee. It's merely a matter now of what the Connecticut native adds to his list of accomplishments between now and when he retires.
Joey Logano nearly already earned his third Cup Series title
Other than Paul Wolfe arriving after nine years as Brad Keselowski's crew chief, Joey Logano's 2020 Cup Series season might as well have been a clone of his title run two years earlier. He finished with the same number of wins (three) and nearly identical totals of top-five finishes and laps led. And, as was the case in 2018, Brittany Logano was pregnant during the season.
Shortly before the 2023 season kicked off, Logano sat down with Graham Bensinger for an interview in which he revealed that the end of the 2020 season played out unlike anything the Loganos could have imagined. Brittany experienced complications in her pregnancy the week that Joey was competing in the Championship 4 in Phoenix, and her obstetrician delivered bad news hours before the driver was scheduled to do media day interviews.
"We're both a wreck, and then I've got my phone ringing saying, 'Hey, where are you? You're late,' Logano recalled. "And I'm like, 'Well, a little bigger fish to fry right now.' You're trying to figure it all out, and then you've got to turn it on and say, 'Hey, I'm ready to race for a championship this weekend.'"
Brittany miscarried during the race, 2,500 miles away. Joey almost pulled off the win, leading nearly the entire opening stage and 125 laps overall, but Chase Elliott was relentless down the stretch and led the final 43 laps to secure the title.
The Team Penske veteran tries to separate work and family
Joey and Brittany Logano have three young children now. That can make for a hectic life under any circumstances, but it's especially true when his job puts him on the road three or four days a week for nine months of the year.
"I think it makes him almost focus more on work because he doesn't want his work to notice and for them to think that he is stepping back from things because of his personal life," Brittany said.
The driver speaks of his ability to give everything he has to racing when the job calls for it but also being able to flip the switch.
"When I'm at home and I'm with my family, it's 100% family," he said.
Weekends from February to November belong to the company, but Logano feels a level of responsibility that goes beyond answering to team owner Roger Penske.
"I owe that to not just Roger Penske but everybody that works there, my sponsors, the engine shop," he explained. "There's thousands of people that count on me to drive the car after they've done all the work to get their bonuses. That's how I look at it. I've got to do this for them as much as I do it for my own family, right?
"They're counting on me for Christmas gifts under the Christmas tree. It eventually comes down to the guy holding the wheel, and so I can't minimize that when my personal life has changed."Got a question or observation about racing? Sportscasting's John Moriello does a mailbag column each Friday. Write to him at [email protected]