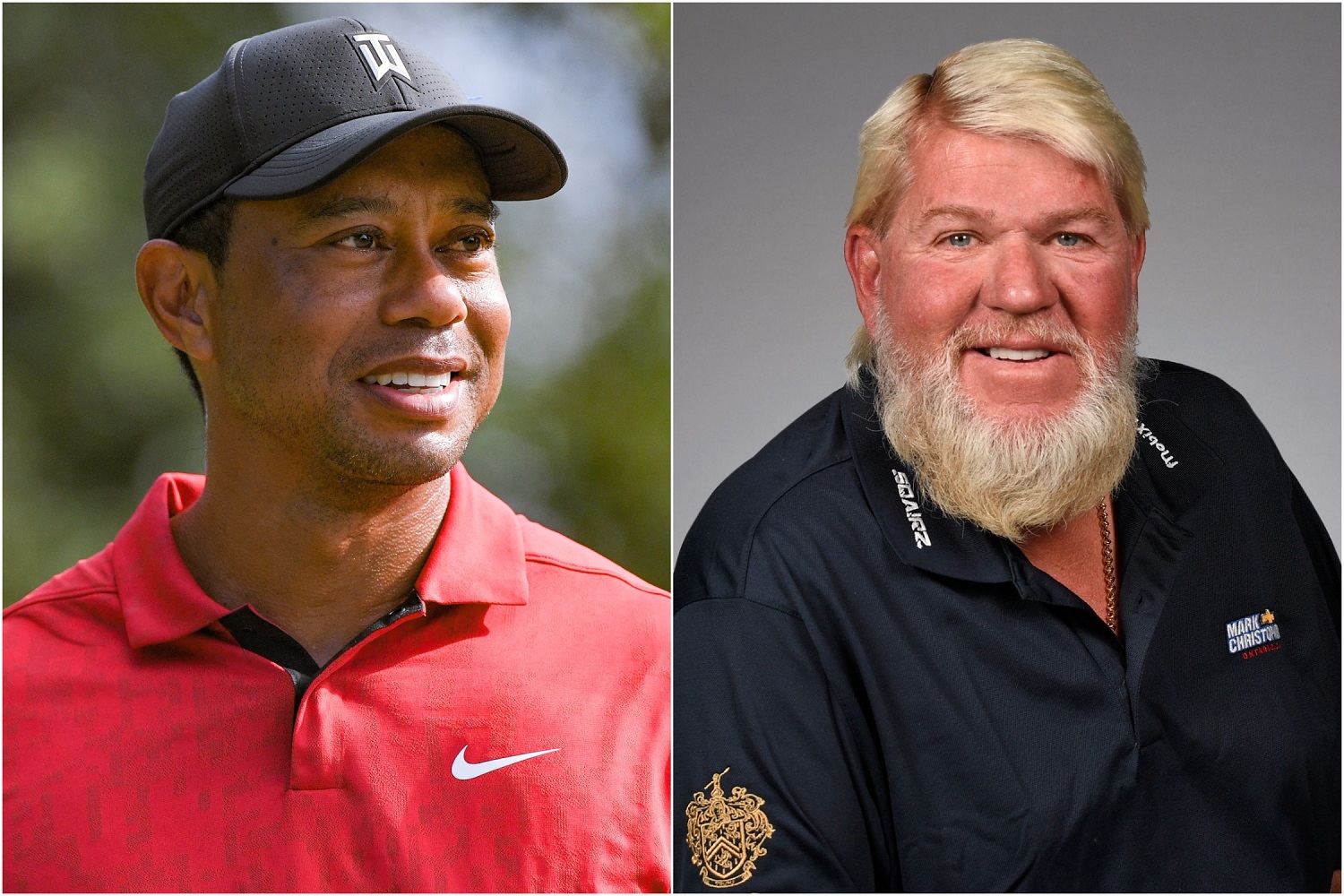 John Daly Calls 'No Harm, No Foul' on Tiger Woods' Much-Discussed Criticism of Him
John Daly doesn't feel offended by a comment that most understood to be a direct shot at him by Tiger Woods.
Professional golf returned to what passed for a normal schedule in 2021 and even managed to end the year with some memorable fun as John Daly and Tiger Woods dueled in father-and-son action at the PNC Championship in Orlando.
In the aftermath, Daly put to rest an assumption having to do with two of the best-known personalities in their generation of golfers. If there's any bad blood or bruised feelings between the two golfers, then it certainly isn't over a 2019 incident that people previously referenced.
John Daly and his son outdueled Tiger Woods and son Charlie
The PNC Championship has become a staple of the unofficial PGA calendar thanks to some big names and a television-friendly format that features fathers and sons teaming up in a two-day scramble format. It's not the U.S. Open, but it's also not a bunch of 4-handicaps slogging around an executive course.
Last month, John Daly and his son, John Daly II, finished at 27-under-par for 36 holes to beat Tiger Woods and his son, Charlie, by two strokes. The teams each fired 57s in the final round, the kind of clutch play that TV viewers eat up.
The Dalys scored $200,000 for the triumph in a field that included father-and-son teams headed by Justin Thomas, Lee Trevino, Henrik Stenson, Gary Player, and Vijay Singh.
Tiger Woods took exception to John Daly wanting to use a cart at the PGA Championship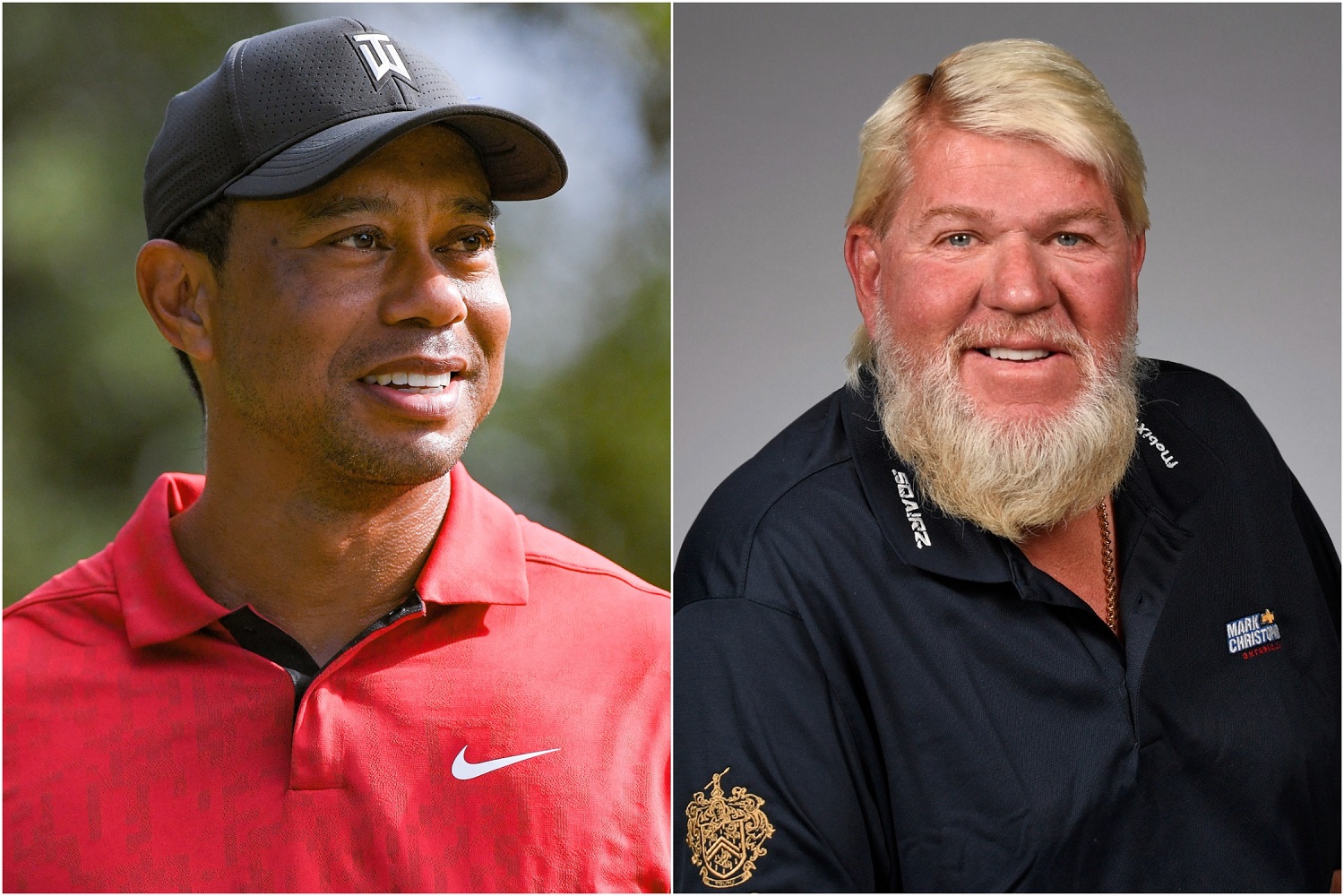 After John Daly and his son took home the title at the PNC Championship last month, the winner of the 1991 PGA Championship and '95 British Open joined Bob Memery on the Full Send Podcast, where they delved into a number of topics. Naturally, Tiger Woods' name came up.
Surprisingly, though, Daly shot a hole in the assumption that a remark that Woods made about Daly in 2019 regarding that year's PGA Championship at Bethpage Black had damaged their friendship and professional relationship.
By then, Daly was past the best years of his pro career. He had missed the cut in his previous nine majors and hadn't managed better than a tie for 15th in a grand slam since his 1995 British Open triumph.
Various physical problems led Daly to seek to play at Bethpage using a cart. When reporters asked about that request, Woods responded, "As far as J.D. taking a cart, well, I walked with a broken leg, so …"
Woods was referencing his epic performance in the 2008 U.S. Open at Torrey Pines, the 14th of his 15 major championships. He underwent arthroscopic surgery on his left knee shortly after The Masters that spring, but he ended up playing the U.S. Open with a torn ACL and a double stress fracture of his tibia, which went undisclosed until he shut down his season two days after the victory.
For what it's worth, Woods has consistently opposed using carts on the PGA Tour.
John Daly cleared the air about what many presumed was an incident creating bad blood
In the podcast interview, John Daly explained that he didn't necessarily perceive Tigers Woods' comment about using a cart as a personal affront. In Daly's mind, the media blew Woods' words out of proportion.
"He didn't know the facts because the media, 'the media' didn't tell him I had diabetes and I had a bad two knees and my hips out and all this stuff," Daly said, according to BroBible.com. "He apologized to me at dinner the other night. I mean, he's fine. I love Tiger."
If that's the case, then John Daly's an even cooler dude than we thought.
Like Sportscasting on Facebook. Follow us on Twitter @sportscasting19.