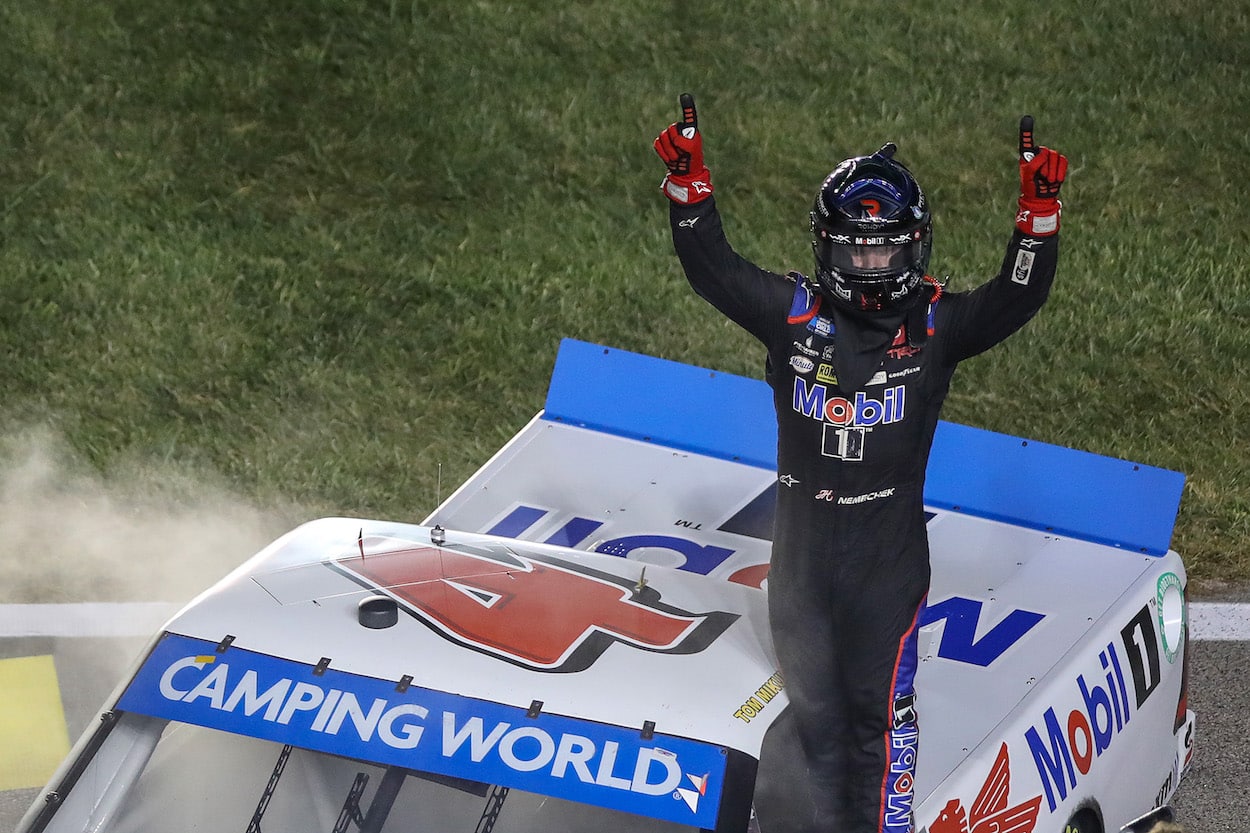 John Hunter Nemechek Faces the Most Pressure in Truck Series Playoffs After Unusual Decision
The pressure is on for John Hunter Nemechek, and it's a product of his own unusual decision.
John Hunter Nemechek has had one of the more unique NASCAR career trajectories in recent memory, and the final three races of the Camping World Truck Series season might go a long way to determine his next step.
Nemechek spent several years working through the NASCAR ranks
John Hunter Nemechek, 25, is the son of former Cup Series driver Joe Nemechek and drove for the family-owned NEMCO Motorsports team in the Truck Series as early as 2013, back when he was 16 years old. He went full-time in the series with his father's team in 2015 and competed in the series as a full-time driver through 2017, making the playoffs and winning a pair of races in each of the final two seasons.
He split 2018 between the Truck Series and Xfinity Series. Nemechek won one more race for the family team with the spring Truck Series race at Martinsville Speedway, and he scored his first Xfinity Series win in the fall event at Kansas Speedway in the No. 42 car for Chip Ganassi Racing.
Nemechek moved to GMS Motorsports to drive the No. 23 car in 2019 and made the playoffs despite going winless. He then found himself in the Cup Series full-time as a 23-year-old with Front Row Motorsports in 2020.
His debut Cup Series season did not go particularly well, though. He registered three top-10 finishes, although two came at Talladega Superspeedway, which typically produces unusual results because of the pack racing it features.
Nemechek managed to finish on the lead lap in only 15 of 36 races in the No. 38 Ford and finished 27th in the final points standings.
Typically, young drivers with small teams tend to either stick it out for a few years with their current team in hopes of catching the attention of bigger organizations, or they quickly flame out and settle for life in the Xfinity or Truck series.
John Hunter Nemechek made the unusual decision to return to the Truck Series
On the contrary, John Hunter Nemechek actually chose to go back to the Truck Series.
He announced after the 2020 pandemic-altered campaign that he would drive the No. 4 truck for Kyle Busch Motorsports, which had been one of the powerhouse organizations for a decade with 80 wins and two championships since it entered the series in 2010.
Nemechek's decision to drop back to the Truck Series was a gamble. He risked falling off the radar of Cup Series teams because he was effectively back in the minor leagues, and anything short of multiple wins and championship contention would be considered a disappointment in such strong equipment.
He has done well in his two years with KBM. Nemechek led the series with five wins and finished third in the playoff standings in 2021. He has two wins to go with a series-high six pole awards this year.
A 12th-place run in the most recent race at Bristol Motor Speedway has him fifth in the playoff standings with three races remaining on the schedule. He needs to gain at least nine points or win one of the races at Talladega and Homestead-Miami Speedway to qualify for the Championship 4 in a second consecutive season, and the pressure to do so might be as extreme as any driver faces in the series.
Nemechek has not yet announced plans for 2023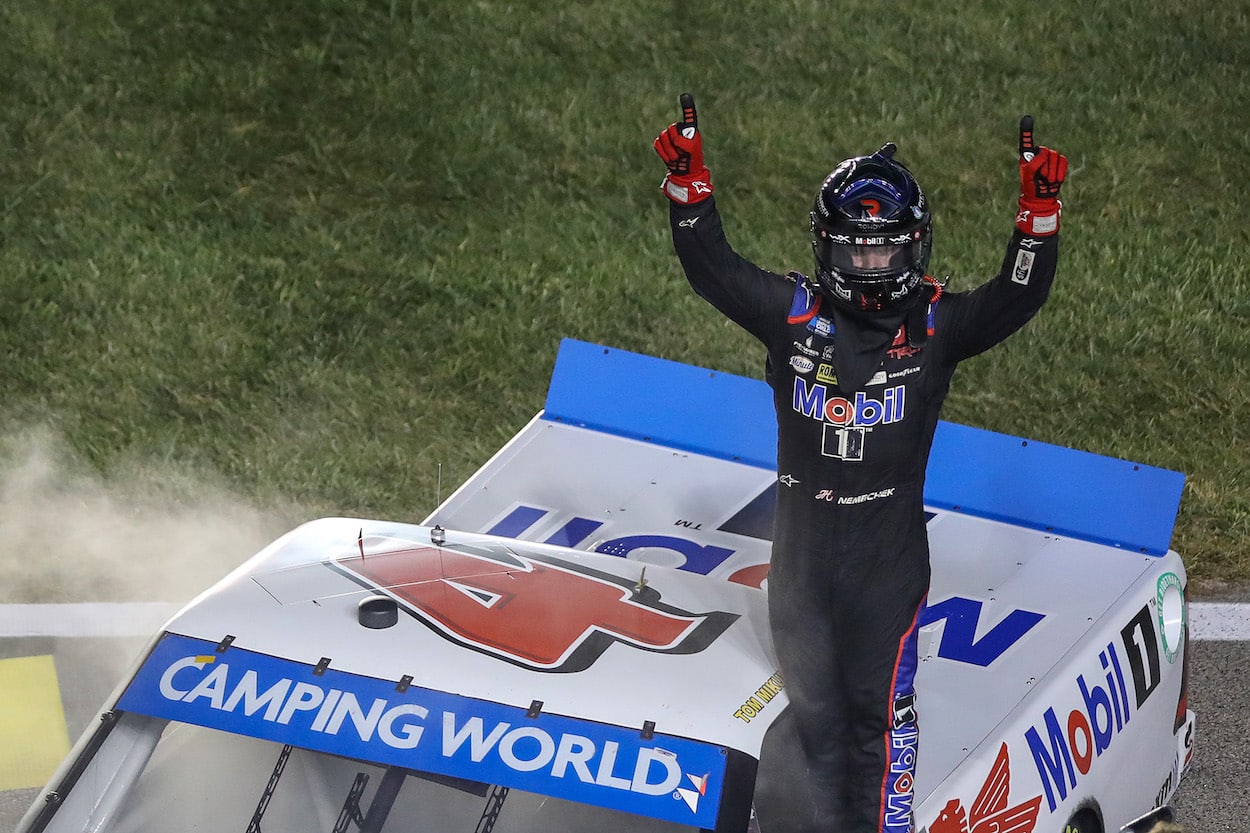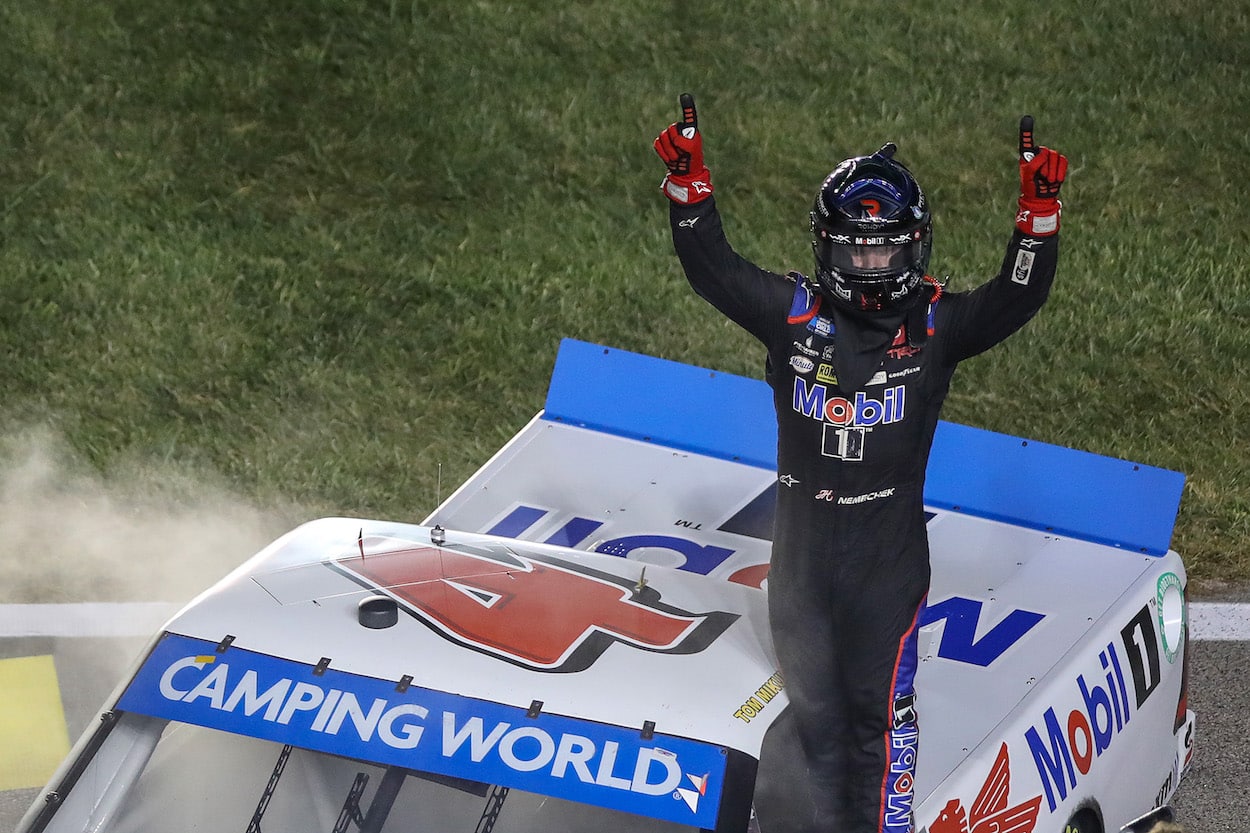 Nemechek's future is uncertain after team owner Kyle Busch announced he will leave the No. 18 Cup Series car for Joe Gibbs Racing after the season and move to the No. 8 ride for Richard Childress Racing.
Busch said his Truck Series team would continue to operate, although it would do so as a Chevrolet team aligned with RCR rather than as the Toyota team it has been with JGR.
Complicating matters is the fact Nemechek has driven three races in the No. 18 Xfinity Series car for JGR this season. He finished second in April at Richmond Raceway but has not finished either of his other two races with the organization. He did, however, post a pair of top-5s in seven other races for Sam Hunt Racing.
Nemechek's path back to the Cup Series could have come with the Toyota-based 23XI Racing team after Kurt Busch suffered a head injury in a qualifying crash at Pocono Raceway on July 23, but JGR had 23XI put Joe Gibbs' grandson, Ty Gibbs, in the car instead.
All of the top available Cup Series rides already appear to be full for 2023, so Nemechek's options might be limited to JGR or SHR in the Xfinity Series or a shift with KBM to Chevrolet in the Truck Series.
Several of the eight remaining Truck Series playoff drivers could use a title to boost their careers, but Nemechek could be looked at as a failure if he doesn't win given he has top-level experience and drives one of the best trucks in the series.
This was the path Nemechek thought would lead him back to the Cup Series. Now the pressure is on high to show it was the correct decision.
All stats courtesy of Racing Reference.
Like Sportscasting on Facebook. Follow us on Twitter @sportscasting19 and subscribe to our YouTube channel.