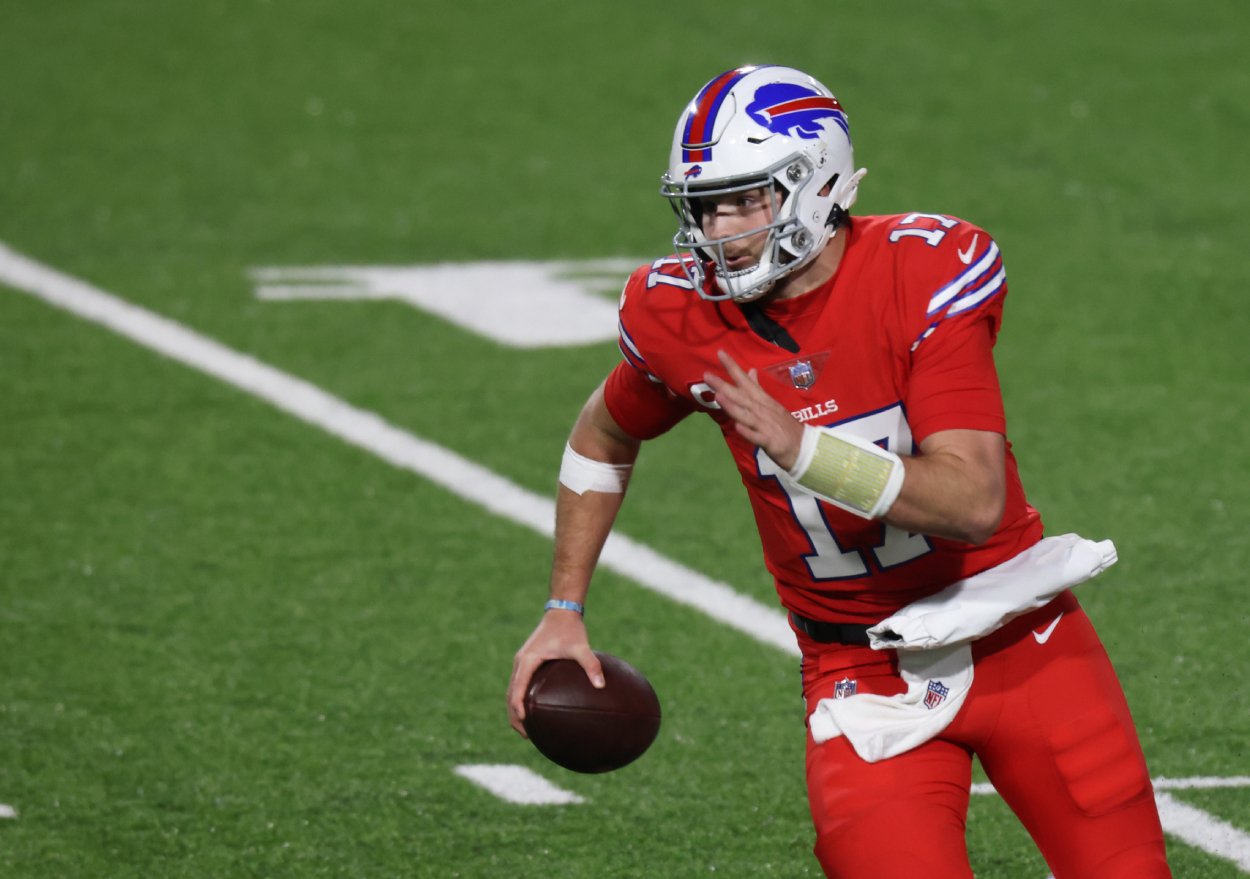 Josh Allen Gets Warning From Steelers Defensive Coordinator Ahead of Season Opener
Buffalo Bills quarterback Josh Allen is a dual threat at quarterback.
Josh Allen and the Buffalo Bills are expected to make some noise in the NFL this season. Fresh off a berth in the AFC Championship Game, Allen and the Bills are the favorite in the AFC East and begin their quest for a Super Bowl at home Sunday with a meeting against the Pittsburgh Steelers.
Allen has emerged as one of the top quarterbacks in the league, mainly because of his threat as both a passer and runner. Steelers defensive coordinator Keith Butler offered a warning for when Allen decides to use his legs against his team.
Josh Allen and the Bills knocked off the Steelers a year ago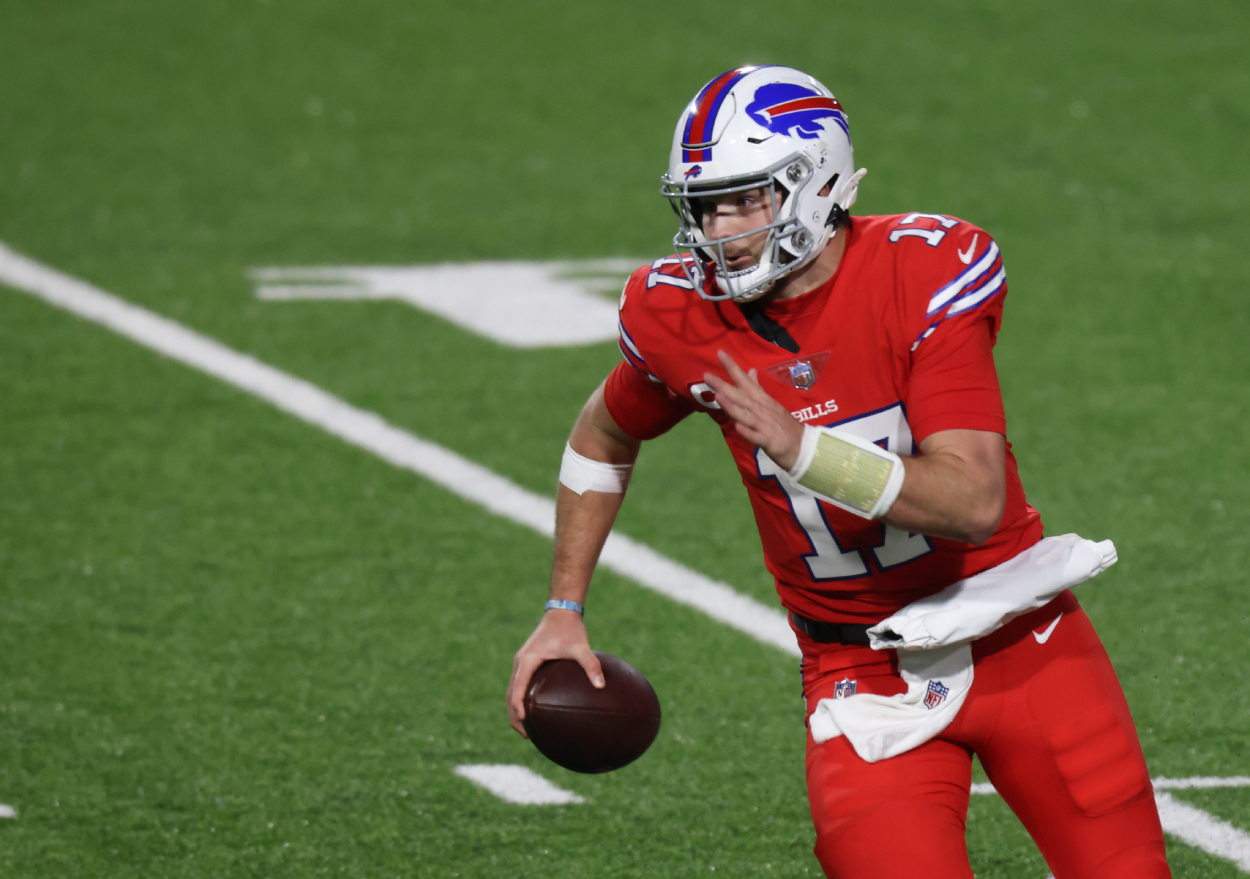 Last season, Allen and the Bills handed the Steelers their second loss of the year in Week 14. It came in the midst of a stretch when Pittsburgh lost four of five games to end the season after opening the year 11-0. The teams were clearly headed in opposite directions, with Buffalo showing lots of promise under the leadership of Allen.
In that Steelers game, Allen hurt the Steelers with his arm, not his legs. He only rushed six times for 28 yards, but he threw a pair of third-quarter touchdown passes to break open a 9-7 halftime lead. Allen threw for 238 yards and the two scores in a 26-15 win.
The Bills have defeated the Steelers in their last two meetings, and Allen is hoping to make it three straight. The Bills enter Sunday's game as a 6.5-point favorite.
Steelers DC Keith Butler has a warning for Josh Allen
Allen has had much success in his brief NFL career, both as a passer and a runner. Allen is a 6-foot-5, 237-pounder with a rifle arm. Combine that with his running ability, and he's tough to stop. In his three seasons with the Bills, Allen has rushed for 1,562 yards and 25 touchdowns in the regular season.
The Steelers are hoping to take that running dimension away as Butler offered a warning to Allen if he plans on running Sunday. Butler said if Allen wants to be a running back, the Steelers won't be afraid to treat him like one.
"I hope he does try to finish his runs like a running back. We'll treat him like a running back," Butler said, according to Tim Benz of the Tribune-ReviewSports. "If he wants to be treated like a running back, we'll do that, too."
Butler wasn't finished.
"If you're going to run the ball, that ball attracts a lot of attention in the NFL. There's usually a price to pay. We'll see what happens in the game."
Butler compared Allen to a young Ben Roethlisberger
The Steelers counter Allen with veteran Ben Roethlisberger. At 39 years old, Big Ben isn't what he once used to be, but Butler said Allen reminds him of the young Pittsburgh quarterback with his strong arm and mobility. Allen said he still admires what Roethlisberger can do with the ball.
"You just see the physical ability that he has, whether it's driving the ball downfield or being able to throw three techs (defensive tackles) off of him," Allen said of Roethlisberger, according to NYup.com. "Watching his game back in the day just like the play was never over. It's never over with him.
"He's able to find ways to escape and kind of get the ball out in some funky ways. … He was super fun to watch, he still is super fun to watch."
Despite the warning by Butler, it's not likely Allen will be changing his game against the Steelers.