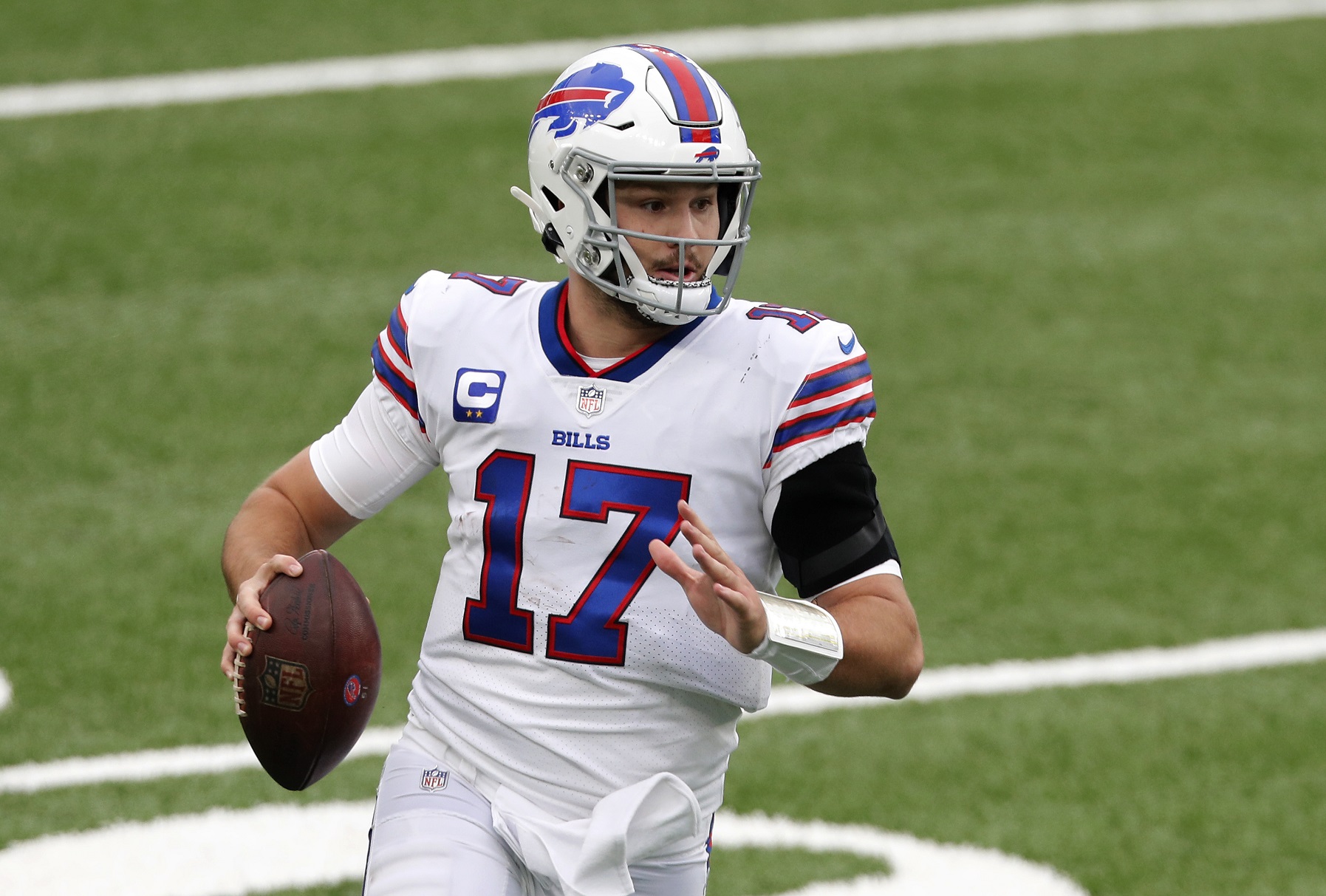 Josh Allen's Grandmother Inspired a $200,000 Fundraiser By the Bills Mafia
Buffalo Bills fans have donated more than $200,000 to a children's hospital in memory of quarterback Josh Allen's grandmother, who died over the weekend.
Football fans in Western New York prayed that their team had found the next Jim Kelly in the first round of the 2018 NFL draft. Three seasons later, Buffalo Bills fans are showing how grateful they are to have the first Josh Allen as their quarterback.
The hardcore supporters known as the Bills Mafia are at it again with another stunning fundraising effort straight from the heart, pledging more than $200,000 in less than two days to support a cause important to their latest hero.
Josh Allen went above and beyond in NFL Week 9
Third-year quarterback Josh Allen's statistics during the Buffalo Bills' 7-2 start have been positively dizzying. He began the season by throwing for 1,326 yards and 12 touchdowns through four games on his way to a 122.7 passer rating.
The next four weeks, including losses to the Tennessee Titans and Kansas City Chiefs, weren't as good, due in part to a combination of an injury to his non-throwing shoulder and lousy weather in the loss to the defending Super Bowl champions.
However, Allen returned to top form in the Week 9 victory against the Seattle Seahawks and star quarterback Russell Wilson, one of the midseason favorites for MVP honors.  Allen had arguably the finest day of his young career. He completed 31 of his 38 attempts for 415 yards, three touchdowns, and no interceptions in leading the Bills to a 44-34 win.
Allen drove Buffalo's offense to three touchdowns and a field goal in its first four possessions, then iced the win with a 3-yard keeper in the fourth quarter to make the score 41-20.
It was only afterward that fans learned that Allen was playing with a heavy heart.
Josh Allen's grandmother inspired a $200,000 donation by the Bills Mafia
The Buffalo Bills revealed following the NFL Week 9 victory against the Seattle Seahawks that the grandmother of quarterback Josh Allen died on Saturday. Patricia Allen, who resided in California, was 80 years old.
The media did not learn the news until after Allen had already spoken with reporters following the game, and a team spokesman said the emerging NFL star will comment Wednesday during his weekly media availability.
When he does speak, count on Allen gushing about the Bills Mafia, as members of the team's hardcore fan base have once again opened their wallets to show some love and do good in the community. Just as Bills fans embraced Jim Kelly as he took the team to four straight Super Bowls, they have come to appreciate Josh Allen.
Upon hearing of Patricia Allen's death, those fans started making donations in $17 increments – the quarterback wears No. 17 on his jersey – in her memory to Buffalo's Oishei Children's Hospital, an organization that Allen has championed since arriving in town.
By noon on Tuesday, less than 48 hours after the game against the Seattle Seahawks ended, the hospital was reporting more than $200,000 in donations, according to The Buffalo News.
"I can't tell you how special it is to see the outpouring of support for me and my family during this tough time," Allen in a statement released by the team. "The donations made to OCH in honor of my grandmother would make her so proud. Thank you Bills Mafia! It is an honor to be your quarterback."
He also tweeted: "At a loss for words. Buffalo, I love you."
This is nothing new for the Bills Mafia
Generosity on the part of the Bills Mafia is nothing new. When a Baltimore talk-show host called Buffalo a city of losers earlier this year, Bills fans did their homework and learned that his mother had been diagnosed with Alzheimer's Disease. They quickly raised more than $7,000 in donations to the Alzheimer's Association in her honor.
Their most famous charitable effort began on New Year's Eve in 2017 and also involved the No. 17, this time in tribute to then-Cincinnati Bengals quarterback Andy Dalton.
Dalton threw a 49-yard touchdown pass to Tyler Boyd in the final minute to beat Baltimore, knocking the Ravens out of the playoff hunt and giving the spot to the Bills. Fans delirious over their first playoff berth in 17 years started donating money in $17 increments to a charity run by Dalton and his wife. The total surpassed $450,000, and the same fans also came up with more than $100,000 to support a youth sports charity formed by Boyd.