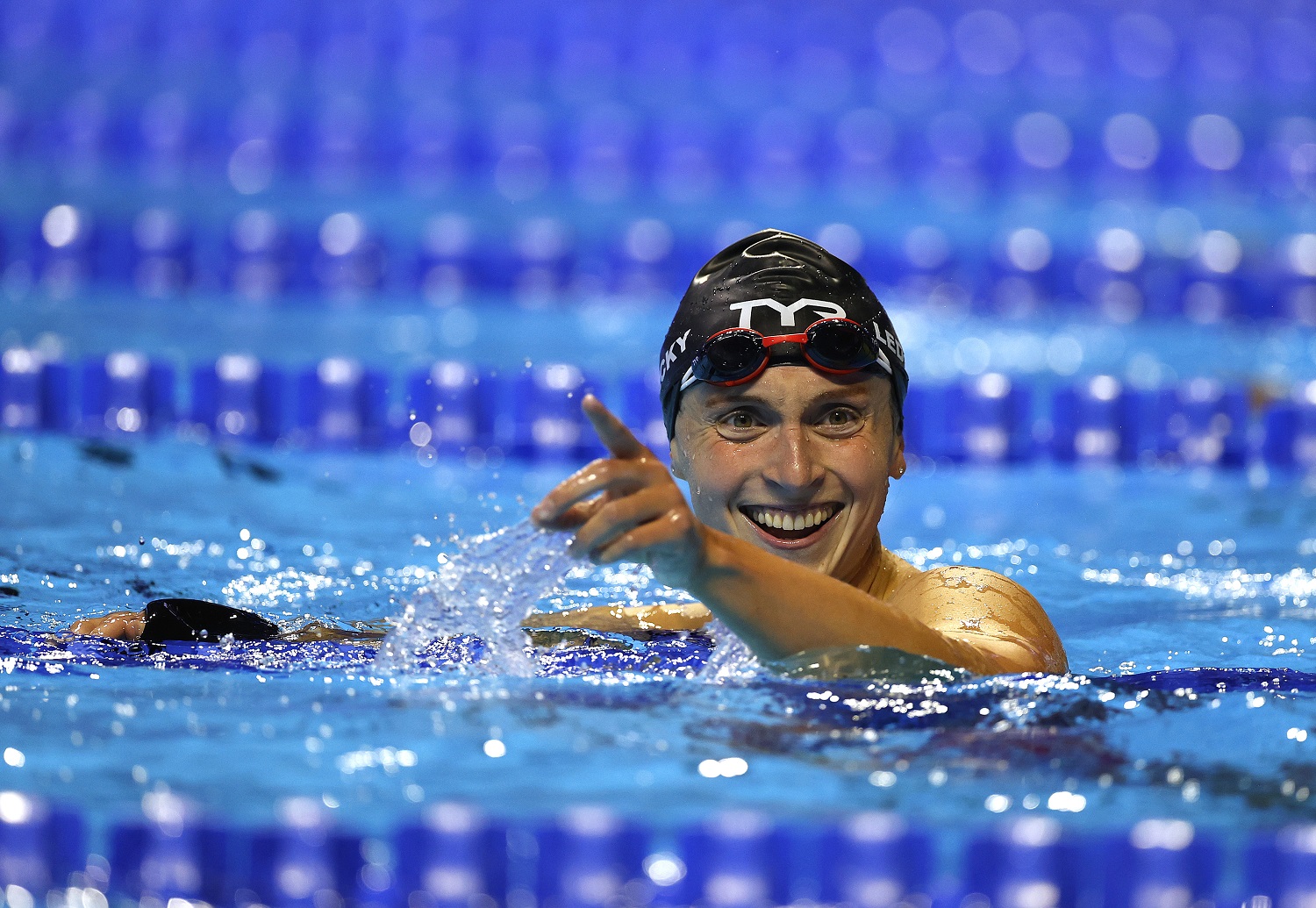 Katie Ledecky and Michael Jordan Shared the Cutest Imaginable Moment Long Before Her Olympic Stardom
Five-time swimming gold medalist Katie Ledecky is positioned to be one of the huge success stories of the Tokyo Olympics.
When most Americans first saw Katie Ledecky, she was a steely-nerved 15-year-old swimming to gold in the 2012 London Olympics. She won the 800-meter freestyle going away and harvested four more golds at Rio de Janeiro in 2016. Little did we know that she foreshadowed that sort of determination by playing peekaboo with Michael Jordan as a toddler.
Katie Ledecky will be must-see TV at the Tokyo Olympics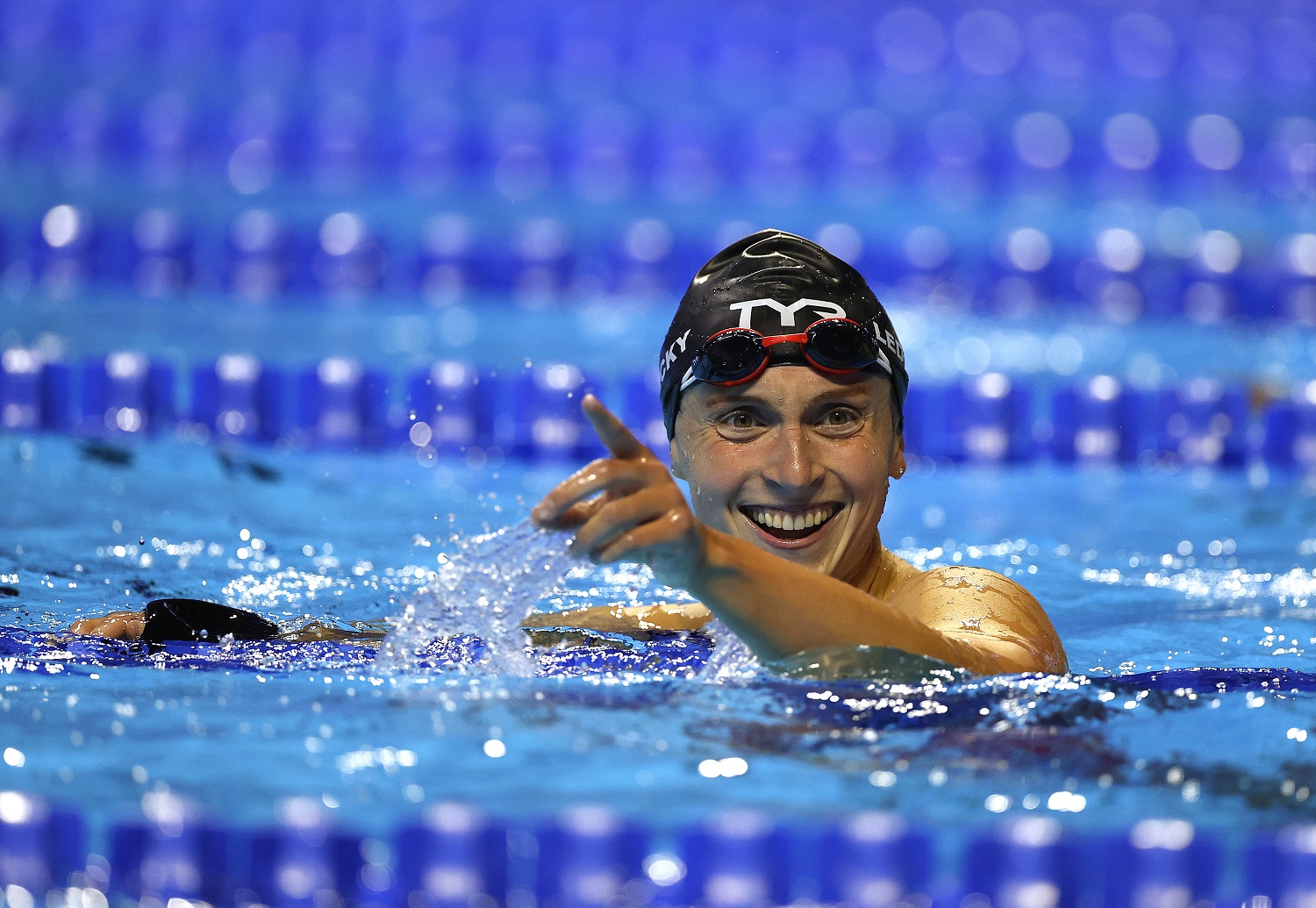 The pandemic-triggered delay for the Tokyo Olympics was no obstacle for Ledecky as she showed her usual dominating form at the U.S. trials early this summer. She qualified first for Tokyo in the 200, 400, 800, and 1,500 freestyles.
Ledecky was particularly impressive in capturing the 200 and 1,500 crowns just 90 minutes apart, and the latter event is one that could put her in the books as a pioneer. That's because the women's 1,500 was never an Olympic event before this year.
With the four individual freestyles plus a relay assignment, she has a shot at the sort of medal haul in Tokyo that will have sports fans thinking about more than just Team USA in men's basketball and women's soccer.
How did Michael Jordan end up playing peekaboo with Katie Ledecky?
It went largely overlooked when she posted it, but Ledecky uploaded a piece of social-media gold last year. Fascinated by The Last Dance, the ESPN documentary series about the Jordan-era Chicago Bulls, she shared a 35-second clip of herself as a toddler, circa 2001.
In it, Ledecky is seated in front of Jordan in the owners' box at a Washington Capitals NHL game. The connection is that Jordan was playing for the NBA's Washington Wizards at the time and the swimmer's uncle, Jon Ledecky, was a co-owner of the hockey team.
Jordan had already been a two-time Olympian by then, but Ledecky was still more than a decade away from her debut in London. She munched on popcorn when Jordan reached from behind to cover her eyes with his hands. Jordan repeated the move six more times, but Ledecky never flinched or looked back. She remained focused on working her way through the box of popcorn.
"We've had that family video for years," Ledecky, now 24, told the New York Post. "It's such a neat video, so I posted it around the time of the (ESPN) series."
Her being nonplussed by such an obvious distraction turned out to be a sign of things to come.
"My family always laughs at the fact that I've always been relaxed in those environments, kind of … not fazed by anything," she told the newspaper.
This might not be Ledecky's farewell appearance
There is no doubt that Ledecky could still be competitive at the age of 27, so the 2024 Olympics would seemingly be in play for her. The fact that the competition in Paris will be just three years away rather than four certainly makes it easier to stay focused and in form.
On the other hand, the incentive to stay in the water might not be there. With five gold medals already in the bag and shots at another five in Tokyo, she could blow away Jenny Thompson's women's swimming record of eight career golds. Ledecky is also already halfway to the 12 total medals racked up by Thompson and Dara Torres. Competing in 2024 could put her over the top.
The overall record for Olympic swimming golds is Michael Phelps' 23, a number too large to ponder even for someone as talented as Ledecky. Then again, Ledecky already has a connection with another 23 – Michael Jordan.
Like Sportscasting on Facebook. Follow us on Twitter @sportscasting19.
RELATED: Swimmer Katie Ledecky Bides Her Time With Chocolate Milk as She Waits Out the Olympics