Comedian Kevin Hart Once Pissed Michael Jordan off at His Own Event After Roasting Him About a Specific Facial Feature
Michael Jordan's NBA career with the Chicago Bulls most likely keeps him from getting made fun of too much. He is the superstar of superstars, which can be intimidating for some people. Comedian Kevin Hart, though, will make fun of anyone. That's essentially what he does for a living. So, Michael Jordan's six championships and five NBA MVPs didn't keep him safe when Hart hosted one of his events. In fact, Kevin Hart actually pissed him off after roasting him about a specific facial feature.
Kevin Hart hosted Michael Jordan's event
RELATED: Charles Barkley Once Threatened to 'Slap the Hell out' of Someone While Defending Ex-Friend Michael Jordan: 'I'm Going to Take My Chances With the Judicial System'
Kevin Hart once appeared on Jimmy Kimmel Live! in 2016, and, like anything Hart does, it was hilarious. While speaking with Kimmel, Hart told a story about a time he hosted one of Michael Jordan's events.
"I pissed Mike off," Hart said. "Mike had a charity event in Las Vegas; they called me, they wanted me to host the event. So, I get there to host the event, and it's something where they're like auctioning things. It's a real tight crowd; very boujee, everybody's neck was really straight. So, I get up there, and I'm like, 'Hey, man, loosen up. Relax. You're here to have a good time.'"
Hart then started to roast the GOAT a bit.
"I start teasing him," Hart said. "I was like, 'Man, what age do you get to where it's OK to wear your pants that high, and nobody addresses it.' I was like, 'Y'all telling me I'm the only one that think Mike's past the legal limit for waist.' But it was like fun jokes."
It appears that the next joke, though, didn't sit too well with Jordan.
Kevin Hart roasted MJ's mustache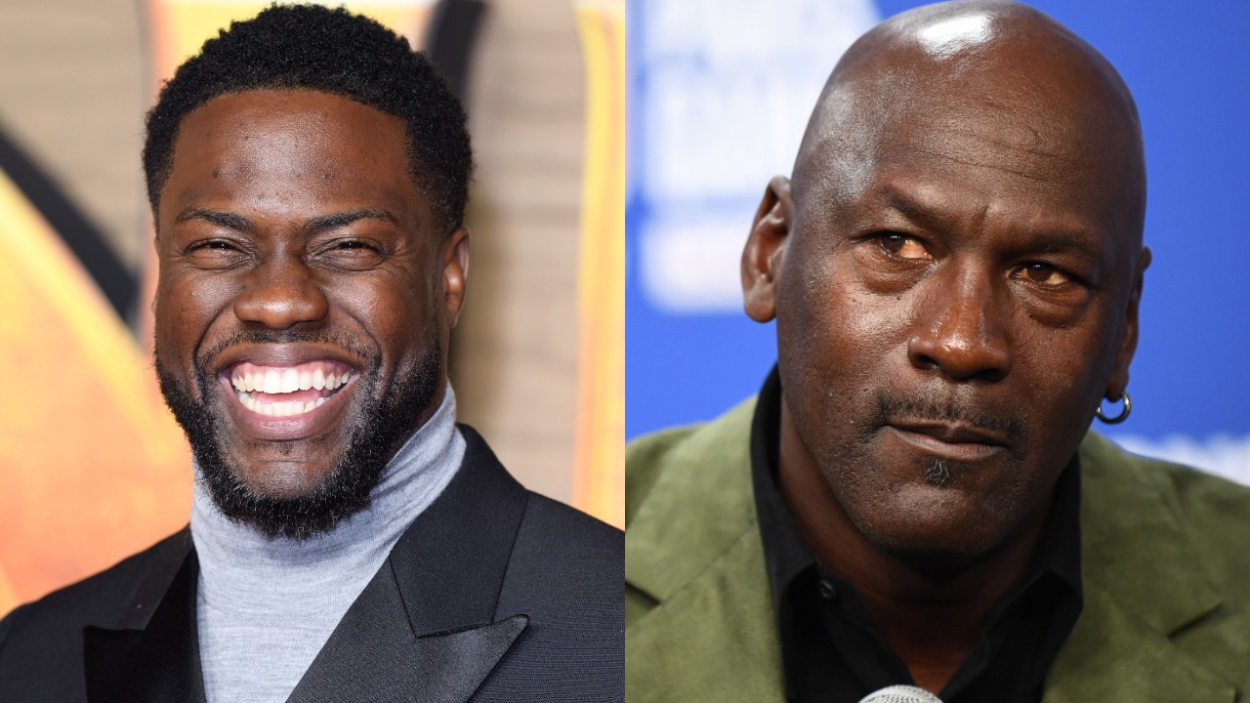 RELATED: Michael Jordan Refused to Play Cards With Anyone Who Couldn't Meet His Big-Money Standards: 'You Can't Even Play'
During that appearance with Kimmel, Hart then talked about how he started roasting Michael Jordan's mustache.
"He had like the little square mustache at the time," Hart said. "And I was like, 'What is that?' I said, 'It looks like a thumbprint, like you just smelled something.' And nobody's laughing. They got to a point where nobody's laughing. … He's actually giving me a look like, 'You going to keep on going? You ain't going to stop?' So, I don't care; I'm having a good time. I was laughing. I may or may not have been drunk at the time. So, I remember I hit him with one more, and nobody said nothing. So, I'm like 'whatever.'"
Hart then had to face Jordan once he got off stage.
"I see him; I'm like, 'What up Mike? Hey,'" Hart said. "And he shook my hand, and he squeezed it real hard, and he was like, 'You have a good day.' I ain't seen him since. He's still my favorite player, though. He's still my favorite player, and if I see him again, I'm going to ask him about it. I'm like 'You better lose the 'tude, man.'"
Well, it doesn't appear that Michael Jordan liked getting roasted too much. But he can wear his pants as high as he wants to and rock any kind of facial hair that he wants because he's Michael Jordan.
Michael Jordan won six championships and became a GOAT with the Chicago Bulls
RELATED: Michael Jordan's 36-Hour Gambling Spree Nearly Lost Him and a Partner $1 Million and Delayed His Return to the NBA
Michael Jordan is probably not used to getting roasted too much because of the fact that his championships with the Chicago Bulls made him the ultimate superstar.
Jordan led the Bulls to six championships, as they won two separate three-peats. He also won six Finals MVP awards to go with his five league MVP awards. Jordan additionally earned 14 All-Star selections in his career, a Defensive Player of the Year award, and his 32,292 career points are fifth all-time, while his 30.1 career points-per-game average is first.
Michael Jordan's career with the Chicago Bulls put him atop the world. Because of that, he probably doesn't get roasted too often, so, hopefully, he and Kevin Hart worked things out.
Stats courtesy of Basketball Reference