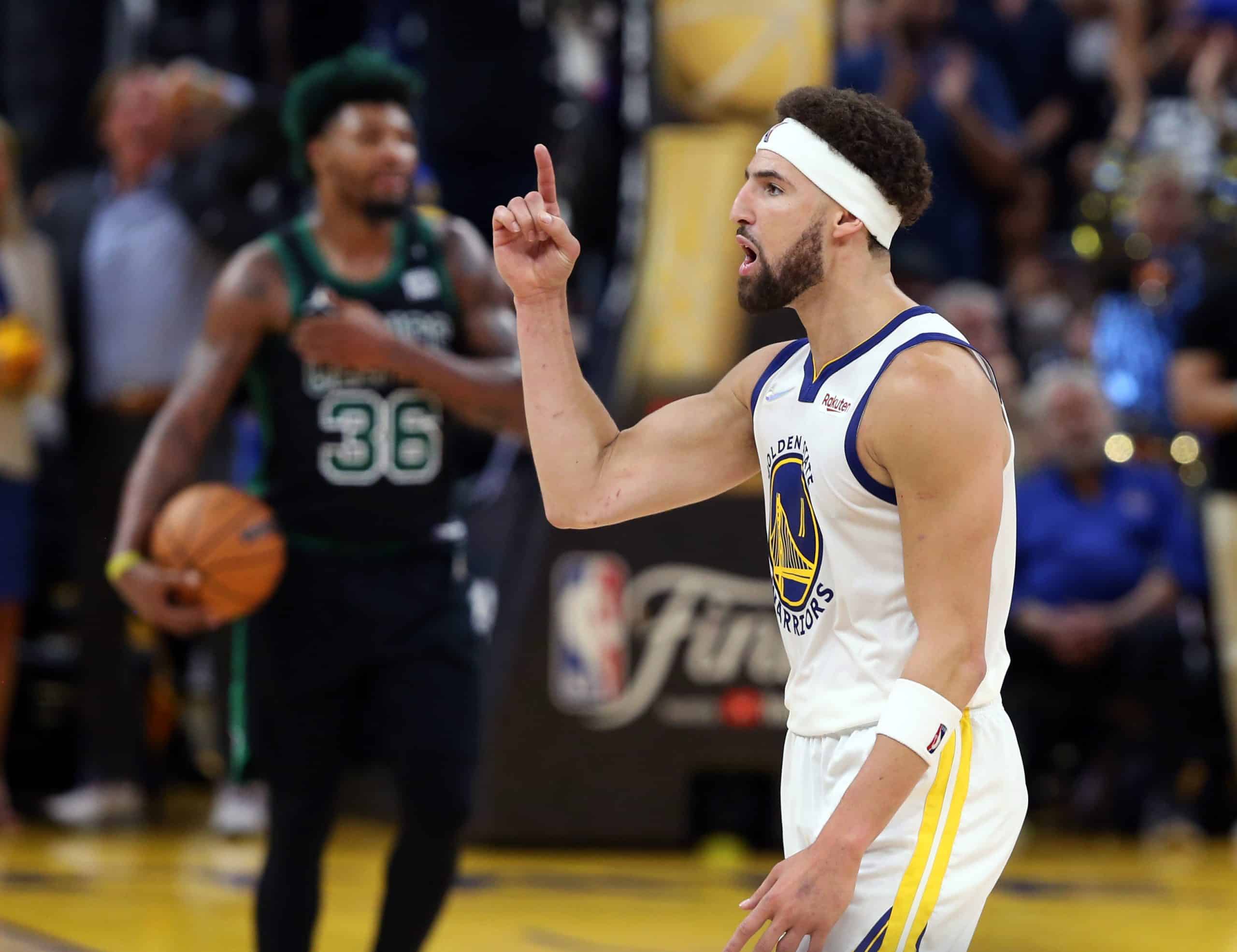 Klay Thompson Takes Another Dig at Boston Ahead of Game 6
Klay Thompson threw a subtle dig at Boston during a press conference Monday.
Klay Thompson didn't make too many friends in Boston after his Game 3 comment regarding the TD Garden fans. He sarcastically labeled Boston Celtics fans "classy" after they mocked his Golden State Warriors teammate Draymond Green and showered him with occasional F-bombs during the game.
None of that seemed to affect Thompson, who played through boos directed at him in Game 4, one that Golden State escaped with a series-tying victory.
After Thompson and the Warriors grabbed a 3-2 series lead in the 2022 NBA Finals on Monday, Golden State returns to Boston looking to close out the series Thursday. Thompson took another swipe at Boston after that Game 5 victory.
Klay Thompson and the Golden State Warriors look to close out the series in Boston on Thursday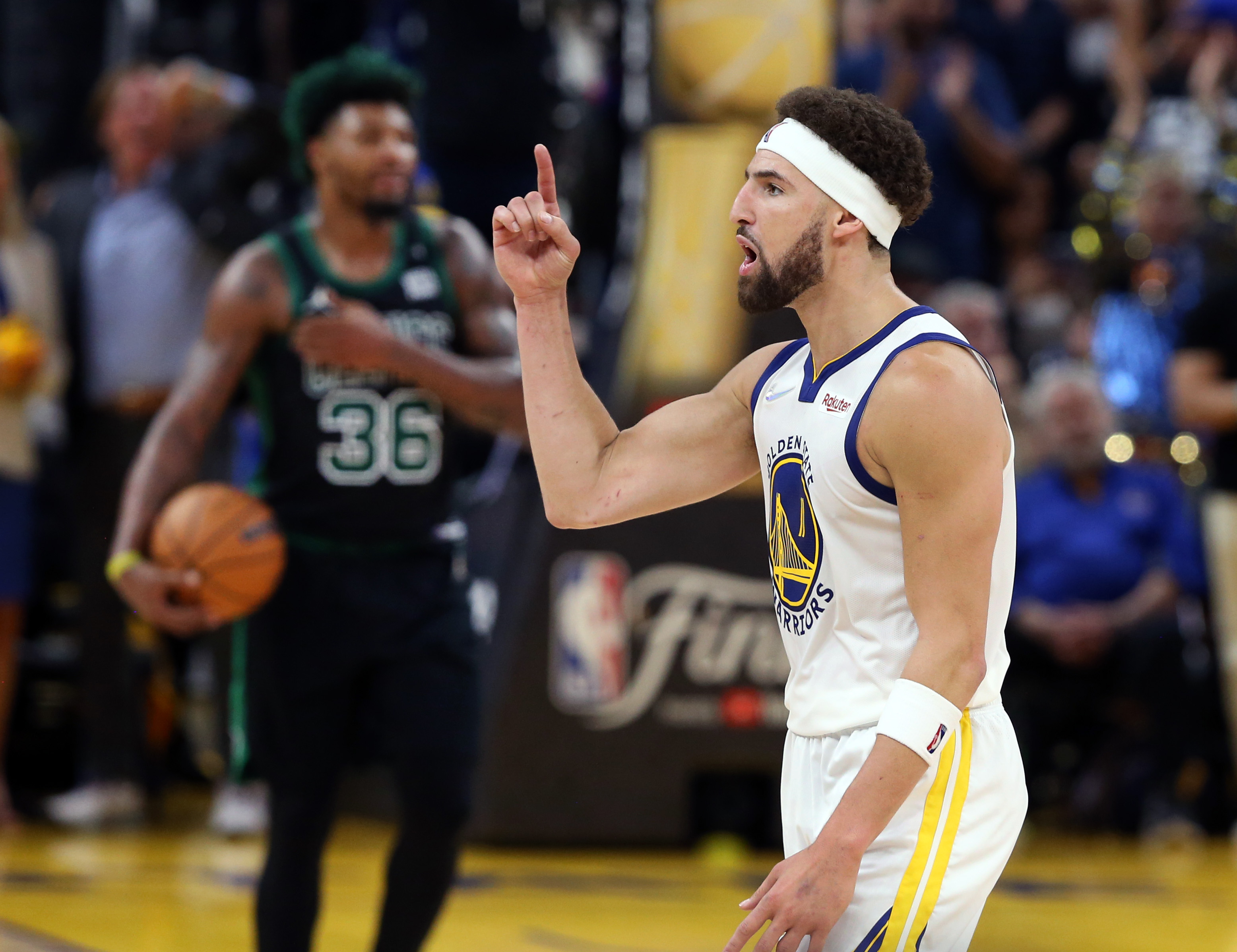 There's nothing more Thompson and the Warriors would want than to celebrate their fourth NBA championship since 2015 on the Celtics' floor. A win Thursday would do just that.
The Warriors had their backs against the wall the last time they came to Boston. They responded well. Stephen Curry put his team on his back with a 43-point effort.
"The heart on that man is incredible," Thompson said after the game. "The things he does, we kind of take for granted at times, to go out there and put us on his back. We've got to help him out on Monday."
They did just that.
Curry had an off night in Game 5, going 0-for-9 from three-point range. His teammates were there to bail him out. Andrew Wiggins led the Warriors with 26 points, while Thompson finished with 21. Curry had 16.
"It's something I dreamt about for sure, being in the league, and this is the ultimate stage," Wiggins said, per ESPN. "It doesn't get bigger than this."
The Warriors look to win three straight and close things out Thursday. It won't be easy with Boston's raucous crowd playing the role of sixth man.
Thompson takes another shot at Boston during his press conference
The Boston crowd was tough on the Warriors the last time they were in town. Public enemy No. 1 was Green, who drew the ire of Bostonians for his antics on the court.
Green has been flat-out awful in the series, so he resorted to getting physical and trying to get into the heads of Celtics players. At one point in the series, he tried to pull down Jaylen Brown's shorts.
Celtics fans booed Green throughout Game 3. They also greeted him with "F*** you Draymond" chants. That didn't sit well with Thompson, who called out the crowd after Game 3.
"We've played in front of rude people before," Thompson said. "Dropping F-bombs with children in the crowd… Real Classy. Good job, Boston."
Thompson then found himself getting booed in Game 4. It clearly didn't bother him as he took another little dig at Boston after Game 5 and before they head there to try and close out the series.
"I've never been so excited to go to Boston, I'll tell you that," Thompson said, drawing laughter from the reporters.
Thompson and the Warriors can get that last laugh with a win Thursday night.
Like Sportscasting on Facebook. Follow us on Twitter @sportscasting19 and subscribe to our YouTube channel.