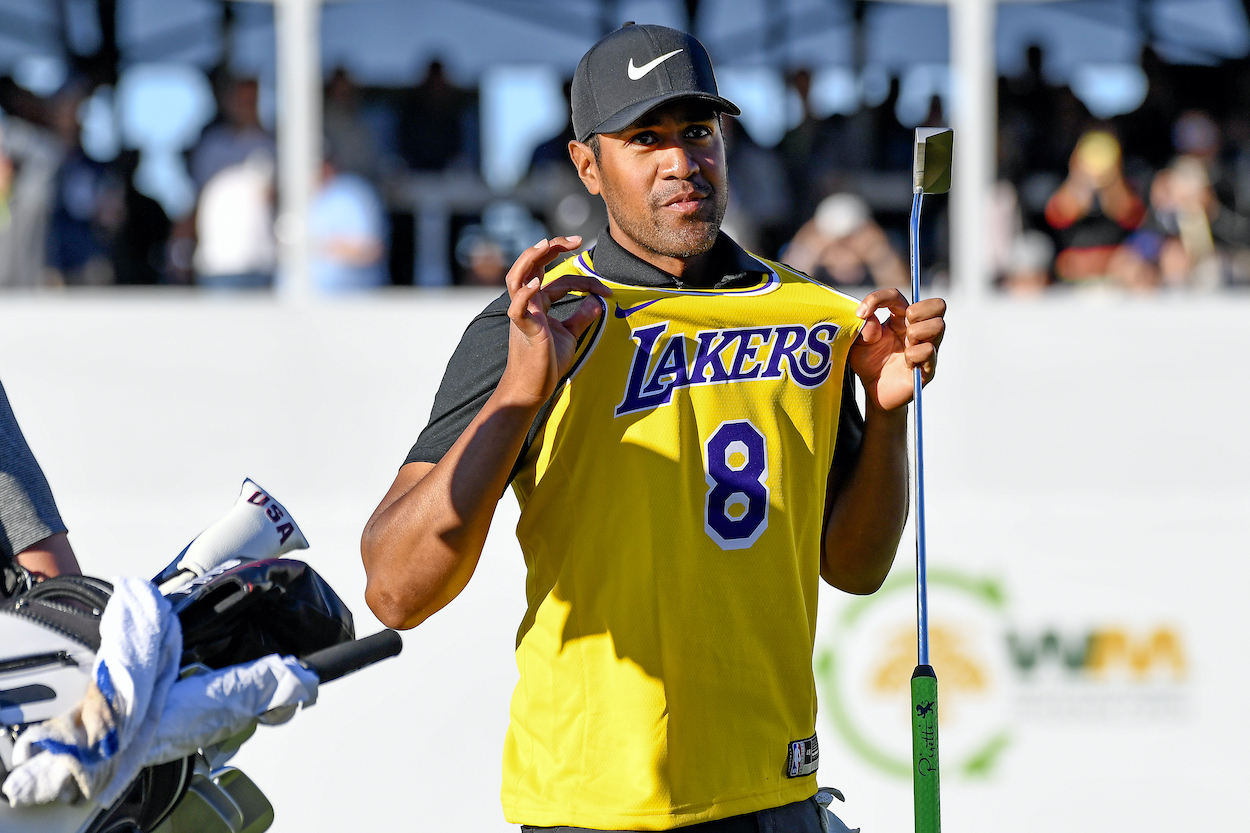 Kobe Bryant Superfan Tony Finau Fittingly Wins the Biggest PGA Tour Event of His Career on the Black Mamba's Birthday
Tony Finau just won the biggest golf tournament of his life on Kobe Bryant's birthday.
There's only one NBA jersey in Tony Finau's closet: a gold Los Angeles Lakers jersey with a purple No. 8 on the front and the name "Bryant" on the back.
Finau isn't a huge NBA geek, but he was always a die-hard Kobe Bryant fan. The pro golfer started rooting for the Lakers at an early age just because of Bryant, and he's been a loyal follower ever since. So, after 1,975 winless days on the PGA Tour, it was only right that Finau scored his long-awaited second victory on the Black Mamba's birthday.
Tony Finau idolized Kobe Bryant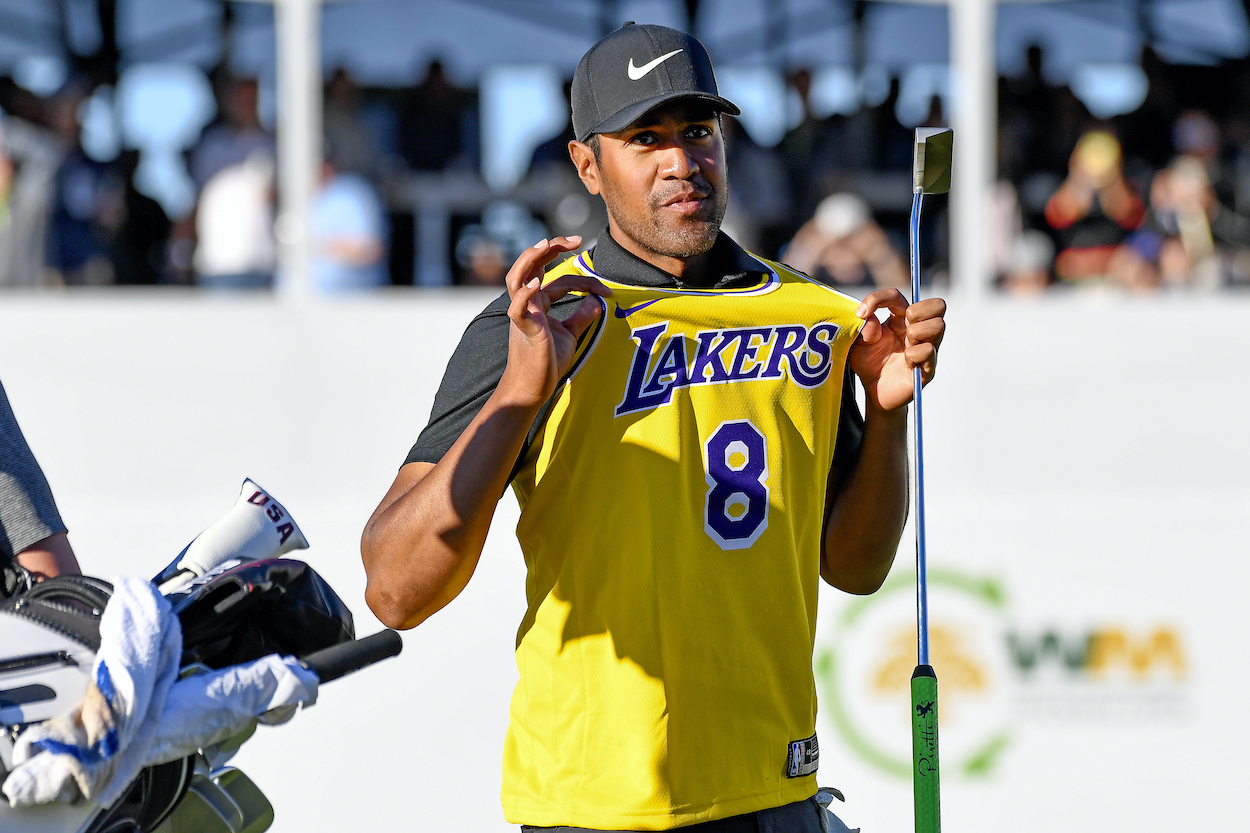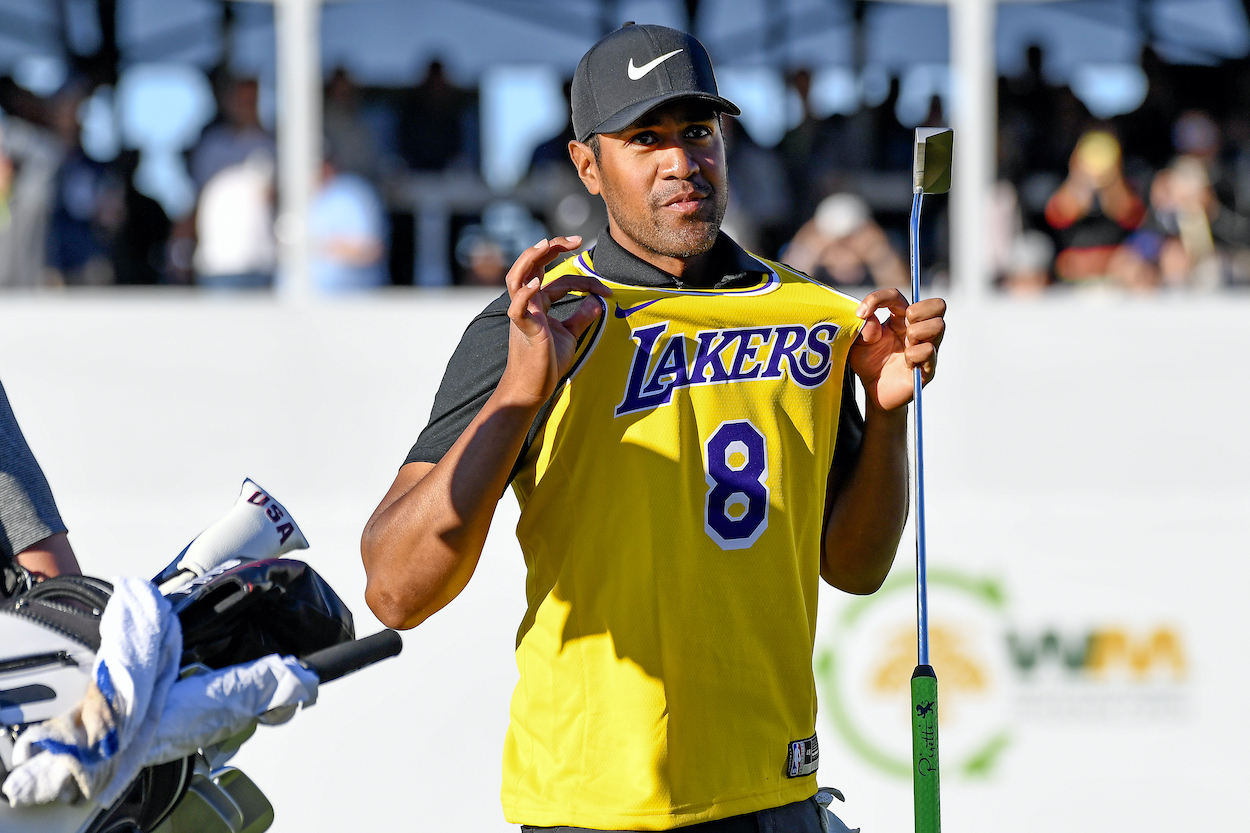 Every professional athlete had some sort of connection to Bryant. Some were lucky enough to know him and spend time with him during his 41 years on this earth, while others simply admired him from afar.
You might think PGA Tour players would be the least invested in Bryant's life and career, but that couldn't be further from the truth. Just take a look back at the 2020 Waste Management Phoenix Open. A few days after Bryant's tragic death, numerous golfers donned Kobe attire while playing the iconic 16th hole at TPC Scottsdale to honor the Lakers legend.
Finau went all out by wearing his Bryant jersey and sporting purple and gold golf shoes with "8.24" written on the sides.
"I only own one NBA jersey, so to give you an idea of how much Kobe meant to me, and just being a Laker fan in general," Finau said last year after his opening round at TPC Scottsdale. "When you think about LA, you think about Kobe. So it was the one jersey I owned and I knew that, hey, this is the time."
Finau finished the tournament in second place after losing to Webb Simpson in a two-man playoff. There was just something about playing for Bryant that lit a fire in him, and that showed up yet again this past weekend.
Finau wins the biggest PGA Tour event of his life on Bryant's birthday
Entering the final round of the Northern Trust, Finau had gone five years without recording a win on the PGA Tour. He had become known as the most talented golfer on Tour who simply didn't know how to close.
That all changed Monday.
Finau shot a final-round 65 at Liberty National to sneak into a playoff against Cameron Smith, and all he needed was a par on 18 to secure his first victory in 1,975 days. The incredible part? He did it on what would've been Kobe's 43rd birthday.
Chills.
"It's more massive I think for just my sense of accomplishment," Finau told reporters after the win. "It's hard losing, and it's hard losing in front of the world. I've done it already a couple of times this year. That made me more hungry. If it doesn't discourage you, it makes you more hungry. You guys keep telling me, 'When are you going to win again?' That makes me more hungry.
"It all equals up to now. It was time for me to win again."
Taking control of the FedEx Cup Playoffs
Monday's triumph wasn't just the biggest win of Finau's career. It also vaulted him into the No. 1 spot in the FedEx Cup standings with just two tournaments left in the playoffs. Finau is now in the driver's seat to secure the PGA Tour's ultimate $15 million prize at the TOUR Championship.
And not only that — the win also moved Finau into the top six of the U.S. Ryder Cup standings, which would guarantee him a spot on the team if he stays there for one more week.
Thanks to some final-round heroics and a little Kobe magic, Finau could be on his way to the best month of his career.