Kurt Busch Played His Own Cards Right to Land a Coveted Michael Jordan Rookie Card
It's literally true it wasn't in the cards for Kurt Busch to return to the No. 45 Toyota next season. That's because Busch, a sure NASCAR Hall of Famer, already had the card he coveted – namely, a Michael Jordan rookie card.
Sure, he could potentially have tacked a win or two onto the 34 he already has, but 34 wins in the Cup Series presumably made him wealthy even before making good on a deal after the Las Vegas native's final triumph.
Kurt Busch's one season at 23XI Racing panned out for everyone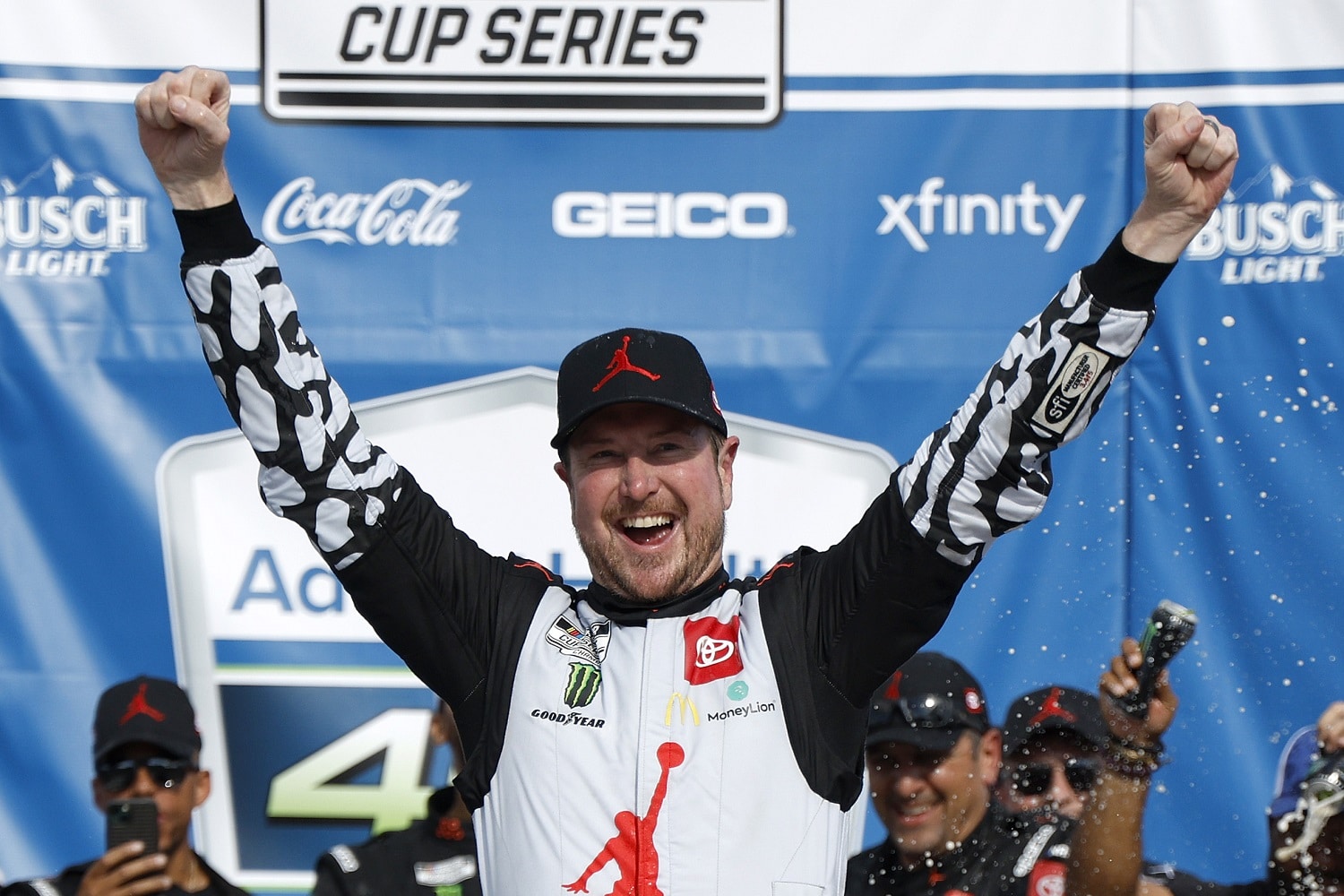 Though some will remember Kurt Busch's 2022 NASCAR Cup Series season largely for the concussion at Pocono that took him out of the final 16 races of the season (and perhaps his career), that shouldn't overshadow the fact that the driver and the 23XI Racing team both achieved goals.
For his part, Busch needed a landing spot after Chip Ganassi sold his NASCAR shop. He was on a streak of eight straight seasons and 18 of 19 with at least one victory, and it was easy to project Busch reaching 800 career Cup Series starts early in 2023.
As for Michael Jordan and Denny Hamlin, the owners of 23XI, they were looking for a veteran to man their new second car. They saw Busch as someone who could both qualify for the playoffs and help Bubba Wallace by sharing his racing knowledge.
Busch picked up a victory at Kansas and was on track for that playoff spot when the concussion sent him to the sidelines. He surrendered the berth on the eve of the playoffs to allow NASCAR to run a full 16-car field for the championship.
Kurt Busch surprised the boss at Daytona with a Michael Jordan rookie card
Longtime competitor Kurt Busch was already signed, sealed, and delivered to 23XI Racing when NASCAR showed up at Daytona for Speedweeks and the season-opening points race. There was no need for an inducement to lure him nor for the driver to sell Michael Jordan on what he had to offer.
Still, Busch drew upon his inner fandom to sweeten the deal a bit for himself and MJ. If it went according to plan, Busch would deliver at least one more victory. Jordan would show his gratitude by returning a collectible any sports fan would covet.
It started as a spur-of-the-moment idea by Busch as he was filling out paperwork for the Daytona 500.
"I'm signing the entry blank for the Daytona 500 to get the season going, and MJ's signature is above mine as the team owner," Busch explained to Fox Sports. "I'm like, 'Well, I gotta dig up a rookie card, I gotta find a rookie card — a legit one, spend money on it.' I called up a buddy in Vegas who's a card collector said find me one."
The friend came through with the Michael Jordan rookie card, and Busch was in possession of the card by the time he arrived in Florida for the duals and the Daytona 500. There, he met up with Jordan.
"It's quintessential MJ," Busch recalled. "He's got the cigar, tequila after the qualifying races, and I said, 'Hey, I've got something for you.' He opens it up and goes, "Wooo! You paid a pretty penny for this. How much you spend on it?'"
Michael Jordan 'signed off' on a deal with 23XI Racing's new driver
Kurt Busch pulled out an autograph pen and proposed a deal with Michael Jordan.
"I said, 'You sign it, you keep it. But when we win together, I'd like it back,' Busch explained. "And that's how the whole deal went down."
After that, it was merely a matter of winning a race. Busch did precisely that on May 15 at Kansas Speedway. Shortly afterward, Jordan held up his end of the bargain by returning the rookie card.
Busch said at the time that he would likely frame the card with the entry blank that inspired the deal and some memento from Kansas. It turns out, though, that a Michael Jordan rookie card is too valuable to hang on a wall.
Two days after Busch scored his victory, Barron's reported an upcoming Christie's auction included a signed 1986 Jordan rookie card that could potentially fetch $2 million or more. The card ended up selling for "only" $1,008,000, according to ESPN, but the grading service did not rate it as highly as it did the one Busch possesses.
Given the way the memorabilia market has boomed since the start of the pandemic and how Jordan remains a high-profile figure, Busch is sitting on a card that likely is already worth $1.25 million and heading higher.
Got a question or observation about racing? Sportscasting's John Moriello does a mailbag column each Friday. Write to him at [email protected]