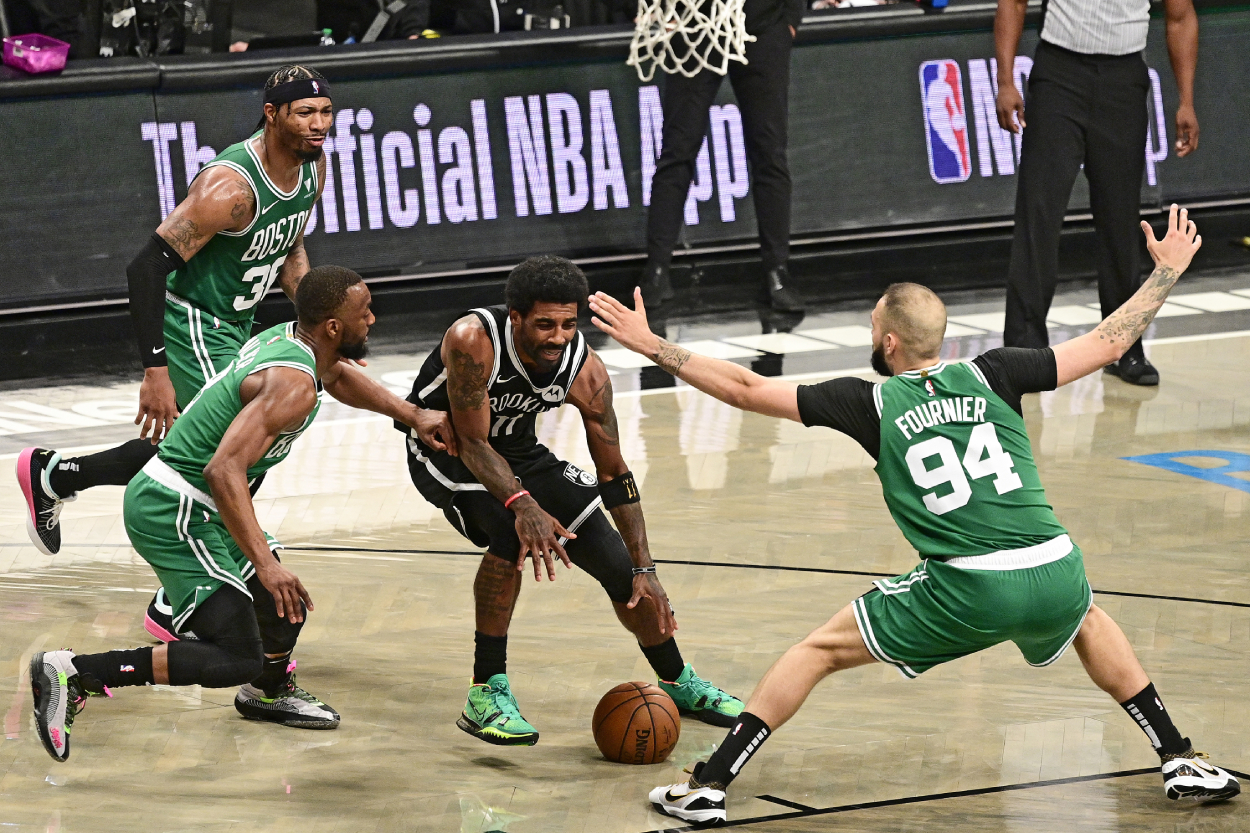 Kyrie Irving Returns to Boston, Putting the City's Reputation on the Line
Boston's biggest win just might come off the court Friday night when Kyrie Irving returns to face the Celtics.
Kyrie Irving returns to face Boston Celtics fans for the first time since his ugly two-year run with the team ended in 2019. Fans have two years of frustration built up after being unable to vent in person due to the pandemic and an Irving injury. The Brooklyn Nets point guard added fuel to the fire earlier this week by saying he hopes Celtics fans stick to basketball and don't use "subtle racism."
Kyrie Irving and Boston Celtics fans aren't a good mix
The Celtics parted ways with fan-favorite Isaiah Thomas, trading him in a package for Irving before the 2017-18 season. Irving is the more complete player and was brought in to mentor a young core led by Jayson Tatum and Jaylen Brown. Things didn't go according to plan.
Although fans embraced Irving at a gathering for season ticket holders in 2017 after he announced he would re-sign with the team, things went sour quickly. He proved he wasn't the leader the Celtics brought him in to be. Fans labeled him a quitter. He missed 37 regular-season games, plus the entire postseason in his first year due to injury.
During his only postseason run in Boston, Irving was flat-out awful. After defeating the Milwaukee Bucks in the first game of the second round, the Celtics lost four straight. Irving was woeful in those last four games, shooting 30% from the floor. After Game 4, he was asked about his poor shooting. "Who cares?" he said.
He then went on to seemingly complain about how tough it was to be a leader. "I'm a basketball player, prepare the right way," he said, according to NESN. "Like I said, it's a little different when your rhythm is challenged every play down. You're being picked up full court, they are doing things to test you. The expectations on me are going to be sky-high. I try to utilize their aggression against them and still put my teammates in a great position while still being aggressive. I am trying to do it all."
Celtics fans have been waiting two years to vent at Kyrie Irving
Celtics fans can be tough. They are passionate about their team and their players. If you play hard for the team, you'll be praised. If you quit on them, they'll let you hear it. Boston fans have been waiting two years to let Irving know up close just how they feel.
A shoulder injury prevented Irving from making the trip to Boston in 2019. Although he was injured and not even in the arena, Celtics fans were still on him, chanting expletives throughout the game. The COVID-19 pandemic prevented fans from being at the TD Garden when he returned the following year. Irving knows he's going to hear it from the fans. He said he just wants it to be about basketball.
"Hopefully, we can just keep it strictly basketball, you know there's no belligerence or any racism going on, subtle racism, and people yelling sh*t from the crowd," he told reporters after Game 2. "But even if it is, it's part of the nature of the game, and I'm just going to focus on what we can control."
Boston will have its reputation on the line when Irving returns
The sideshow at the Garden might just be more entertaining than the game itself. The Nets hold a 2-0 series lead over the short-handed Celtics, who are playing without All-Star Jaylen Brown. The Garden will only be at 25% capacity for Friday's game but will be nearly full Sunday as the state opens things back up Saturday.
Even at a quarter full, Irving will be hearing it from the crowd. Fans will boo. They will shout obscenities. Sunday will be crazier. For the fans, the opportunity to blast him might be bigger than the game.
The city's reputation, however, will be on the line this weekend. Fans will need to be ruthless but not racist. Boston's biggest win this weekend would be a loud but clean verbal attack on Irving. A Celtics victory over the Nets would be just a bonus.