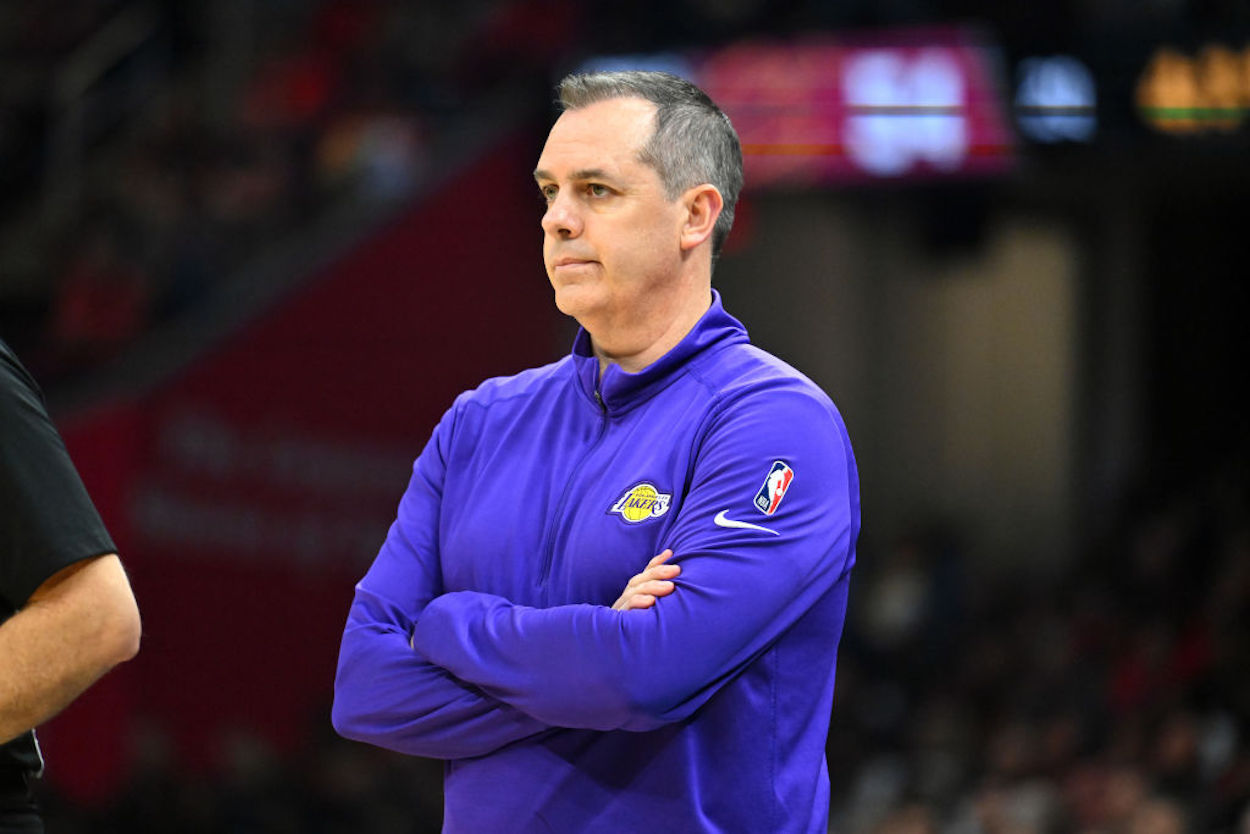 The Lakers' Treatment of Frank Vogel Has Created an Ugly Problem That No Amount of Prestige Can Fix
If the Lakers' 2021-22 season wasn't bad enough, thing could get even uglier when they try to replace Frank Vogel.
On paper, the Los Angeles Lakers are one of the NBA's iconic franchises. Over the years, the club has won 17 championships; countless legends have donned the iconic purple and gold. The 2021-22 campaign, however, won't be making its way into the history books. Things quickly went south in Hollywood, and head coach Frank Vogel ended up paying the price.
From afar, the move might not seem that surprising. The Lakers struggled and when the season ended, they fired their head coach. That happens all the time, right?
While changing coaches is nothing new, the Lakers' handling of the situation is emblematic of a bigger problem. At this point, the franchise has created a situation that's so ugly, no amount of prestige or branding can help.
The Lakers made an absolute mess of firing Frank Vogel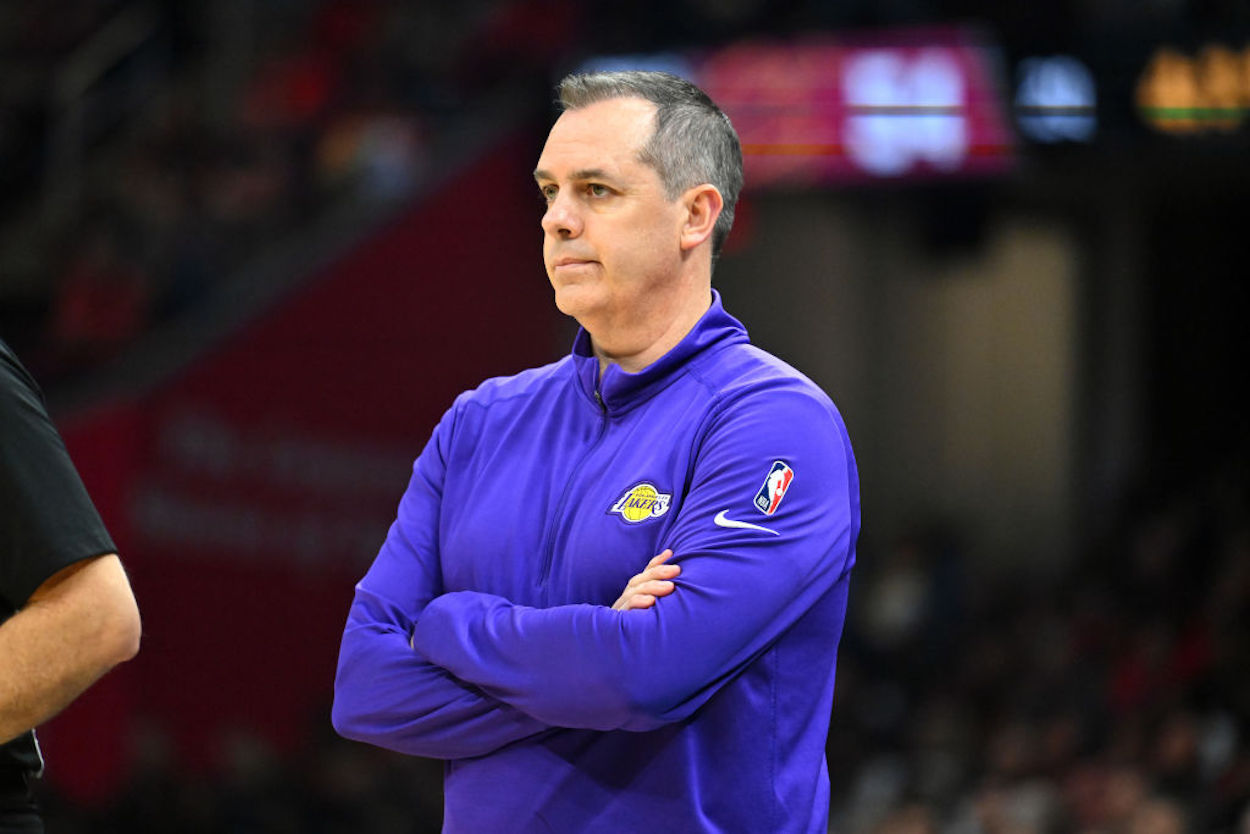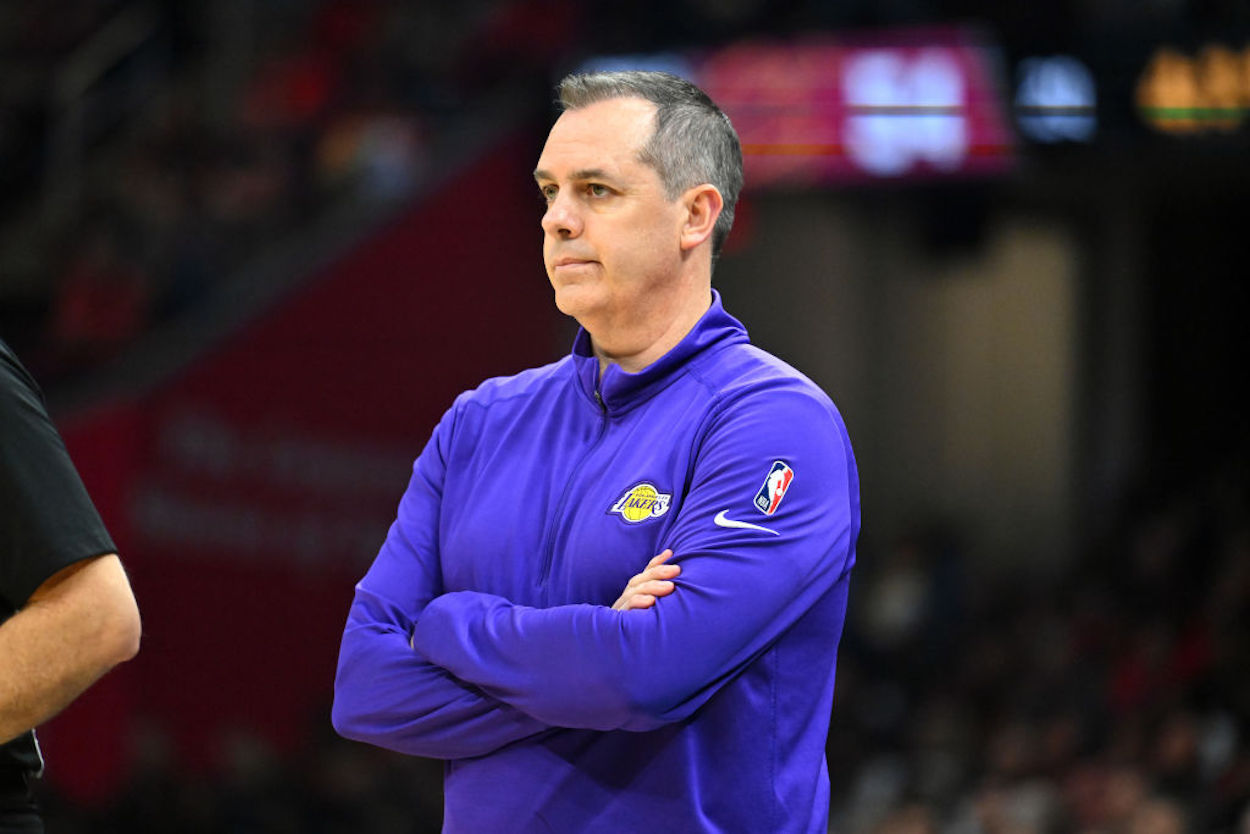 When you become an NBA head coach, it's safe to assume that you'll lose your job within a few years. Frank Vogel's firing, however, was a textbook case of how you shouldn't expect to be treated.
If we jump back to the start of this season, the Lakers — whether you assign the blame to Rob Pelinka, Jeanie Buss, or Kurt Rambis — handed Vogel a non-functional roster and expected him to make it work. When he didn't, Pelinka and Rambis inserted themselves into coaches' meetings (h/t Bill Oram of The Athletic). That alone could be seen as crossing a line.
As the season progressed, things didn't get much better. Just about everyone knew Vogel was a dead man walking, but the Lakers still managed to botch things. Thanks to an Adrian Wojnarowski tweet, the head coach had to field questions about his own firing after LA's final game.
Oram paints a rather striking image of that scene.
The Lakers got to enjoy [the win] for roughly half a second. The news of Vogel's expected firing spread before players had even left the court.

DeMarcus Cousins shook his head as he walked through a back tunnel leaving Denver's locker room.

"The man didn't even make it to the f***ing flight!" said the Nuggets center, who was on the Lakers roster in Vogel's first season in L.A. "The NBA getting brutal, ain't it?"

Bill Oram, The Athletic
As the story grew, the Lakers were pilloried for their behavior. Charles Barkley said Vogel was "screwed" by the team. Michael Smith ripped LA on NBC's Brother From Another. Memes piled up on social media.
If you're all about "the brand," then Monday was a very bad day for the Lakers.
No amount of history can help the Lakers change their current image
By firing Frank Vogel, the Lakers have created an immediate need: finding a new head coach. Their recent practices, however, may have limited that search.
In his Athletic piece, Oram addresses that reality. "The Lakers should be embarrassed. Rob Pelinka should be admonished. And potential candidates should be paying attention," he wrote. "Quin Snyder? Nick Nurse? Doc Rivers? Who among them would sign up for what Vogel just went through?"
Traditionally, coaching the Lakers would be seen as a prestigious job. You'd work your way up the ladder, hoping for a chance to take over the iconic franchise and chase championships. Now, you're signing up to be micromanaged by the front office and take the fall when a shoddily constructed roster can't get it done.
And, on the subject of that roster, it's important to note the team can't really improve this offseason without major surgery. That only further poisons the Lakers' coaching chalice.
Let's return to those candidates. While Toronto might not be a basketball hotbed, Nurse has both an elite executive by his side in Masai Ujiri and a promising roster on the court. Would he abandon that simply to say he coached the Lakers?
Doc Rivers and Quin Snyder, for all their flaws, will probably have their choice of jobs when it's time to try something new. What about the Lakers' situation would compel them to choose Los Angeles?
It seems like this potential scenario is already playing out. According to Broderick Turner of the LA Times, Snyder has reportedly "become less interested in the Lakers' job because of how the Vogel firing was handled."
That leaves the Lakers in an unenviable position. They'll either have to hire someone who doesn't have any better options — that's how they got Vogel in the first place — or back up the Brink's truck and pay whatever it takes to land a top candidate. While money obviously talks, it's probably less than ideal to rely on cash, rather than your basketball potential, to attract a head coach.
There was a time when candidates would be lining up to interview with the Lakers, let alone take over as the franchise's head coach. Thanks to the front office's recent decisions, though, that prestige has faded. At this point, no amount of banners hanging from the rafters can compel a candidate to come to Hollywood.
Hey, if nothing else, Kurt Rambis has some head coaching experience.