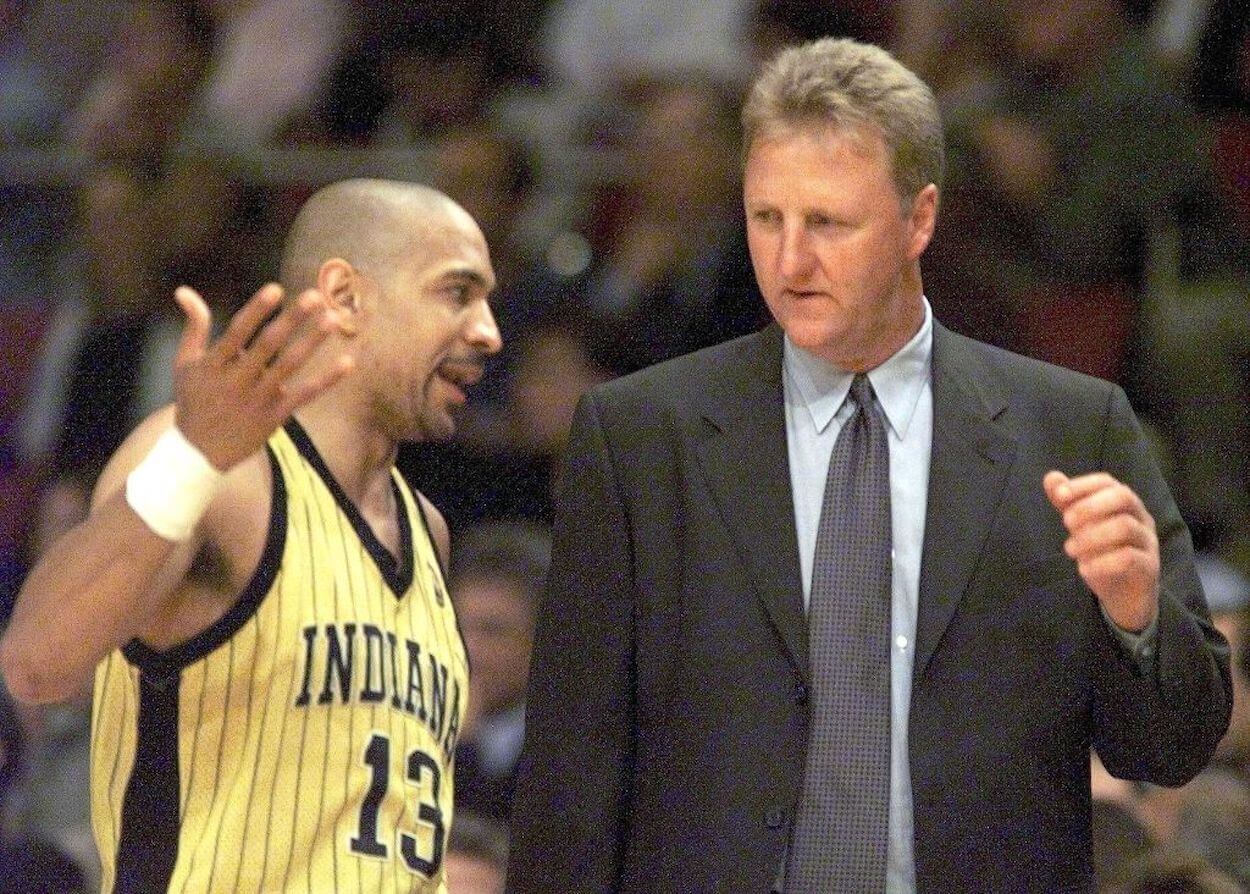 Larry Bird Liked to Trash-Talk His Pacers Players in the Training Room
Even during his time as an NBA executive, Larry Bird was more than happy to talk a bit of trash.
By and large, injuries are an inescapable reality of playing professional sports. While some athletes will be lucky enough to remain largely healthy, everyone is going to suffer aches and pains from time to time. Larry Bird, unfortunately, came to understand that universal truth all too well. For all his talent, the famous forward was ultimately done in by a painful back problem.
And while you might think that experience would soften him toward injured players, that apparently wasn't the case. If we take one former Indiana Pacer at his word, Larry Legend had no problem heading into the training room to trash-talk anyone who was getting a bit of work done.
Let's travel back in time and check it out.
Even as an executive, Larry Bird was more than willing to throw a bit of shade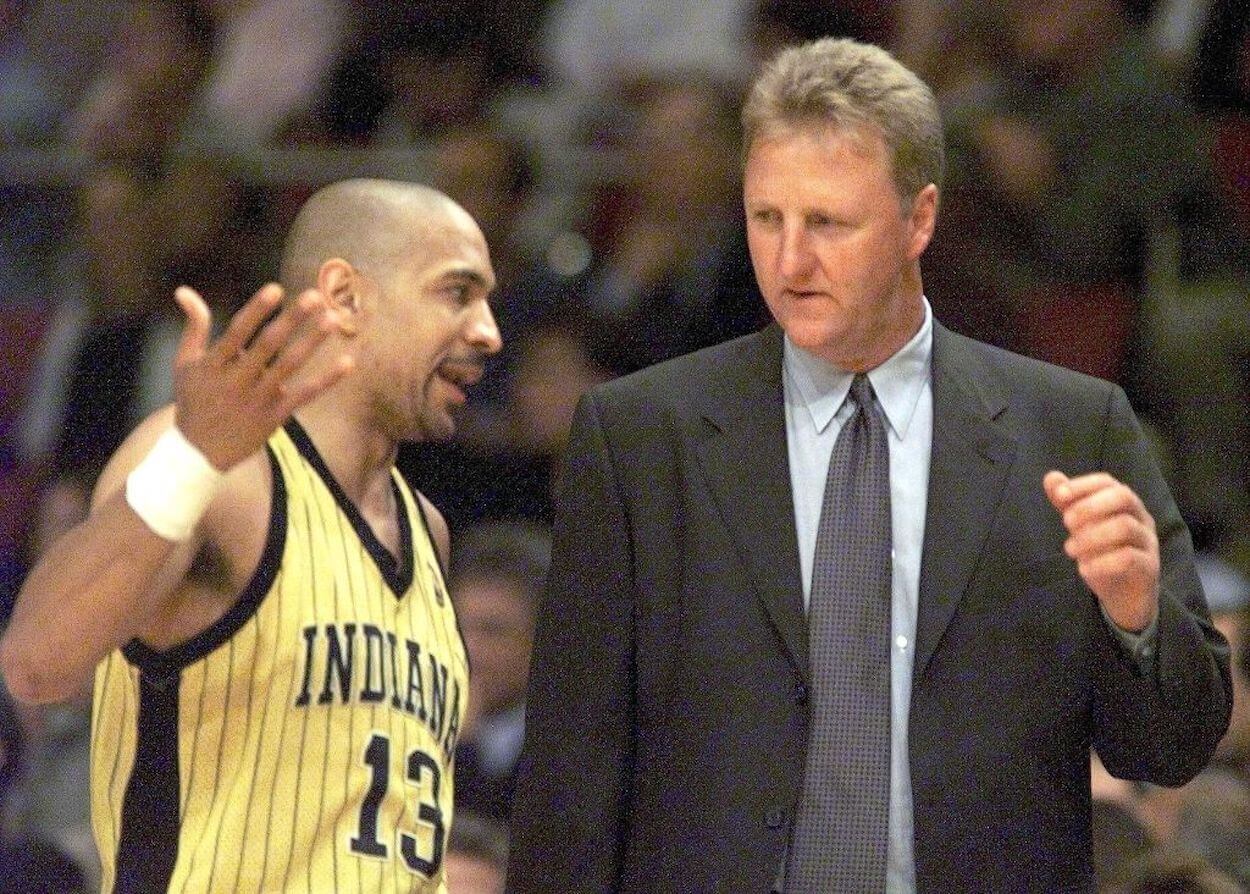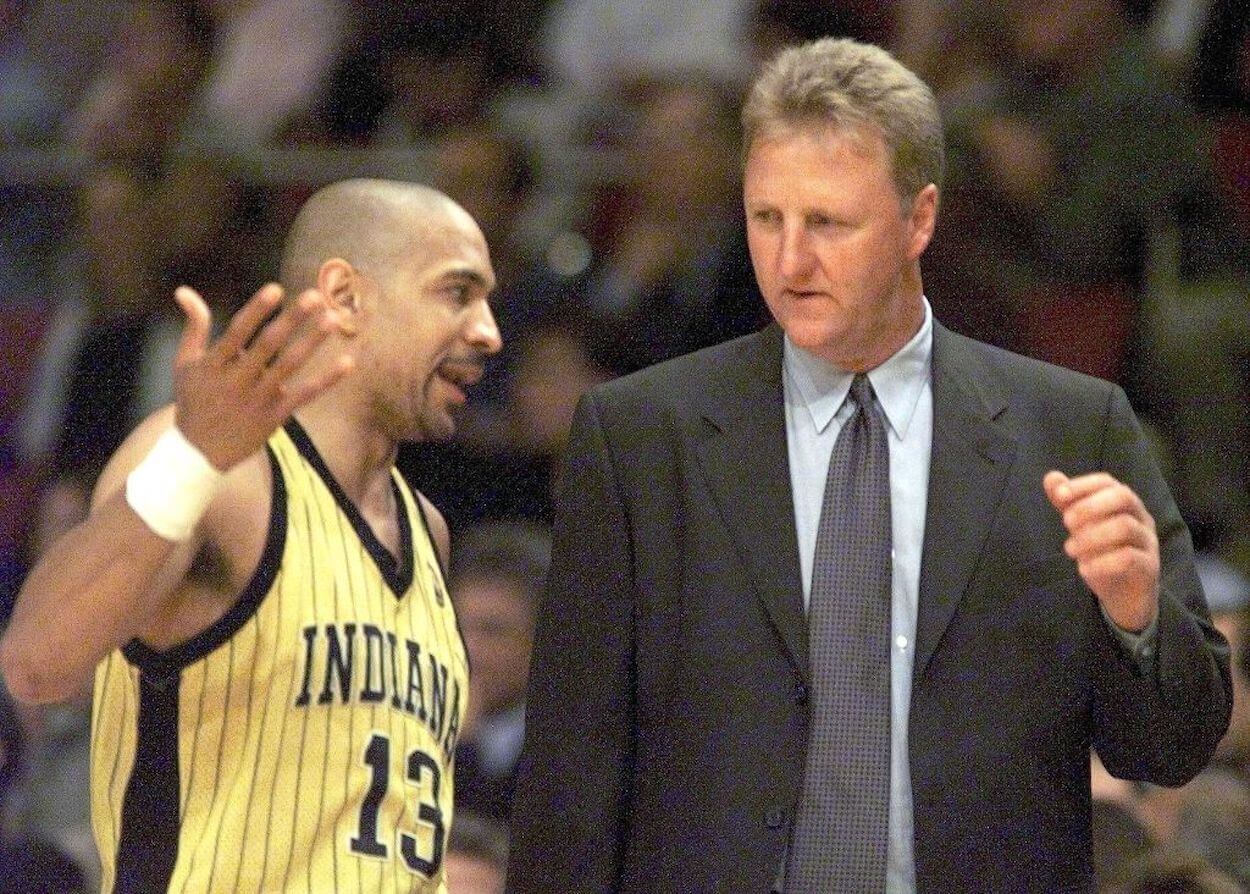 Larry Bird is undeniably a basketball lifer. After a nagging back problem ended his playing career, the Celtics star was unable to leave the game behind. He hung around Boston as a special assistant and, in 1997, headed back to Indiana to take over as the Pacers' head coach. The legend said he'd stay on the bench for three seasons and did exactly that. Despite finding success on the sidelines, Bird stopped coaching and moved upstairs as the president of basketball operations.
It was in that role that Damjan Rudez encountered Larry Legend. And while you might think that would imply some level of formality — the head of an organization usually isn't cracking jokes around the water cooler — Bird didn't have any problem acting like one of the guys.
"Larry loved sharing his trash-talking stories because he was spending a lot of time with us in the training room as his back problems were catching up with him," Rudez told Matthew Dugandzic of The Basketball Network. "It made him real happy to call us soft and tell us that none of us would survive in the old NBA ."
Given what we know of Bird — he was a legendary trash talker during his playing career and had no problem showing Pacers players that he could still shoot — that shouldn't be too much of a surprise.
Bird, however, is more open to modern basketball than that comment might suggest
When you hear Larry Legend teasing players about not being able to cut it during his era, it's easy to imagine him being a "back in my day" sort of guy. Based on some other comments, though, it seems like Bird was open to the benefits of the modern era.
Take, for example, the changes in physicality. While the famous forward was more than capable of handling the rough stuff, it did sound like he would have appreciated the chance to have a bit more freedom on the offensive end of the floor.
"I really like the game now. I really think they cleaned it up as far as the grabbing, the holding, the cheap shots," Bird told Scott Horner of the Indianapolis Star. "When you're out there playing, you like to have freedom, and they have that now." 
On a similar note, the sharpshooter apparently appreciates that modern basketball makes good use of floor spacing and long-range offense.
"Bird still does some scouting for the Pacers," Brian Mahoney of the Associated Press recounted (h/t the Daily Hampshire Gazette, "and is a fan of today's wide-open style of play and its heavy reliance on the 3-point shot." Beyond that, we also heard from the man himself.
"My concern 15 years ago was everybody's going to be 6-(foot)-9 like Magic Johnson at the point guard, and the little guys are going to get squeezed out. Now it's just the opposite," Bird added. "The big guys are getting squeezed out, and the little guys are taking over, and the 3-point line has been there since 1980, and nobody utilized it until the last 15, 17 years. I can remember watching Kentucky play, and Rick Pitino was shooting 3-pointers all the time, and I go, 'Jesus Christ, no way you can win like that.' Now if you don't do it, you're not going to win."
So, with that context, we can return to Rudez's initial comments. If you read them again, you can hear Bird's tongue firmly planted in his cheek.
The living legend, for all of his fame and fortune, was still one of the guys.