Larry Bird Made $24 Million in the NBA, but He Wasn't a Fan of Fancy Restaurants: 'All They Want Is Your Money, Feed You, and Get You Out'
For better or worse, professional sports have become a big-time business. As much as we'd like to imagine that everyone involved is motivated by their love of the game, sizable sums of money change hands every time payday rolls around. No amount of cash, however, could change Larry Bird. The Boston Celtics star knew what he liked, and that was that.
Take, for example, the sharpshooter's taste in restaurants. While his combination of fame and fortune would have meant that Larry Legend could dine virtually anywhere he wanted, you wouldn't find him in Boston's finer establishments.
Larry Bird rose from humble beginnings to find fame and fortune with the Boston Celtics
These days, Larry Bird is rightfully remembered as an NBA legend. His successful career did more than earn him a place in basketball history, though. The forward also left the hardwood with a nice chunk of change in his bank account.
Before he found fame and fortune, the Hick from French Lick seemed destined for a more ordinary path. Bird grew up poor but showed enough basketball talent to earn a scholarship to Indiana University. The big man didn't fit in on the Bloomington campus, though, and left without ever suiting up for Bob Knight's Hoosiers squad. Back at home, Bird found work as a garbage man. By all accounts, he enjoyed the work.
That job, no matter how enjoyable, wouldn't last. Thanks to a man named Bill Hodges, Bird gave college another chance. The forward headed to Indiana State, joined the Sycamores basketball team, and quickly became a star.
Larry Legend, of course, showed enough talent to catch the eye of the Boston Celtics brass. A few years after picking up trash, he inked a five-year, $3.25 million deal to join the historic club. While that might sound like pocket change for today's stars, it became the largest rookie contract in sports history when Bird signed on the dotted line.
The Indiana State product would go on to claim Rookie of the Year honors and win an NBA title before that initial deal expired, setting himself up for a raise. His next contract paid him $1.8 million per season, and from there, things only improved. Boston kept rolling, and the perennial All-Star's wallet continued to swell.
By the time everything was said and done, the Celtics star had played 13 professional seasons, winning three NBA championships and three MVP crowns. He'd also earned just over $24 million in salary, which was a sizable sum before the days of mammoth TV deals.
Larry Legend probably wasn't spending that money in fancy restaurants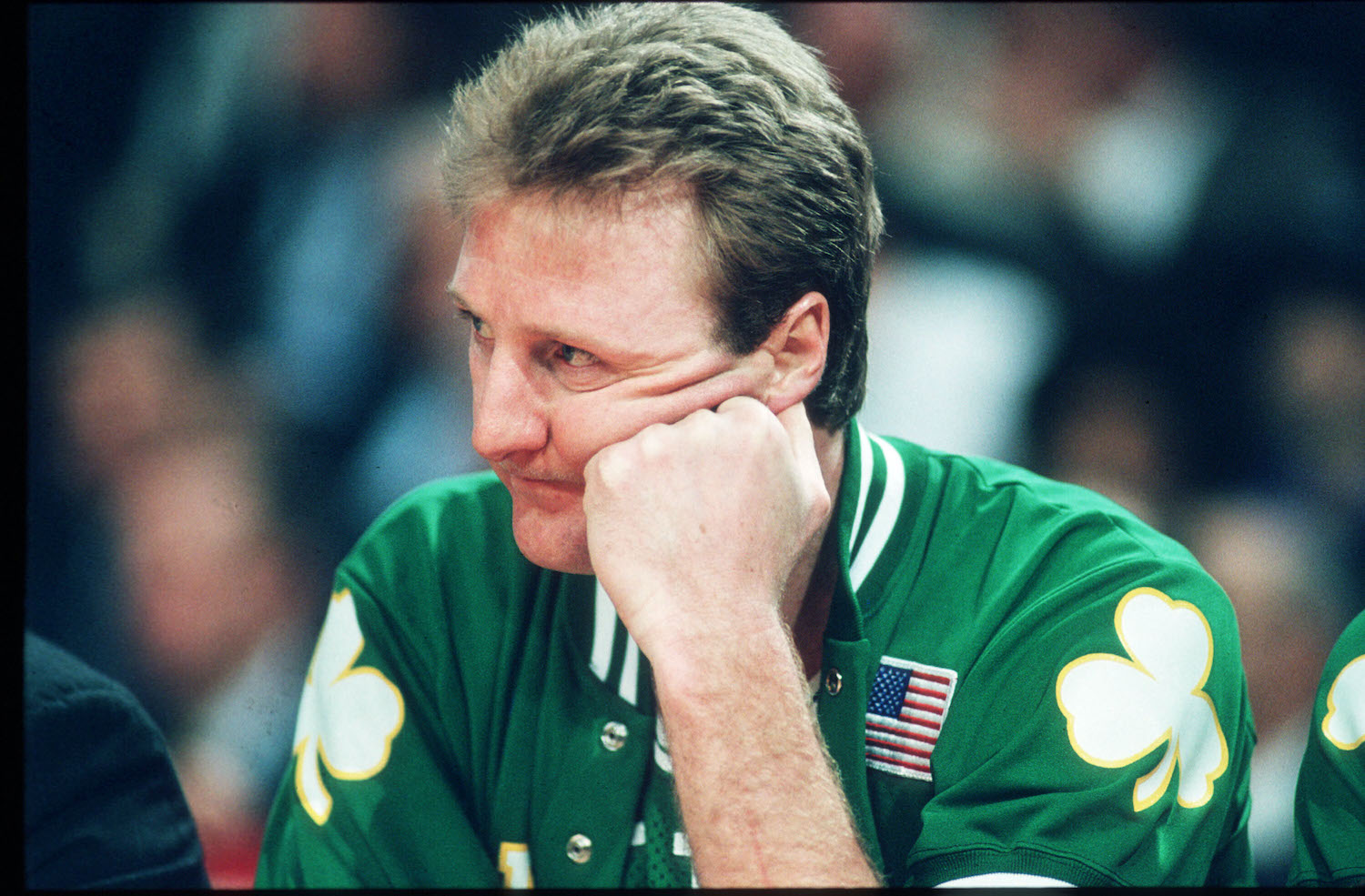 Given that financial might and his overall star status, Bird could have dominated the social scene, bouncing between black-tie galas and the finest restaurants. In reality, he preferred to keep things a bit simpler.
At the conclusion of the 1983-84 NBA season, Larry Legend was named the league's MVP. For most players, that would be quite the honor. Bird, however, wasn't most players.
While some doubted that the Boston Celtics big man would even attend the awards ceremony, he eventually arrived in Salt Lake City. That may have averted one crisis, but it created another. When it came time to step onto the stage and accept his prize, Bird did so wearing a short-sleeved shirt and jeans. That move apparently disgusted more than a few people.
Larry Legend, for his part, was unfazed. "All I know is that it was summer, which is vacation time for me, and I wear what I want to wear when I'm on vacation," he explained, according to Mike Cotton of the Washington Post (H/T Los Angeles Times). "It would have been a lot easier for them to just put the award in a box and send it out to Boston, and we could have had a nice party there. … I knew it was a banquet and all that, but I didn't care."
On the subject of uncomfortable social events, Bird also noted that he didn't care for the fine dining scene.
"I hate doing things like going to restaurants where you have to wear coats and ties," he added. "What for? All they want is your money, feed you, and get you out."
For all of his fame and fortune, Larry Bird never changed who he was
Taken in isolation, Bird's comments about banquets and restaurants could seem rather unbelievable. How could someone so rich and famous scorn the perks of their star status? While we can only know so much about any celebrity from afar, it does seem like Larry Legend knew exactly who he was and refused to let any amount of money change that.
"What most impresses the people who know Bird — from his few new friends in Boston to those in Terre Haute, where Indiana State is located, to the French Lickers who have known him since he was an itty-bitty thing with a basketball under his arm — is that nothing has changed him," John Papanek explained in a 1981 Sports Illustrated feature. "Not the celebrity. Not the money — $650,000 per year. Nothing."
Even after turning pro, Larry Legend kept things simple. Attending banquets and dining at the finest restaurants didn't appeal to him. Instead, shooting hoops and enjoying a cold beer were on the agenda.
"The quintessential team player in the quintessential team game still wears blue jeans and baseball caps, and he still derives a third of his pleasure from being alone with a basketball and a goal to shoot at. Another third comes from being part of a team," Papanek continued. "The rest of his pleasure comes from winning, mowing his lawn, drinking beer, hunting squirrels, fishing, playing golf, and being with friends and family."
As the cliche says, money can't buy happiness. Based on his personal habits, it seems Larry Bird would certainly agree.
Financial data courtesy of Spotrac.