Larry Bird Once Absolutely Crushed a 'Clubhouse Lawyer Teammate Who He Thought Was Talking to the Media Behind His Back but He Had the Wrong Guy
Larry Bird destroyed opponents with his legendary trash talk. Whether it was telling Charles Barkley "there's not a white guy on the planet that can guard me," or sharing with reporters that he knew he could find Crag Hodges "at the end of the Bulls' bench," Bird could eviscerate anyone with a quick one-liner.
While Bird usually saved this malice for the other team, he turned it on a teammate late in his career. When a Celtic aired the club's locker room drama in the press, Bird responded with shots fired right back. The problem was, it wasn't the teammate he thought who leaked to the media.
Larry Bird is an all-time great but struggled with injures later in his career
Larry Bird is one of the greatest basketball players of all time. Throughout the 1980s, he – along with his friend and arch basketball rival Magic Johnson – dominated the NBA. Bird won back-to-back-to-back NBA MVP awards from 1984-86.
By the late '80s, though, Bird's career was winding down, and the superstar struggled with injuries. Some Celtics started grumbling behind the scenes that The Legend needed to let teammates take a bigger role as his physical abilities diminished. At least one of these players shared these concerns with the media, which made Bird incensed.
Bird crushed one teammate who he didn't particularly like anyway, which led to even more discontent in the team's dressing room. Former Boston Celtics beat reporter Jackie MacMullan recently shared the story of how it all went down.
Bird fired back at a teammate he didn't like and suspected of talking behind his back
MacMullan joined Boston sports fanatic Bill Simmons on the Bill Simmons Podcast to tell the tale of Bird crushing his teammate for talking to the press about him behind his back. Bird's immediate assumption was that the leaks came from two sources: Jim Paxson and Kevin McHale. MacMullan told Simmons:
Paxson and McHale had gotten really tight on that team. They had become very close friends. And Bird never liked Paxson anyway, thought he was a clubhouse lawyer, was suspect about him anyway, and then he and McHale – Paxson and McHale – sort of got together. And there was a little bit of discontent during that time.

Jackie MacMullan of 'the Bill Simmons Podcast'
Bird's thought on the situation was that McHale got a pass because the two players had "been through the wars" together. However, Bird told iconic NBA insider Peter Vecsey that the other teammate's "got a yellow streak down his back."
The famed "Hick from French Lick" never used Paxson's name. However, Vescey made it clear that it was Paxson, who only played in Boston for two seasons (1988-90), who Bird was talking about.
The aftermath was intense, and it wasn't even Paxson who talked to the press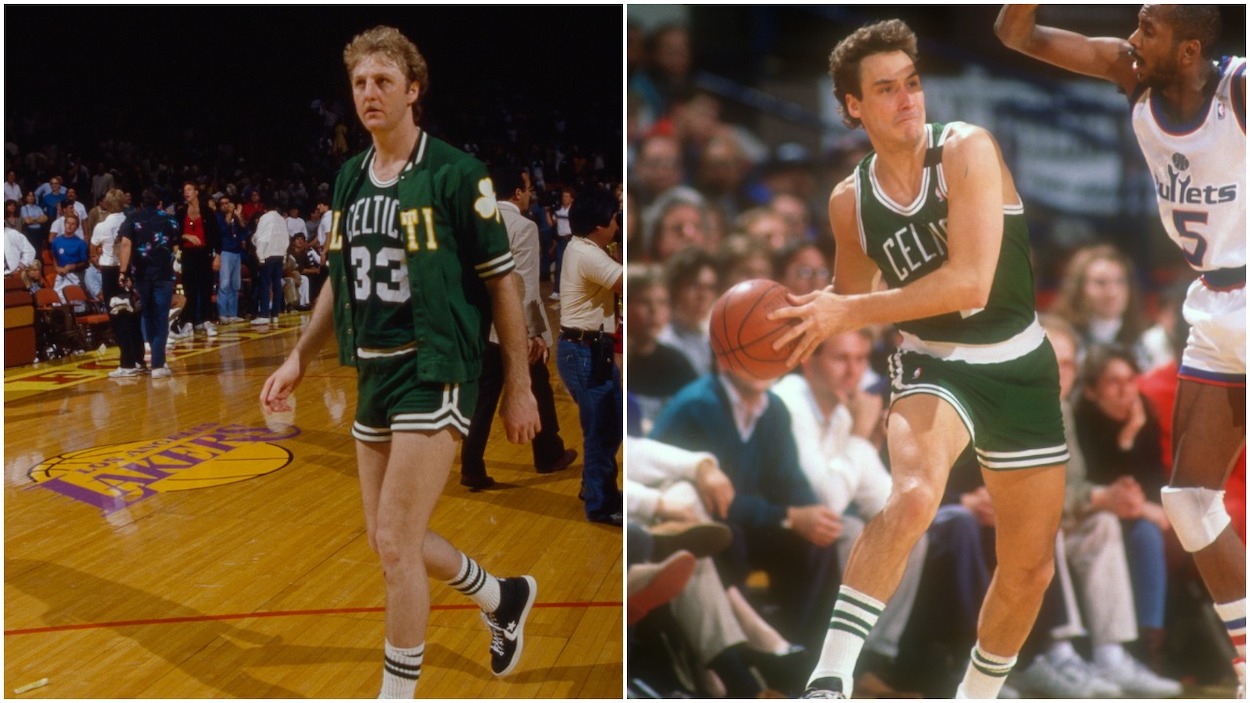 The insults from Larry Bird drew a wide-ranging reaction that led to Paxson becoming a laughing stock, which enraged the player:
I show up the next day, and Paxson comes flying at me! And he goes, "I demand a retraction!" They're making jokes about him on The Tonight Show, and I'm like, 'I didn't write it. I'm not writing a retraction.'… And he's like in my face.

Jackie MacMullan of 'the Bill Simmons Podcast'
McHale tried to diffuse the situation, sharing with MacMullan that "he'd become a pariah overnight," and Paxson was upset about that. For his part, Paxson steadfastly denied that he was the leak.
It turned out, Paxson was telling the truth. MacMullan dropped the big revelation at the end of the story, telling Simmons, "of course, later on, we find out that Dennis Johnson might have been one of the people who was talking that way about Bird," and it likely wasn't Paxson at all.  
Like Sportscasting on Facebook. Follow us on Twitter @sportscasting19