Larry Bird Once Called Magic Johnson the 'Toughest Competitor' and the 'Best Player' He Ever Saw
During his time on the hardwood, Larry Bird was quite the competitor. While he might not have had the same no-holds-barred reputation as Michael Jordan, the Celtics star was no slouch. Beyond his incredible talent, Larry Legend was more than happy to back his own talent and talk more than his fair share of trash. Magic Johnson came to understand that first-hand.
While those two stars had a rivalry that stretched from the NCAA ranks to the pros, there was still an underlying respect. Not only were they friends, but Bird paid Magic an incredible compliment during his own ceremony in Boston.
Don't believe it? Let's head back in time to "Larry Bird Night" and consider his words.
Larry Bird had no problem singing Magic Johnson's praises at the end of his own career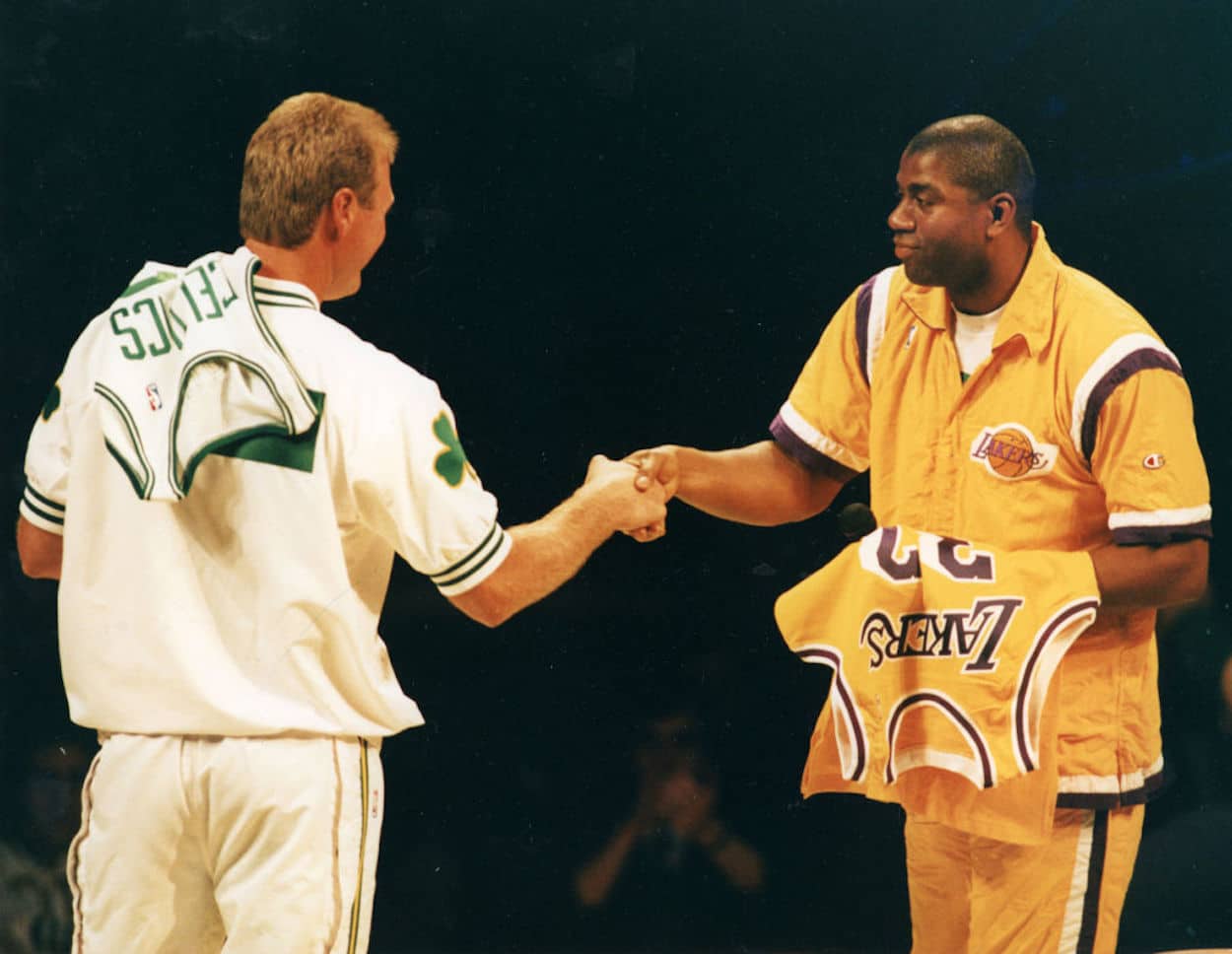 For all of his confidence, Larry Bird never forgot his humble roots. Even at the height of his NBA power, he was the same man he always was, whether that meant receiving an award in his vacation attire or personally building a driveway for his mother. That humility was present for all to see at the end of his playing career.
In February 1993, the Celtics held "Larry Bird Night," paying tribute to the star player who had defined the franchise's recent success. As Gene Wojciechowski wrote in the LA Times, the event was "a combination of Celtic pomp and circumstance, the basketball equivalent of a Kennedy wedding" and the Hick From French Lick's blue-collar sensibilities. There were tributes from stars and memories from high school side by side.
One of those stars was Magic Johnson, who developed a bond with Bird over the years. While the praise was supposed to be flowing toward the living Celtics legend, he had to send some love back to his rival-turned-friend.
"There's no question that Magic is the toughest competitor and probably the toughest player I've ever seen. There's no question about that, we already know that," Bird explained in a video of the event that's preserved on Youtube. "On the court, he took every game serious. He brought his teammates to a level that they couldn't even achieve on their own. We've seen what he's done for the last 13, 14 years, starting back in college. I'll never forget that college game where I knew from the beginning we was outmatched because of the talent, and Magic was directing them, leading them up and down the court."
Larry Legend even went as far as saying that Magic pushed him to be even better by winning championships on the opposite coast. He then repeated his earlier comment about Johnson's skill, taking things even further.
"He is by far the best player I've ever played against and really ever seen. I can't include all the other great players because I never really watched professional basketball," Bird added.
While there's an obvious time constraint on that statement, Bird doesn't hate on modern basketball
When you hear that Larry Bird said Magic Johnson was the best player he ever saw in 1993, that raises an obvious question. While the Celtics great hasn't taken the hardwood since then, he's coached and worked as an executive. Is it possible that he's seen someone better than his old rival in those years?
While the forward hasn't directly addressed that, we also know that he's not stuck in a mindset of "back in my day" superiority, either. In 2018, for example, he explained that he appreciated the modern NBA's grabbing, holding, and cheap shots.
On the subject of specific players, Larry Legend has acknowledged LeBron James' greatness on multiple occasions. At one point, Bird said that we should enjoy King James while we can and acknowledged the Ohio native was "one of the greatest to ever play our game." Then in a 2019 Andscape interview with Marc J. Spears, he named LeBron as a "very special" player and someone he enjoys watching. For the record, Kevin Durant, Kawhi Leonard, and "all the Golden State guys" made the all-time great's "favorite players to watch" list.
Do any of those guys compare to Magic Johnson? Everyone, including Larry Bird, is entitled to their own opinion. If nothing else, though, we know that the NBA icon isn't living in the past.