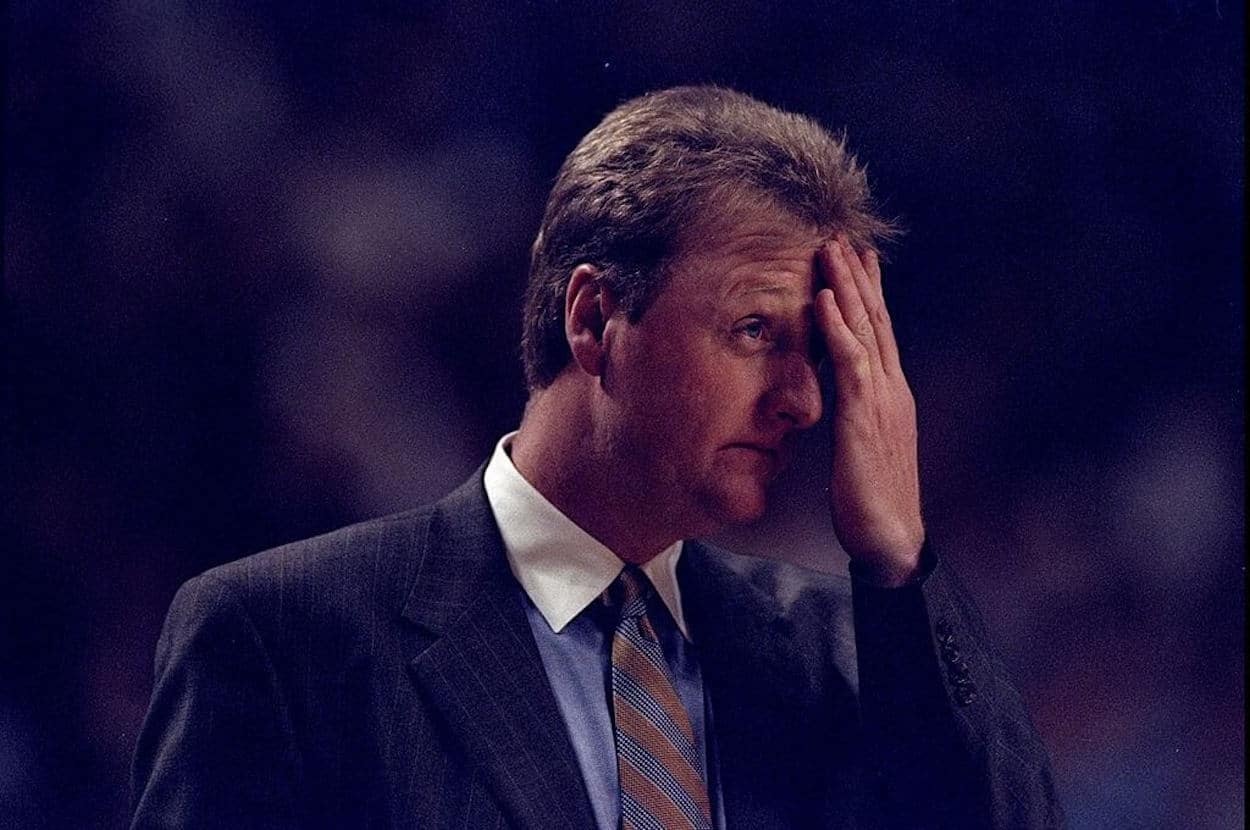 Larry Bird's Time With the Dream Team Involved a Painful, Olympic-Sized Disappointment
Larry Bird was able to join the Dream Team and win a gold medal, but he missed out on part of the Olympic experience.
When it comes to successful basketball players, Larry Bird sits near the top of the list. During his time in the Association, the famous forward established himself as one of the game's greats, taking home three championship rings and three MVP crowns. His winning ways continued on the international stage; Larry Legend only appeared in one Olympics, but he made history as part of the Dream Team.
Things weren't completely perfect, though. In fact, Bird's time in Barcelona, which was pretty perfect from a sporting perspective, actually included a major disappointment: the forward wasn't able to participate in the opening ceremony.
Let's travel back to 1992 and consider how things unfolded.
Larry Bird was in serious pain by the time the 1992 Olympics rolled around, and it kept him out of the opening ceremony
For many athletes, representing their country is the highest honor imaginable. While Larry Bird got to do that in 1992, he wasn't quite at his best.
As NBA fans will remember, the Celtics star had been plagued by back problems for several years, and after the 1991-92 season ended, he decided to hang up his sneakers. Before officially riding off into the sunset, though, he joined the Dream Team for a historic trip to Barcelona.
Needless to say that his pain didn't vanish in Europe, though. In fact, Larry Legend was physically unable to take part in the opening ceremony, much to his dismay.
"One of the things that was really disappointing to me was I wasn't able to march in the opening ceremonies of the Olympics," the living NBA legend recounted in his 1999 book, Bird Watching. "The problem was that the whole thing, from start to finish, was going to take around four hours, and my back wouldn't have made it. I couldn't stand for more than half an hour without stiffness and pain."
When an attempt to allow Bird to take part in the march and slip out early was denied due to security concerns, the writing was on the wall. And while Larry Legend had to hear his teammates discussing the once-in-a-lifetime opportunity, he did manage to put things in perspective.
"I wish I could have done it," the forward continued. "Magic [Johnson] and Charles [Barkley] and David Robinson and some of the others marched, and they said it was a great experience. But I knew the fact that I was in Barcelona at all was stretching it, so I had to take what I could get."
That wasn't Bird's only bittersweet experience at the Olympics
For all of his pain, Larry Bird did more than simply travel to Barcelona. He averaged 18 minutes per contest and ultimately claimed a gold medal alongside his peers. That once-in-a-lifetime moment, however, still carried a bit of additional pain.
"I always watched the Olympics with my dad, and even though I was very young — five or six — I will always remember how my dad stood up with his hand over his heart each and every time "The Star-Spangled Banner" was played when the USA medaled in an event," Larry Legend told the Boston Herald in 2021.
When it was his time to don a medal, step onto the podium, and listen to the national anthem, Bird was pulled back to that experience. His father had died by suicide in 1975, long before the Dream Team traveled to Barcelona.
"Of course, when we won the gold medal and I heard 'The Star-Spangled Banner' being played, I thought of my dad with his hand over his heart and knew he would be so proud," the legendary forward explained.
That, when taken in combination with Bird's memories about the opening ceremony, is a good reminder that, even on the biggest of big stages, athletes are people, too. There's disappointment, physical discomfort, and personal pain lurking below the surface; it doesn't matter if they're playing in the lowest level of minor league ball or at the literal Olympics. As much as we build players up to be superheroes, humanity doesn't change.
Larry Bird, after all, is as legendary as they come. If he can experience an emotional journey in a sporting context, anyone can.
How to get help: In the U.S., call the National Suicide Prevention Lifeline at 1-800-273-8255. Or text HOME to 741-741 to connect with a trained crisis counselor at the free Crisis Text Line.