Larry Bird Won a Gold Medal With the Dream Team, but the First Olympic Memory That Comes to His Mind Is a Bittersweet Reminder of His Painful Past
While winning a gold medal with the Dream Team was an iconic moment, Larry Bird also had a bittersweet thought on the podium.
During his time on the hardwood, Larry Bird had no problem finding success. As an incredible individual talent, the forward carried his Indiana State Sycamores to national prominence. In the pros, he helped bring the Boston Celtics back to their old best and captured three titles in Beantown. Unsurprisingly, he also earned a place on the Dream Team and, in 1992, captured an Olympic gold medal.
While Larry Legend had an unforgettable time in Barcelona, not every moment abroad was sunshine and rainbows. In fact, Bird's first memory of the 1992 Olympics involves a bittersweet connection to his personal past.
Larry Bird closed out his career by co-captaining the Dream Team to an Olympic gold medal
Toward the end of his NBA career, Bird was blighted by a painful back injury. He still managed to head to the 1992 Summer Olympics, though, and be a part of the Dream Team's success.
While the squad didn't really need Larry Legend — they had more than enough talent to dominate the competition — the Celtics star still played a role that summer. He wasn't a dominant offensive power, averaging a shade over 8 points per game, the forward was also a co-captain of the squad alongside his rival-turned-friend Magic Johnson.
After claiming the gold medal, Bird would never take the court for another professional game. The star forward retired in August 1992, having accomplished just about everything possible on the hardwood. He'd stay with the Celtics organization as a special adviser, then, in 1997, headed to Indiana to try his hand at coaching.
Hearing the national anthem on the podium proved to be a bittersweet experience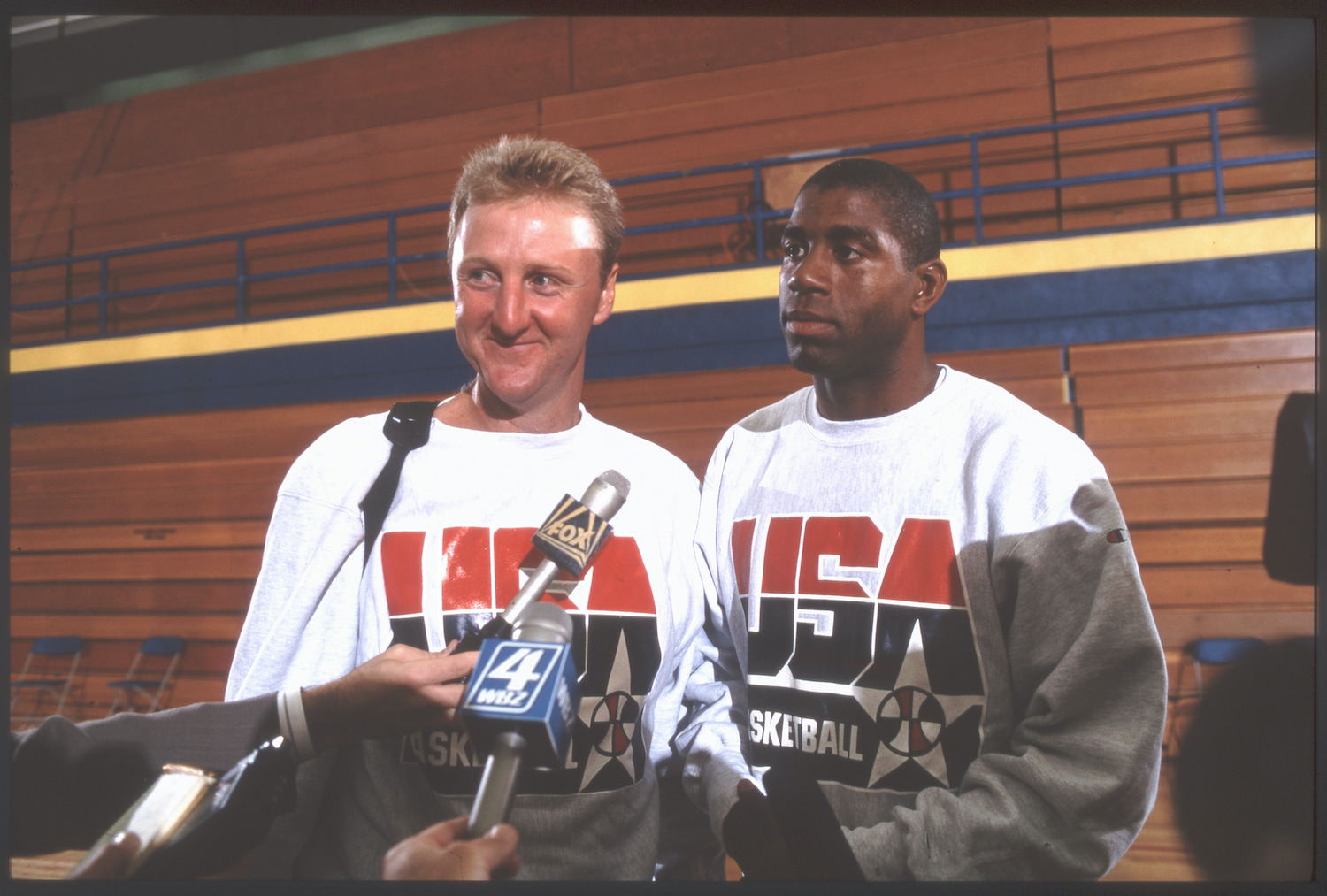 Given his famous competitive spirit, it's easy to imagine that Bird was all business during the 1992 Olympics. While that may have been true in basketball terms, the experience meant something more to Larry Legend.
"I always watched the Olympics with my dad and even though I was very young — five or six — I will always remember how my dad stood up with his hand over his heart each and every time "The Star-Spangled Banner" was played when the USA medaled in an event," Bird told the Boston Herald. "[My dad] was bursting with pride."
According to the write-up, that memory, rather than anything that happened on the court, "comes to [Bird's] mind first."
As you'd imagine, things came full circle when the Dream Team finally reached the top of the metaphorical mountain. Bird claimed his medal then, in a moment that harkened back to his childhood, heard the opening bars of the anthem.
"Of course, when we won the gold medal and I heard "The Star-Spangled Banner" being played, I thought of my dad with his hand over his heart and knew he would be so proud," the legendary forward added.
That moment, though, was also a bit bittersweet. Bird's father died by suicide in 1975; he never got to see his son represent the United States.
Larry Bird also had some humorous moments with the Dream Team
Bird's time with the Dream Team wasn't all basketball and reminiscing about his father, though. The famous forward also produced at least two humorous memories during that famous summer.
Before the squad ever left for Barcelona, Bird produced a signature moment of trash talk. After a group of college players defeated the Dream Team in a scrimmage, Rodney Rogers decided to taunt the forward by saying he hadn't hit a shot since 1984. The following day, Larry Legend was ready to send a message. He received the ball on eight or nine straight possessions, told Rogers exactly how he planned to score, then did exactly that. To add a bit of insult to injury, he also asked the collegiate defender if his play looked like 1984.
On another occasion, Bird showed his competitive streak in a less combative way. When asked to autograph about 80 basketballs, the forward asked how fast his teammates had done it, then challenged himself to beat that record. When the dust cleared, he had signed 80 souvenirs in less than five minutes. Needless to say, he was the fastest on the entire Dream Team.
Under ordinary circumstances, a trip to the Olympics is an unforgettable experience. Being there with the Dream Team, though, had to be even more special.
How to get help: In the U.S., call the National Suicide Prevention Lifeline at 1-800-273-8255. Or text HOME to 741-741 to connect with a trained crisis counselor at the free Crisis Text Line.