Larry Bird's Trash Talk Included Some Surprising Instructions for Larry Johnson
When you think of biting NBA trash talk, the likes of Michael Jordan and Gary Payton probably spring to the front of your mind. While both of those men certainly knew how to needle the opposition, Larry Bird also deserves a place in your pantheon. The Celtics star might not have gone for the jugular in the same way as his peers, but he was more than capable of participating in a bit of verbal warfare.
On at least one occasion, though, Larry Legend took things in a different direction. While he told plenty of opponents what he was going to do on offense, he also decided to give Larry Johnson a bit of a lesson during the game.
Sound unbelievable? Let's check the moment in question.
Larry Bird apparently told Larry Johnson how he should be defending him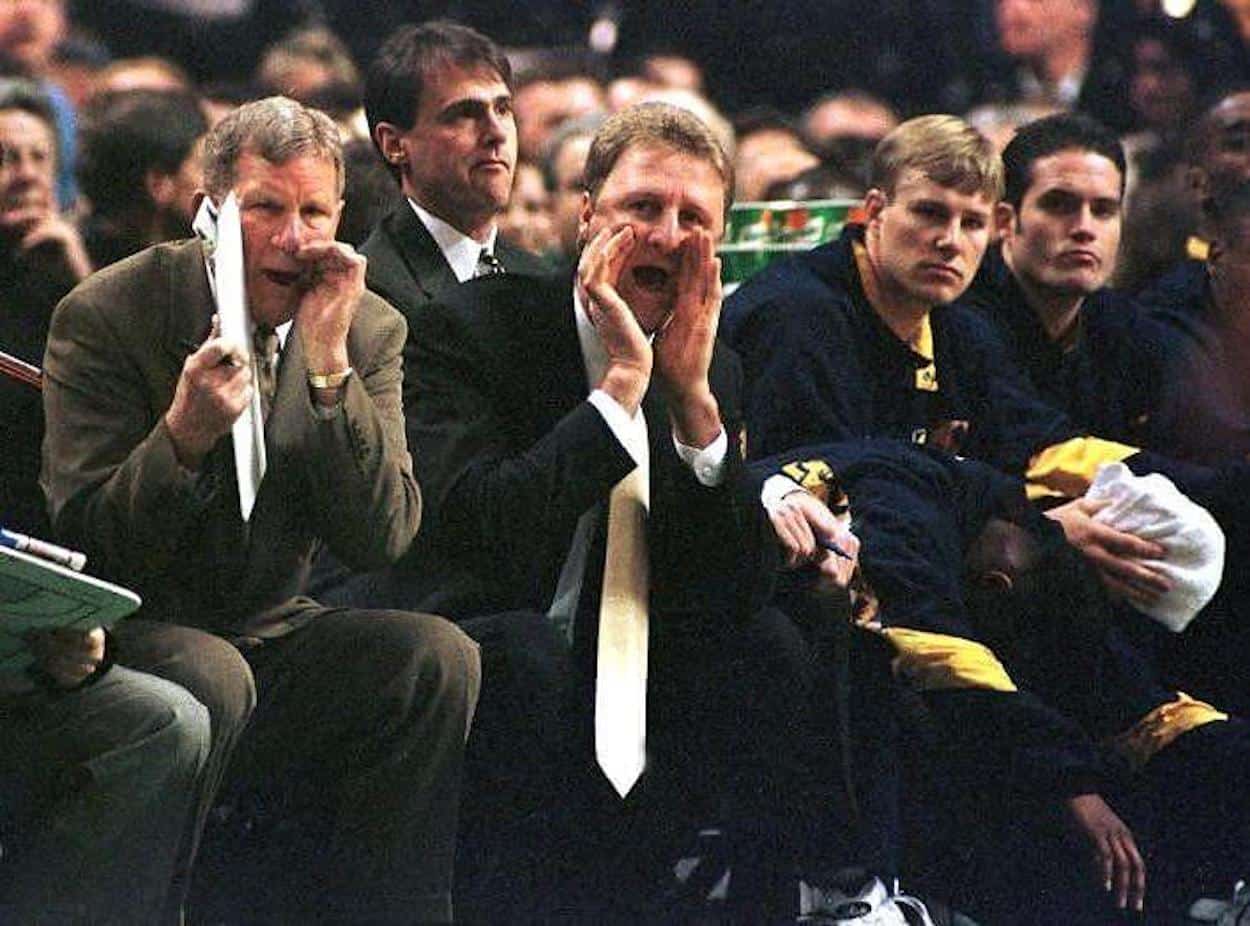 During his time on the hardwood, Larry Bird was known to tell the opposing team exactly what he was planning on doing, only to execute it anyway. On at least one occasion, though, he went even further.
"He told me what move he was going to make. He told me what shot he would use," Larry Johnson wrote alongside a Facebook post showing him trying to defend Larry Legend as a member of the Charlotte Hornets. "After he made the shot Bird would tell me how to guard him."
While that might sound unbelievable at first pass — why would an incredibly competitive player give his opposite number defensive tips? — the rest of Johnson's memory places things in a more understandable context. Just because Bird was telling the Hornets forward how to guard him, that didn't mean he wasn't going to continue scoring at will.
"Then he wouldn't stop talking about how he was going to do it all over again," Johnson continued. "Larry Bird in his final years was still a great baller."
And while it's not clear when that interaction took place, we know that Bird faced Charlotte twice during the 1991-92 season, which was his last and Johnson's first. In those two outings, Larry Legend posted 23 and 25 points, respectively. Those might not be overwhelming offensive outbursts, but given the forward's back issues, they're still pretty "baller" performances.
Larry Bird's trash-talking list is long and varied
While Bird's interaction with Johnson is a bit unusual due to the defensive instructions, it's not completely outside of the norm. As mentioned above, the Celtics star certainly knew how to talk trash.
One of his classic moves was telling the defense how to score, then executing, but he could spice up that technique as the situations varied. On one occasion, for example, Boston was facing a make-or-break possession at the end of the game. Not only did their star forward tell head coach K.C. Jones to forget about calling a play and simply give him the ball, but he also told his defender exactly where he planned to shoot from.
As you'd probably assume, Bird went to that exact spot and nailed what proved to be a game-winning jumper. As if that wasn't enough, though, he apologized to the opposition; he left two seconds on the game clock rather than converting a true buzzer-beater as he intended.
Beyond that, Larry Legend had a few other moves. He'd insist that white players weren't capable of guarding him and produce simple, albeit effective, jabs like asking his Three-Point Contest peers who was coming in second place. No matter what he said, though, the implications were clear: I'm the big man on campus, and you can't stop me.
All of that combined to make facing Bird an unforgettable experience. Just ask Larry Johnson about that.