Larry Bird Had a Recurring Dream About Finding a Million Dollars Before Striking It Rich in the NBA
During his time on the NBA hardwood, Larry Bird barely seemed human. The Boston Celtics star could score from anywhere on the floor, and he possessed incredible confidence. When those two realities combined, it was a sight to behold. He could, for example, tell the defender exactly what he planned to do and still pull it off. Before he hit the court, though, things were a bit different.
While he ultimately found fame and fortune in the Association, a young Larry Bird had a much more relatable dream. Growing up in French Lick, his nights were filled with fantasies about money.
Let's travel back in time and get inside Larry Legend's head.
Larry Bird's childhood dream focused on finding a million dollars, and he made more than that in the NBA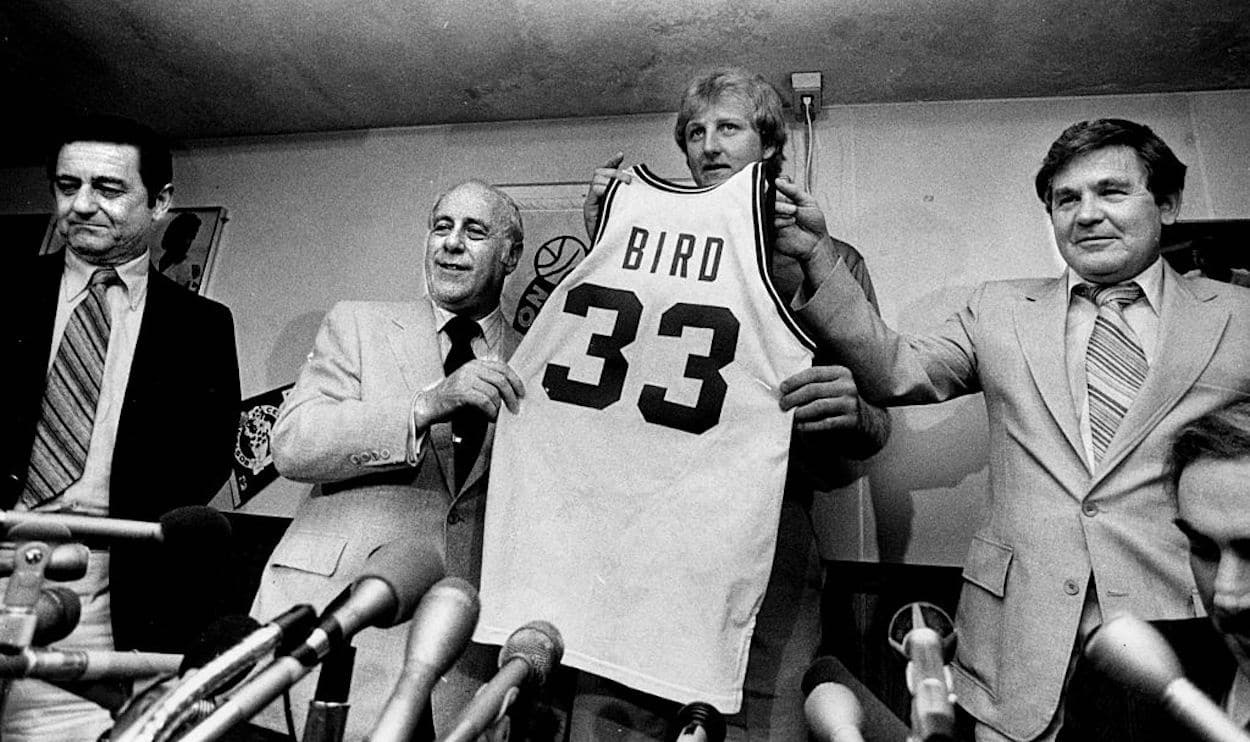 When you think back to your childhood, dreams probably included all sorts of fantasy scenarios and incredible situations. For Larry Bird, however, things hit a bit closer to home.
"The little country boy in Indiana had a recurring dream," Frank Deford wrote in a Sports Illustrated story. "In it, he has found a million dollars cash, and he has dug a hole for it under the front porch, and he is hiding there with it. His older brothers walk up and down the steps just above him, but he stays so quiet, they don't have an inkling that their kid brother is down there with a million dollars cash. 'I had that same dream all the time—over and over and over and over,' says the man who was the little boy."
While that account is already rather striking, we do have a bit more context. Speaking in Bird's SportsCentury episode, which is preserved on Youtube, Deford also spoke about that fantasy.
"He had this kind of inferiority complex," the scribe explained. "I remember him telling me, when we had a long interview, about dreaming about money. And it was something he constantly dreamed about. He would find a huge sum, like a million dollars, under the front steps. And I think it related to the fact that the Birds were kind of poor white trash. Or some people thought they were. So they always had that to sort of rise above. And, obviously, like a lot of people who are gifted in that one way, he could do it on the basketball court."
And Bird, of course, did more than make it. The famous forward ended up making a hair over $24 million during his time on the hardwood and, despite his unwillingness to change, became one of the most famous men in basketball.
Bird's dream can be a valuable reminder for sports fans when it comes to the contractual side of sports
In isolation, it's easy to hear about Larry Bird's million-dollar dream and view it as little more than a footnote in his biography. While that's certainly true — the Celtics star's life in French Lick is an unmissable part of his narrative — it can apply to the wider sporting picture. Money, like it or not, does matter, and remembering that reality can help explain why certain things happen.
Take, for example, Bird's early encounters with the Celtics organization. After being selected in the 1978 NBA draft, the forward returned to college. When it came time to hammer out a contract, things proved to be a bit tricky.
While Red Auerbach didn't want to pay the rookie more than anyone on the current roster, Bird and agent Bob Woolf held a key advantage. If a deal with the Celtics didn't materialize, Larry Legend could simply re-enter the 1979 draft and be selected by a more enthusiastic team. While things went down to the wire, Bird ultimately won out. He inked a $3.25 million deal, making him basketball's highest-earning rookie.
If that situation were playing out in the age of social media, you know there'd be plenty of takes about Bird being greedy and other similar sentiments. When we know about his childhood dream of finding a fortune, though, his willingness to push the envelope becomes a bit more understandable.
While it's easy to become numb to the sums of money that are thrown around in sports — if $500 million is the going price for a star quarterback, it's easy to see how that happens — those figures are a bit different to the people receiving the paycheck. For fans, receiving any cash to play a sport would be a dream come true. For players, though, the money is real and life-changing. Getting a better contract, whether that means holding out before signing, leaving in free agency, or agreeing to a trade, is a chance to receive generational money. It's an opportunity to make sure a grandmother is taken care of or ensure a child won't have to struggle through a hungry night.
And if it's hard to wrap your mind around that using current players, let's take it back to Larry Bird. The famous forward's nickname was literally the Hick From French Lick. He dreamed of finding a massive sum of money during his youth. How could you expect him not to jump at the chance to sign a larger contract?
That's not to say we have to be Pollyanna and watch players leave our favorite teams with a smile on our collective faces. It's OK to be upset with personnel moves, assert that a star left town for the money, and the like. Those sentiments, however, aren't incompatible with understanding the power of money.
Or, put it this way. As much as you might appreciate your current job and coworkers, would you stay put if there was an offer to do the same work for a significantly higher wage?
You can answer that for yourself.