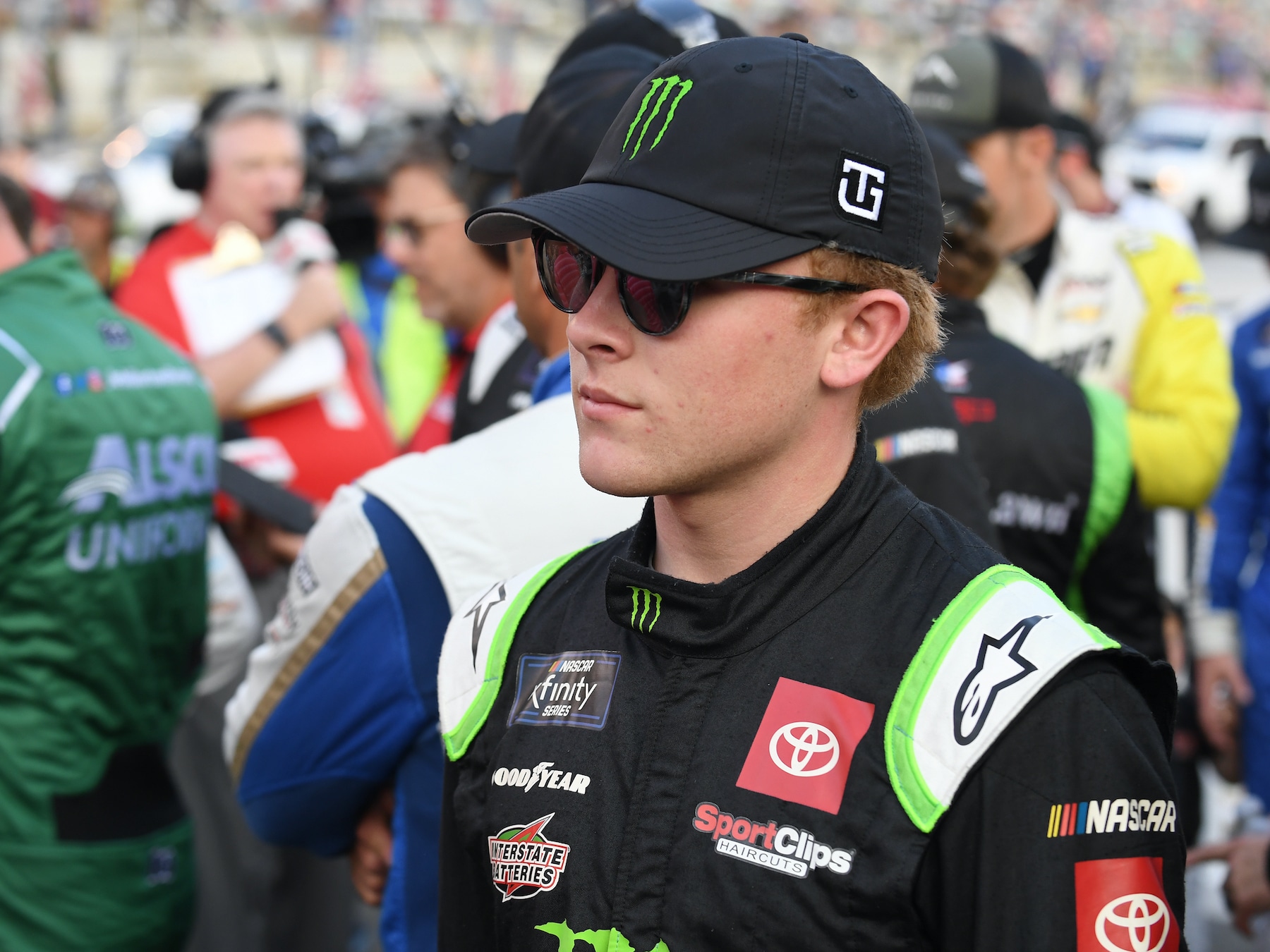 America's Crew Chief Larry McReynolds Doesn't Sugarcoat What's on His Mind, Ripping Ty Gibbs and Those Who've Excused His Behavior and Not Held Him Accountable 
Larry McReynolds doesn't sugarcoat what he thinks about the behavior of Ty Gibbs and those who've excused it throughout his young career.
No one can deny Ty Gibbs is currently one of the best NASCAR Xfinity Series drivers. The Joe Gibbs Racing driver has won nine races in less than two full-time seasons. Unfortunately, mixed in with all of those impressive on-track performances are some blemishes. Ugly moments when the 19-year-old has made bad choices.
Some might chalk up those poor decisions to inexperience, but the pattern of behavior and the actions involved suggest it's more than just immaturity. Instead, it's a quick temper that can result in rash decisions, which is particularly dangerous when inside a race car traveling at high speeds. 
This past weekend at Texas Motor Speedway, Gibbs made a couple of bad decisions and both could be easily viewed as the driver letting his emotions get the best of him. America's Crew Chief Larry McReynolds talked about Texas and not only ripped the JGR driver for his behavior but those who've enabled it throughout his young career. 
Ty Gibbs has made some bad on-track decisions
Ty Gibbs has consistently shown his driving skills, with nine Xfinity wins to his credit. Unfortunately, he has had at least that many times in his young career when people have questioned his decision-making skills. 
There's one example after another this year alone. Before securing his first win of the 2022 season at Las Vegas, Gibbs wrecked Ryan Sieg on Lap 2. Sieg confronted him during a red-flag delay for snow. 
Fast-forward a few months to Martinsville. Sam Mayer and Gibbs tangled during the race, with the JGR driver getting the last word on the track and pit road, first ramming into the rear of the No. 1 JR Motorsports car a couple of times, then confronting the driver on pit road where he proceeded to throw the first punch and connect with Mayer's face, while still wearing his own helmet. 
There has been conflict with two of Mayer's teammates, Noah Gragson and, most recently at Kansas earlier this month, Justin Allgaier. After that incident, Gibbs apologized during a rain delay interview.
"Off of 4, I made contact with Justin," Gibbs said. "I felt like I hit the wall harder than I did and I didn't. And I got mad and I went down and hit him in the door. And the stupid part is it hurt my car than it hurt his. I feel like his car is OK. They're going to have to put a door on when they get back to the shop. That's just inexcusable from me and I'm very disappointed in my actions. And I apologize to them."
Larry McReynolds rips Gibbs
The Kansas race and apology happened on Sept. 10. On Sunday, Sept. 25, Gibbs raced in his 10th Cup Series race for 23XI Racing, substituting for Kurt Busch, who's been out since suffering a concussion at Pocono in qualifying. In that time, the young driver has had several solid performances, including a top-10 finish at Michigan, but more importantly, he's stayed out of trouble and hasn't ruffled any feathers. 
That changed on Sunday in the Lone Star State when Gibbs had not one, but two incidents. The first and most notable occurred on pit road when he didn't like how Ty Dillon made contact with his No. 23 car during his exit off pit road, and made a sharp left into the door of the No. 42, redirecting the Petty GMS car to the left, where it narrowly missed hitting several Roush Fenway Keselowski pit crew members and two NASCAR officials standing nearby.  
NASCAR punished Gibbs with a $75,000 fine. 
Larry McReynolds talked about the incident on his SiriusXM NASCAR Radio show this week and didn't mince words about what he thought about Gibbs and those who have excused his repeated misbehavior pattern and not held him accountable. 
 "The Ty Gibbs deal, it's like I said yesterday, I think that's a whole lot more serious in my book than what I saw out there on that race track with William Byron and Denny Hamlin because I know we don't live in a what if world, but when he made that move on Ty Dillon, there were Roush Fenway Keselowski team members on the right side of that car," McReynolds said. "There were two NASCAR officials standing there.
 "And if I hear one more person, one more announcer, one more human being say, 'He's just 19.' OK, then don't race Cup. Go back and run Xfinity or go back and run late models until you learn how to carry yourself. I'm not buying that one. You're in the Cup Series. I don't care if you are 9, 19, or 49, you need to know when to and when not to. And pit road with a 3,500-pound race car with people potentially out there is not the place to do it."
Erik Jones warns driver
Interestingly, McReynolds wasn't the only one taking shots at Gibbs this week. Dillon's teammate Erik Jones got in on the action. Ironically, it all happened when the Petty GMS driver replied to Gibbs' apology on Twitter, and told the driver, "Don't ever bump me under yellow again."
Many thought Jones was kidding around, but then footage from Gibbs' in-car camera surfaced and confirmed that the 23XI Racing car did in fact hit the No. 43 car, not once, but twice, with caution lights clearly flashing before contact. 
That's the same crime that landed William Byron in NASCAR jail this week. So, if NASCAR wanted to, they could have penalized Gibbs for incidents with both PettyGMS cars, but they didn't. 
At some point, Gibbs is going to learn. And it's likely going to be the hard way. But until that happens, fans should get used to him regularly flashing his talent on the race track with a mix of bad judgment thrown in every few races. 
Like Sportscasting on Facebook. Follow us on Twitter @sportscasting19 and subscribe to our YouTube channel.