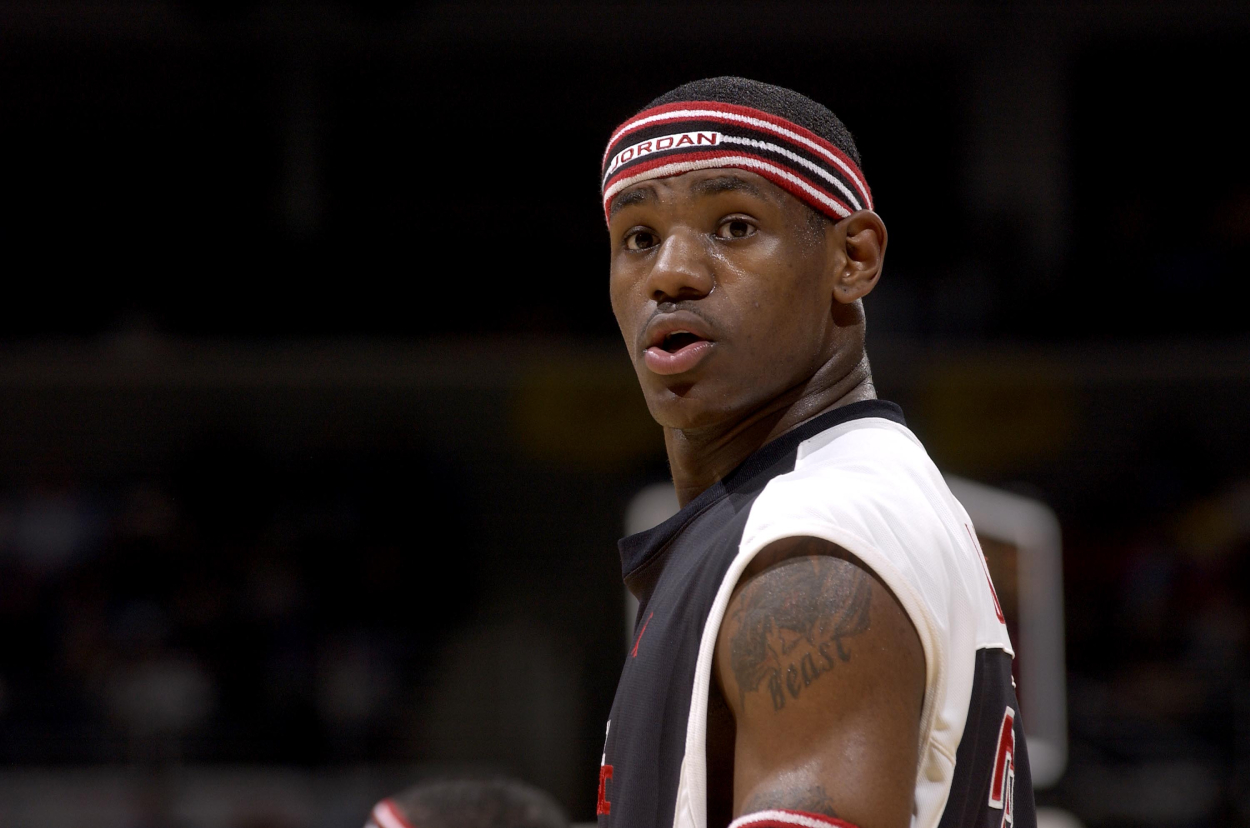 LeBron James Once Cooked a Bunch of NBA Players as a High Schooler but Eventually Paid by Getting Knocked to the Floor: 'He's Embarrassing Us'
LeBron James is an NBA legend, as he's a four-time MVP and four-time champion. Before he entered the league, though, a 16-year-old James once schooled a bunch of NBA players in a pickup game. However, one of those stars eventually made The King pay by knocking him to the floor.
For nearly two decades, LeBron James has been schooling his fellow NBA players year in and year out. However, there was a point when he didn't have the resume or influence he has now, so he had to pay his dues.
In fact, at just 16 years old, James played against some of the league's biggest stars, and he ultimately paid for "cooking" some of them. His punishment? A hard knock to the floor by one of the greatest defenders of all time, Metta World Peace.
LeBron James played pickup with Michael Jordan and other NBA stars while still in high school
In 2001, when LeBron James was just 16 years old, he received the opportunity to play pickup with his favorite player, Michael Jordan, and some other NBA stars. At the time, Jordan had been preparing to make his NBA comeback with the Washington Wizards.
In hindsight, everyone there should have been filming the contest, as arguably the two greatest players in NBA history, James and Jordan, were on the same court. We never got to see them face off in a real game, as Jordan retired for good following the 2002-03 season, and James' rookie year was in 2003-04. So, getting clips of a pickup game between the two would have been iconic.
But cell phones weren't as high-tech then, so no one got anything on video (that we know of), and we can only live through the stories.
James recalled the game in 2020.
"They didn't let me play for like the first hour," James said to Uninterrupted, per Bleacher Report. "…To be honest, I didn't even think I would even get the opportunity to play. And the only reason I played is because the guys that was in the league, after hours, some of them get tired. … So, for me to be on the court at 16 years old, sophomore in high school, with my favorite player of all time, man, it was like, 'This can't be real.'"
While discussing it, James didn't brag about himself or anything, but from Metta World Peace's point of view: The King was cooking.
Metta World Peace made King James pay for dominating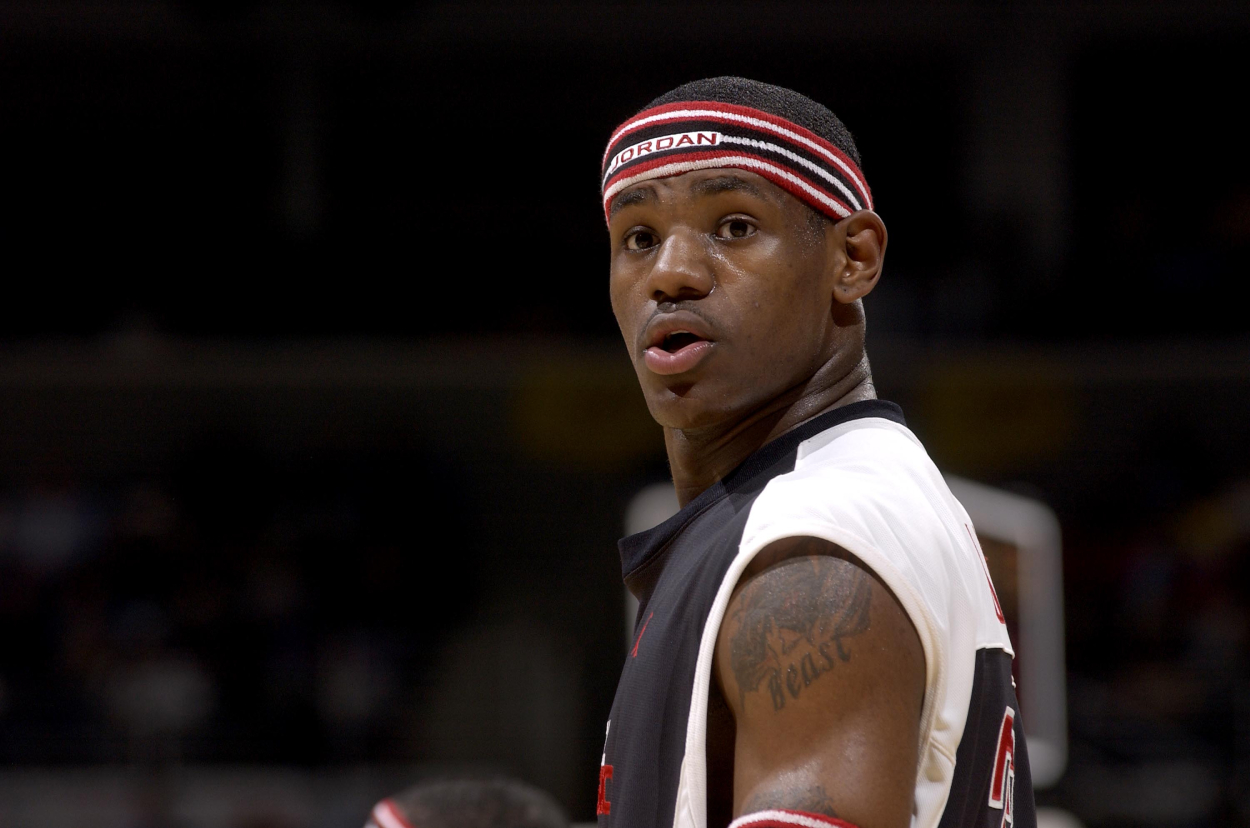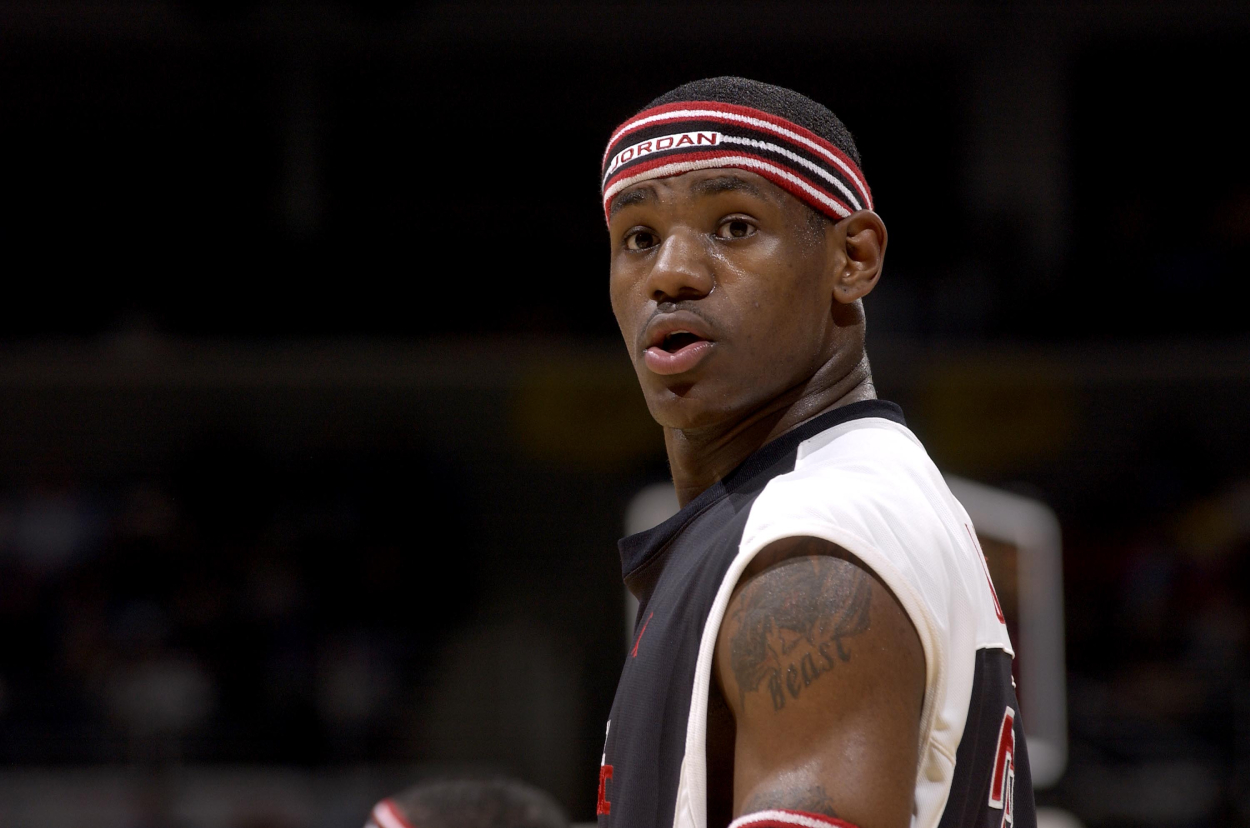 Metta World Peace, also known as Ron Artest and Metta Sandiford-Artest, was among the NBA stars who played in the pickup game with LeBron James and Michael Jordan. World Peace, who had just finished up his second NBA season with Jordan's former team, the Chicago Bulls, looked back at what happened that day while appearing on a podcast in 2019.
"He was cooking, nobody could guard him, LeBron James; they couldn't guard him," World Peace said on the Knuckleheads podcast. "I'm like, 'He's embarrassing us.'"
The 2003-04 Defensive Player of the Year didn't let James off the hook too easy, though, as World Peace revealed that he gave him a strong forearm while on a fastbreak.
"He's coming in at full speed, LeBron James — boom; I lay him on the floor," World Peace said.
But that didn't stop The King.
"He get up and start cooking more; he's just tough," the former Indiana Pacers star added. "He was about 225 (pounds) at that time, but I remember him just being tough."
By World Peace's recount, it appears James was even torching NBA stars at a young age, which may have essentially been some foreshadowing for what he was about to do for the next two decades.
LeBron James has continued torching his fellow NBA stars
As you likely know, James didn't stop there. He has continued dominating NBA stars ever since.
After entering the league out of high school in 2003, James has earned 17 All-Star selections and four MVP awards while also winning four NBA championships and four Finals MVPs.
He has since passed Jordan on the all-time scoring list, as he's third in NBA history with 35,367 career points. James is also eighth in assists with 9,696.
The King may have been a baller at 16 years old, but he has continued schooling his competition ever since then.
Stats courtesy of Basketball Reference