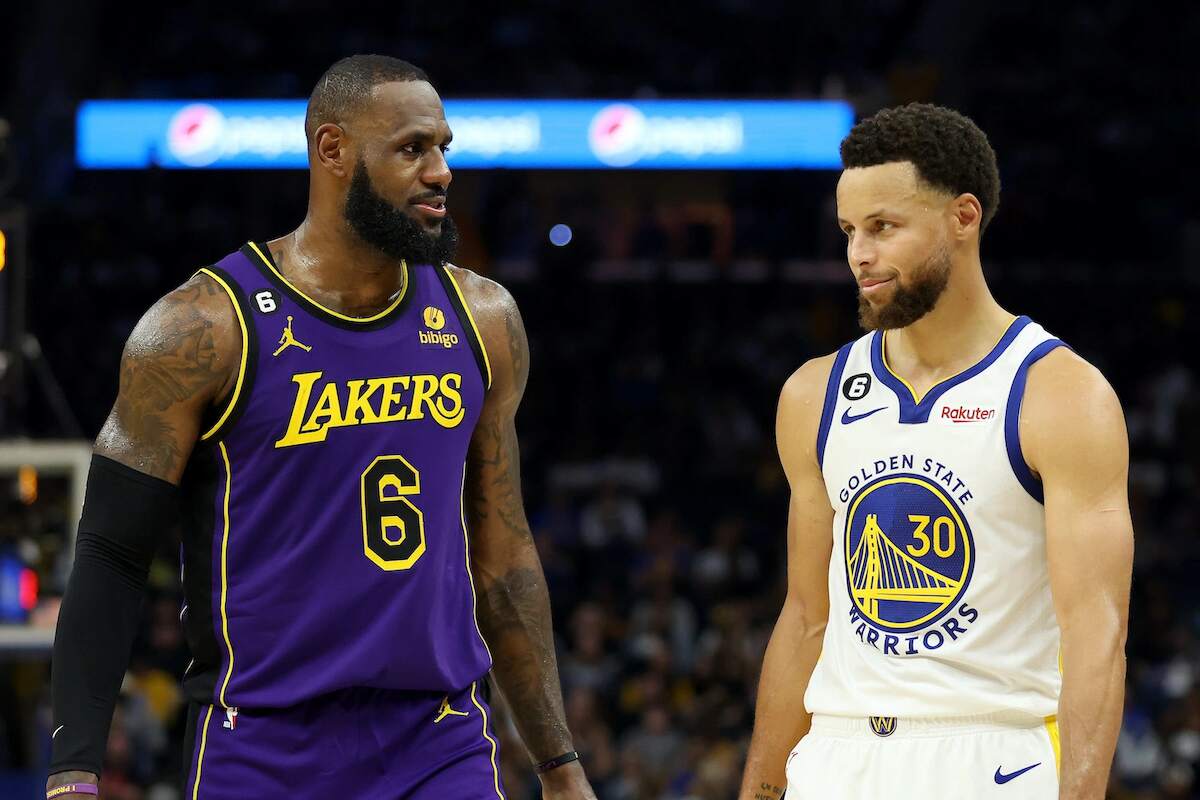 LeBron James Doesn't Usually Talk Trash, but He Once Called Out Steph Curry to Prove a Point to His Teammates
While LeBron James says he's not much of a trash-talker, he did call out Steph Curry in 2018 to prove a point to his Cleveland Cavaliers teammates.
During his time in the NBA, LeBron James has proved to be a generational talent, taking the sports world by storm. On the hardwood, he can do just about anything it takes to win a game. Trash-talking, however, is a bit outside of King James' wheelhouse.
Although James doesn't usually unleash a verbal assault on his opponents, he did talk trash Warriors guard Steph Curry during the 2018 NBA Finals. LeBron wasn't trying to get into his opponent's head, however. Instead, he was trying to prove a point to his own teammates.
LeBron James' stats help him stand tall as one of basketball's biggest talents
For better or worse, numbers never tell the whole story. LeBron James' stats, combined with the rest of his basketball resume, only underscore his greatness.
James, of course, made a name for himself in high school, starring for St. Vincent-St. Mary. After graduation, he jumped directly to the NBA and joined the Cleveland Cavaliers as the first-overall pick of the 2003 draft.
While King James couldn't lead the Cavs to a championship, he did push them into the national spotlight, establishing himself as a star in the process. Then, of course, he infamously took his talents to South Beach, where he won two titles with the Miami Heat.
In 2014, though, LeBron returned to Cleveland, hoping to lead his local team to the promised land; he did just that, claiming the 2016 championship. James has since left Ohio again, joining the LA Lakers, and lifted the Larry O'Brien Trophy for a fourth time in 2020.
Beyond those championships, though, LeBron James' stats speak for themselves. During his 20 seasons in the pros, he's averaging 27.1 points, 7.5 rebounds, and 7.3 assists per outing. He's also taken home four NBA MVP crowns, establishing himself as one of basketball's brightest stars.
King James says he's not much of a trash-talker
During his time in the association, Michael Jordan wasn't afraid to unleash a vicious verbal assault on anyone who stood in his way. LeBron James, however, prefers to handle things a bit differently.
Although he's an incredibly talented athlete and often posited as a modern MJ, James isn't much of a trash-talker. Instead, he prefers to focus on his own game.
"I've always been a guy who kind of let his game do the talking," James said during the 2020 NBA Finals, according to Peter Botte of the New York Post. "But when guys get to talking, I can do that as well. I've always tried to let my game do the talking. Some guys like to talk their way through the basketball game. I think it helps them out, personally."
King James also said that, while there's plenty of chatter during a game, he hadn't started a war of words on the court.
"There's always communication going on, on the floor," LeBron continued. "For me, personally, as long as it doesn't get disrespectful, I'm fine with it. But I've never really started up a trash-talking dialogue. That's just not me. I believe the way I play the game is enough trash-talking in itself."
LeBron James once trash-talked Steph Curry to act like a leader
As LeBron James noted, he can engage in trash talk when the situation calls for it. If nothing else, we know he said a few choice words to Steph Curry during the 2018 NBA Finals.
In the dying moments of Game 1 of that championship series, James blocked Curry's layup attempt; as the play continued down the floor, the then-Cavs star said something to the Warriors guard.
"I think it was less than a minute left, I didn't see him coming over from the weak side, so I tried to do a little soft scoop layup, and he pinned it. Then he stared me down, and he said something to me," Curry explained on The Bill Simmons, according to Bleacher Report. "And I was like, 'That's what we're really on right now? We're about to win, and you're worried about mean-blocking my shot and talking trash?"
The Warriors guard then asked James what was going on; while LeBron isn't much of a trash-talker, he explained that, in that situation, he needed to send a message to the rest of the Cavs roster.
"And he was like, 'I gotta do that to make sure my teammates know I'm a mentor,' and it's a part of his leadership and that type of deal," Curry explained. "And I was like, 'I don't want to be the sacrificial lamb for your leadership.' Come on, man, that's messed up."
Stats courtesy of Basketball-Reference