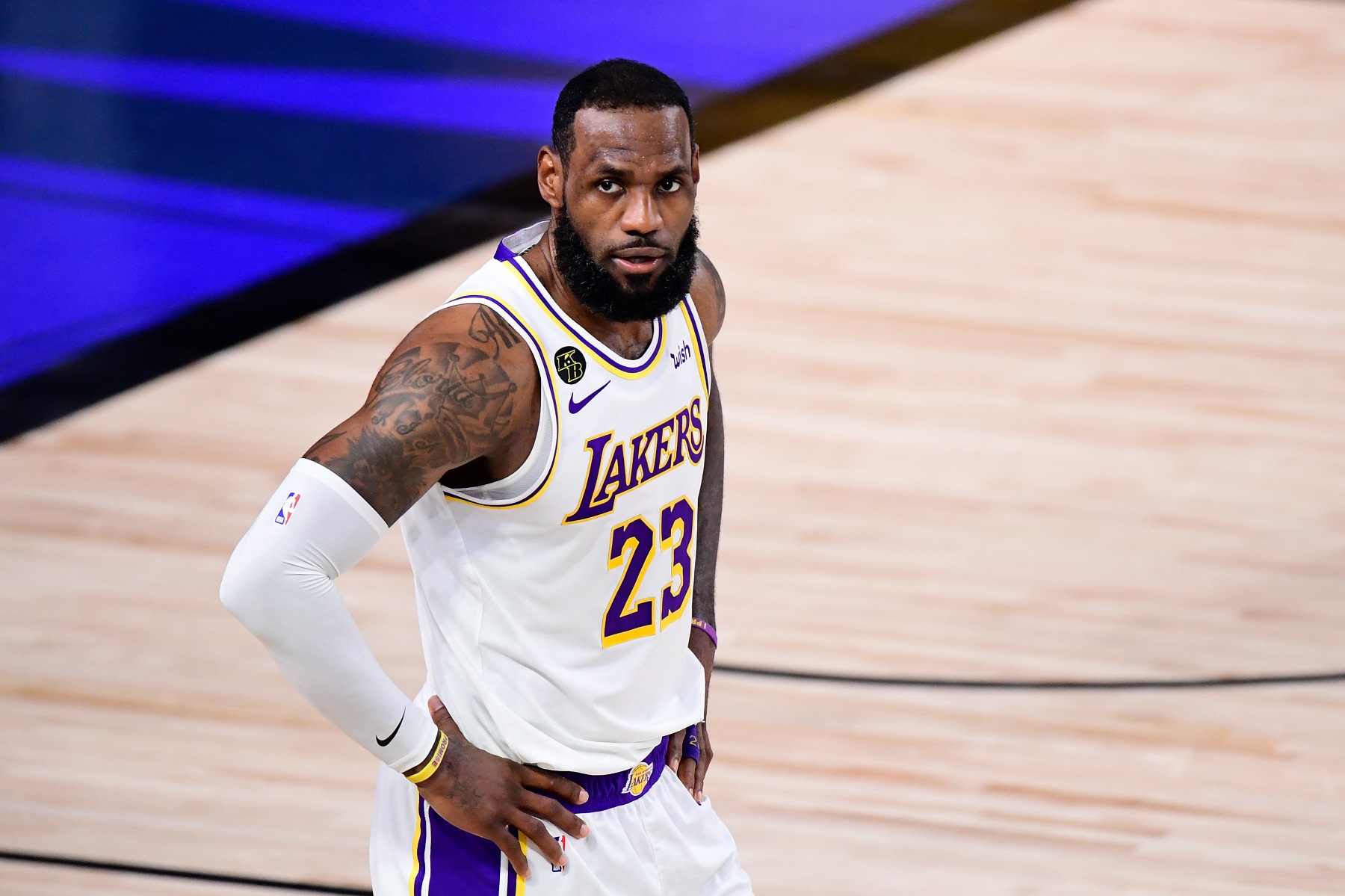 Lebron James Uncorked a Different Drink While NBA Draft Picks Celebrated With Champagne
Los Angeles Lakers star LeBron James is backing a brand of tequila in his latest business venture.
The next generation of pro basketball stars arrived at the 2020 NBA draft, led by Anthony Edwards going to the Minnesota Timberwolves and James Wiseman to the Golden State Warriors. While some of the 60 new NBA players were popping champagne bottles Wednesday, Los Angeles Lakers star LeBron James had a different adult beverage on his mind.
James, who has developed an impressive portfolio of investments over the years, unveiled his latest venture to the public.
LeBron James is a take-charge investor
LeBron James will have earned just short of $350 million in salary by the end of the upcoming NBA season. That is in addition to money he has picked up from shoe contracts and other endorsements. His third stream of revenue comes from investments he has made over the years to put that pile of money to work.
His endorsements have included Nike, McDonald's, and Coca-Cola, all leaders in their respective industries. However, James has made a name for himself in the business world by diving into his own ventures:
He licensed his marketing rights to Fenway Sports Group in 2011 in exchange for a stake in the company that owns the Boston Red Sox, the Liverpool soccer club, and half of Roush Fenway Racing.
James and longtime business partner Maverick Carter own a production company that has teamed with Tom Brady and Michael Strahan to sell a documentary series to Apple TV+.
His company's $1 million stake in 2012 in Blaze Pizza, a rapidly growing chain, was valued at $35 million in 2017. An expected IPO by 2023 could grow that by ten-fold.
The Los Angeles Lakers star reportedly felt so strongly about the pizza deal that he walked away from substantial remaining money on his deal with McDonald's, so he obviously weighs his moves carefully.
King James unveils his tequila brand
LeBron James is familiar with leading groups – the Miami Heat, Cleveland Cavaliers, and Los Angeles Lakers – to NBA championships. He's now leading a group of investors into his new passion: tequila. According to the Wall Street Journal, the basketball star took a liking to a brand during a Mediterranean vacation and is now leading a group of investors into backing Lobos 1707.
The Lobos 1707 investment, which became official on Nov. 18, the same day as the NBA draft, is co-led by Mezorio Spirits, Torch Capital, and Main Street Advisors, a group that includes James and business partner Maverick Carter.
Lobos 1707, aged in the oak barrels more commonly associated with whiskey or brandy, is rolling out four varieties that range in price from $45 to $150 a bottle.
James had previously developed a reputation for his taste in expensive wines, a passion shared by other NBA players. The interest in tequila began when James was introduced to Lobos 1707 founder Diego Osorio by Paul Wachter, one of the basketball star's financial advisers.
The decision to invest is consistent with James' approach to deals. He prefers involving himself in businesses that he discovers for himself rather than those that are brought to him.
"If it's organic to who I am or what I'm doing, then it's a lot easier for me to be a part of something," he said. "I was in a perfect place in my life. Me and my friends were trying different tequilas. I actually bought a place with Maverick Carter in Cabo a few years ago. There's obviously a big tequila heritage there."
A new LeBron James vs. Michael Jordan rivalry looms
Celebrities are practically crawling over one another to get into the tequila business, which has become trendy. The mania can be traced to actor George Clooney, who launched the Casamigos brand with the husband of model Cindy Crawford and another associate in 2013. Diageo gobbled up the business for a reported $1 billion in 2017.
Music industry giant Sean "Puffy" Combs entered the business shortly after Clooney did, hawking the DeLeon brand after buying 50% of it from Diageo. Former Van Halen vocalist and solo artist Sammy Hagar and Maroon 5 frontman Adam Levine launched Santo Mezquila in 2017, and fellow entertainer Justin Timberlake has had a brand since 2009.
In the sports world, wrestler-turned-actor Dwayne "The Rock" Johnson got into the game this year with the debut of the Mana label.
Among basketball stars, Michael Jordan beat LeBron James to the punch with the Cincoro brand out of Jalisco, Mexico, that he bought into with four fellow NBA team owners: the Los Angeles Lakers' Jeanie Buss; Milwaukee Bucks owner Wes Edens; and Boston Celtics co-owners Wyc Grousbeck and Emilia Fazzalar, his wife.
Basketball fans have been debating Michael Jordan vs. LeBron James for the title of "Greatest of All Time," and now their rival tequila ventures adds a new layer to the discussion.
Like Sportscasting on Facebook. Follow us on Twitter @sportscasting19.