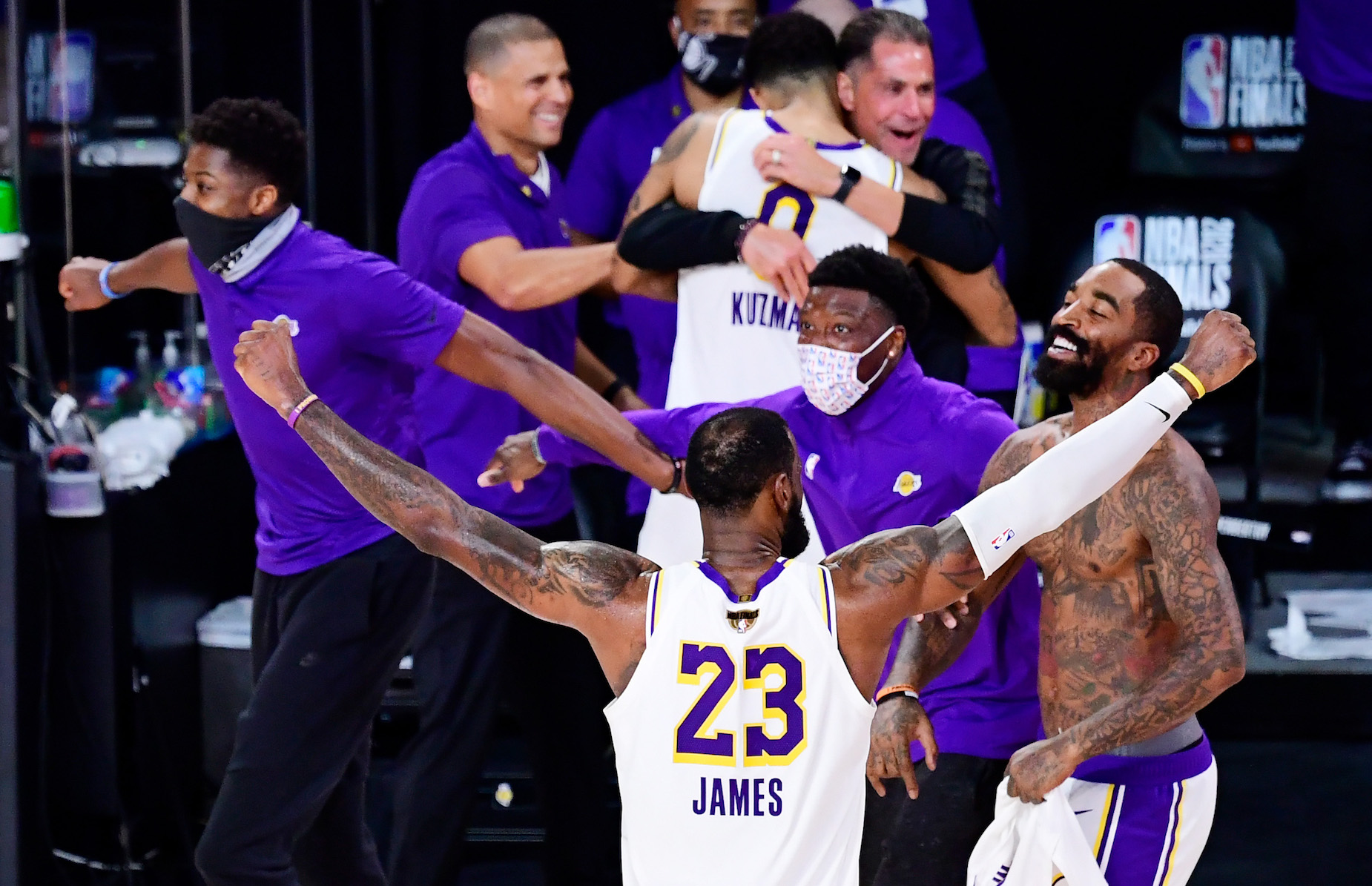 LeBron James Recently Received the Ultimate Compliment From a LA Lakers Legend
While LeBron James has received plenty of plaudits over the years, a LA Lakers legend recently paid him the best compliment yet.
Whether you think LeBron James is basketball's GOAT or he's unable to surpass Michael Jordan, it's impossible to argue with the LA Lakers star's body of work. On the court, King James has come to dominate the modern NBA; off the court, he's a pop-cultural presence, unafraid to speak up and put his money where his mouth is. Those habits, it seems, have caught the attention of Kareem Abdul-Jabbar.
While it's been a while since Kareem hit the court, he's still respected as both a basketball player and a human being. The Lakers legend, however, is impressed by his modern counterpart, even calling LeBron James "what an American should be."
LeBron James is a star, both on and off the court
In the modern NBA, stars make all the difference; it can almost seem impossible to make a run at the title without two or three top talents on the roster. Even among that crowded landscape, LeBron James still stands head and shoulders above the rest.
James, of course, burst onto the scene at St. Vincent-St. Mary High School before jumping directly to the NBA. He established himself as a star in Cleveland before controversially leaving town for Miami; he won two titles in South Beach, returned to the Cavs to win his third, and recently won another ring with the Lakers. While some critics contend that he took the easy way out, it's tough to argue with LeBron's resume and overall stat line.
King James' accomplishments, however, aren't limited to the basketball court. He has his own charitable foundation; it has helped send students to college and even supports the I Promise School in Akron, Ohio. LeBron has also become more and more involved in activism over the years, with his More Than a Vote campaign currently taking center stage.
Kareem Abdul-Jabbar hailed LeBron James as a model American
After leading the Lakers to the 2020 NBA championship, LeBron James received plenty of praise. Perhaps the highest compliment, however, came from Kareem Abdul-Jabbar.
In a piece that ran in The Guardian headlined "Amid uncertainty and upheaval, LeBron shows us what an American should be," Abdul-Jabbar discussed the "complex blending of capitalism and ingenuity" that existed inside the NBA bubble. The Lakers legend paid special attention to the league's social justice initiatives and the responses from Donald Trump, Ted Cruz, and others.
That situation, however, also helped LeBron James shine; in addition to leading his team to a championship, he was unafraid to speak on social and political issues during his time in the bubble.
"The NBA finals are always about the two best teams battling it out in astounding feats of athleticism and grit," Abdul-Jabbar explained. "But this year that has called on all of us to endure so much, the finals were also about two teams that want to stand for something more than being the best team, they want to be the best examples. This year LeBron James exemplified what a modern athlete should be, the Lakers exemplified what a team should be, and the NBA exemplified what a professional sports league should be: fiercely dedicated to their sport and passionately committed to their community."
Kareem Abdul-Jabbar knows a thing or two about greatness
In conversations about the NBA's all-time GOAT, Kareem Abdul-Jabbar is often be overlooked. The Lakers' big man, however, was a giant, both on and off the court.
Purely from a statistical perspective, Kareem was dominant; he won six championships, six NBA MVP titles, and averaged 24.6 points and 11.2 rebounds per game over a 20-year career. Abdul-Jabbar didn't limit himself to basketball, though.
As a young athlete, Lew Alcindor took part in the Cleveland Summit in support of Muhammad Ali; shortly after, the center converted to Islam and changed his name. The big man also boycotted the 1968 Summer Olympics and, even today, continues to speak out about issues of race, religion, and equality.
During his time on the hardwood, LeBron James has received plenty of high honors. Being called the model example of a modern athlete by Kareem Abdul-Jabbar, however, has to be one of the most impressive yet.