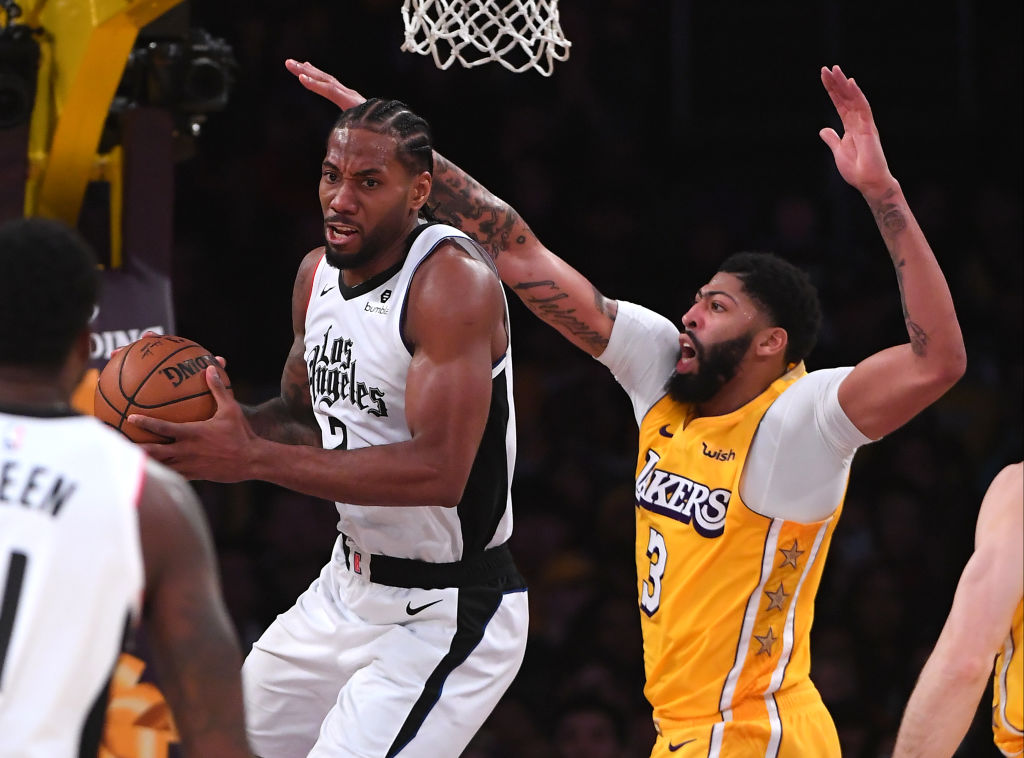 The Los Angeles Lakers Have a Specific Game Plan to Slow Down Kawhi Leonard
In Sunday's Battle for Los Angeles, the Lakers have a specific plan to slow down Kawhi Leonard and his Clippers.
In sports, there's nothing like a rivalry game to get the competitive juices flowing; when you're playing against a local opponent, there's no worse feeling than coming off second best. While meetings between the Los Angeles Lakers and the Los Angeles Clippers have historically been one-sided, things are more intense in this season. Adding LeBron James, Anthony Davis, Paul George, and Kawhi Leonard will certainly spice things up.
On Sunday night, the two Los Angeles clubs will meet again on the Staples Center court. The Lakers will be looking to come out on top, thanks to a specific gameplan to slow down Kawhi Leonard.
The Los Angeles Lakers and Clippers respective seasons
While neither the Lakers nor the Clippers began life in Los Angeles, the two teams have called the city home since 1984. Although the team in purple and gold has historically stolen the spotlight, things have gotten more competitive in recent years.
Despite struggling last season, the Los Angeles Lakers are currently the best club in the Western Conference. Unspruringly, LeBron James and Anthony Davis have formed an impressive pairing; they're combining for more than 50 points per outing. The team has also bought into head coach Frank Vogel's defensive philosophy and is finding success on both ends of the floor.
While the Clippers made a splash in the offseason by adding both Kawhi Leonard and Paul George to their roster, things haven't gone exactly as planned. Injuries have been the team's biggest issue; while the Clippers can dominate anyone on a given night, they simply haven't been able to play their best lineup with any consistency. The club is still sitting towards the top of the standings, though, which is a testament to their overall talent.
So far this season, the Clippers have won both of their meetings with the Lakers. They'll look clinch a win in the series on Sunday afternoon.
The Los Angeles Lakers have a specific plan to stop Kawhi Leonard
While elite teams like the Los Angeles Clippers can beat you in a variety of ways, one player is usually the key to their offense. The Lakers believe that man is Kawhi Leonard, and they're cooking up a specific game plan to slow him down.
"We all know his strengths," Danny Green, who played with Leonard in Toronto, told Brandon 'Scoop B' Robinson. "We all know what he can do. Try to limit him as much as possible to not let him get to his spots and get comfortable in his rhythm. Do that and offensively make him work, put him in some screen-and-rolls out on the floor, space and have some good movement."
While that plan makes sense—while you can never truly stop a star player, you have to force him to work as hard as possible—Leonard is no stranger to facing defensive pressure. This season, the forward has been dishing out more than five assists per outing; forcing the ball out of his hands is a good start, but it's not enough.
The Los Angeles Clippers have a chance to make a statement
While the Los Angeles Lakers might have a better record, the Clippers are starting to get healthy and round into form. Sunday afternoon will provide an opportunity for them to stake their claim as the top team in both L.A. and the Western Conference.
"I mean sky's the limit," Kawhi Leonard said at the end of February. "We have very talented players, we got some youth, veterans, and when it's all put together, I feel like we can be one of the top teams. It's about just keep sustaining our health and trusting each other and just taking it one game at a time."
According to 538, the Clippers have the best chance of lifting this year's Larry O'Brien Trophy. On Sunday, facing the Lakers and their Kawhi Leonard-centric gameplan, they'll have a chance to prove it.