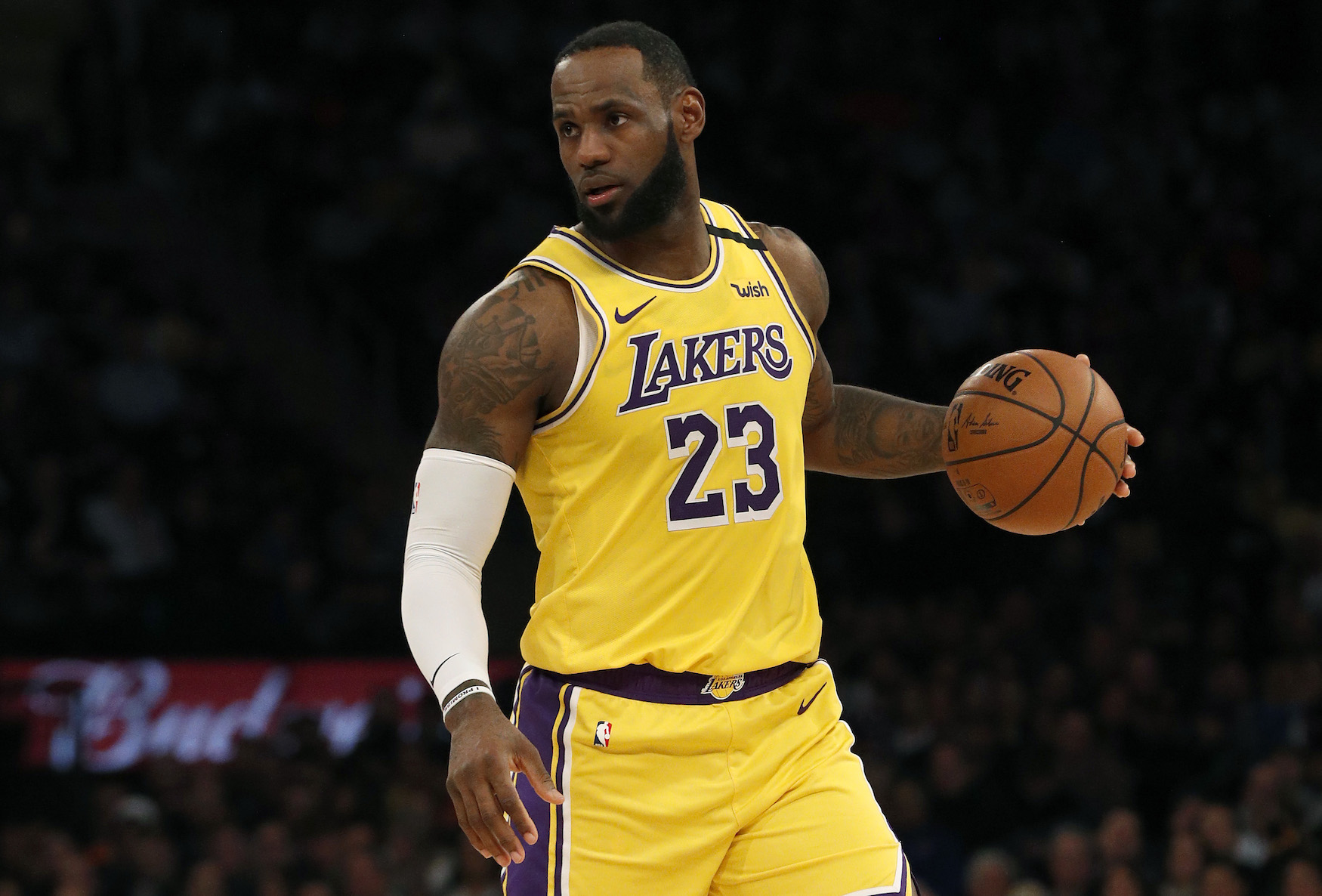 LeBron James Will Be Changing His Playoff Routine Because of Something Bigger Than Basketball
While the Los Angeles Lakers headed into the NBA bubble hoping to win a championship, LeBron James will be altering his usual playoff routine.
While he might not reach Michael Jordan's level of intensity, no one can deny that LeBron James is a fierce competitor. During his 17 seasons in the NBA, King James has won titles in Miami and Cleveland; now, he and his Los Angeles Lakers teammates are looking to lift the Larry O'Brien Trophy. The 2020 NBA playoffs, however, will be a bit different.
As you surely know, this year's playoffs will take place inside a bubble in Orlando. Beyond that change of scenery, though, LeBron James will also be making a more personal change; for the Lakers forward, some things are simply bigger than basketball.
LeBron James and the Los Angeles Lakers are chasing a championship
In the world of sports, certain franchises carry a reputation of success. For better or worse, the Los Angeles Lakers are one of those clubs.
Recent years, however, haven't been too kind to the Lakers. Before this season, they limped through six straight losing campaigns; unsurprisingly, none of those outings featured playoff basketball. Thanks to LeBron and Anthony Davis, though, things are getting back to normal in Hollywood.
With those two stars leading the way, the Lakers have returned to their familiar place atop the Western Conference. When the NBA suspended play in March, the club had already clinched a postseason berth, thanks to their 49-14 record. Frank Vogel seemed to have his squad buying in on the defensive end of the floor and clicking on all cylinders; they seemed like the team to beat in the west, if not in the entire NBA.
LeBron James won't avoid social media this postseason
Once the NBA regular season ends, LeBron James usually enters "Zero Dark Thirty-23," avoiding social media and other distractions to chase a championship. This year, however, he'll be doing things a bit differently.
As we all know, 2020 has been a uniquely challenging year, forcing everyone to make changes. Those new circumstances mean that LeBron can't bring himself to stay off social media.
"It's definitely going to have a different mindset, different feel to it," James explained on a conference call, according to ESPN's Dave McMenamin "I won't be turning my phone off during this run. I can't afford to. I have to continue to check in with my family every single day."  
Beyond checking in with Bronny and the rest of the James clan, social media will also serve another valuable purpose: advocating for change.
"Shutting down social media for 'Zero Dark Thirty-23' this year would also mean abandoning his platform at a time when James and his NBA brethren have been acting as spokespeople for social change, McMenamin continued. "Thirteen of the past 27 Instagram posts James has shared with his 69 million-plus followers were geared toward social justice issues."
The Los Angeles Lakers are still title favorites, with or without social media
Between living in a bubble and using social media, the 2020 postseason will be a bit different for LeBron James. Those changes, however, won't alter the bottom line: he and his Lakers teammates are still the favorites to claim the NBA title.
According to 538's estimation, the Lakers have a 41% chance of making it out of the Western Conference and reaching the NBA Finals; they also have a 31% chance of winning the whole thing, which is the best odds of anyone in the league. While Kawhi Leonard and Giannis Antetokounmpo will surely have a thing or two to say about that, it's tough to argue with the percentages; with LeBron and Anthony Davis both playing at an MVP-quality level, they'll be tough to beat.
Right now, LeBron James' family and opportunity to push for social change make it impossible for him to completely divorce himself from social media. While some things are bigger than basketball, don't expect the Lakers to be distracted from their chase for the NBA title.
"I'll be as locked in as I can be under the circumstances," LeBron explained. "I won't cheat my teammates, I won't cheat our fans, and I won't cheat myself. I'll be ready to go."