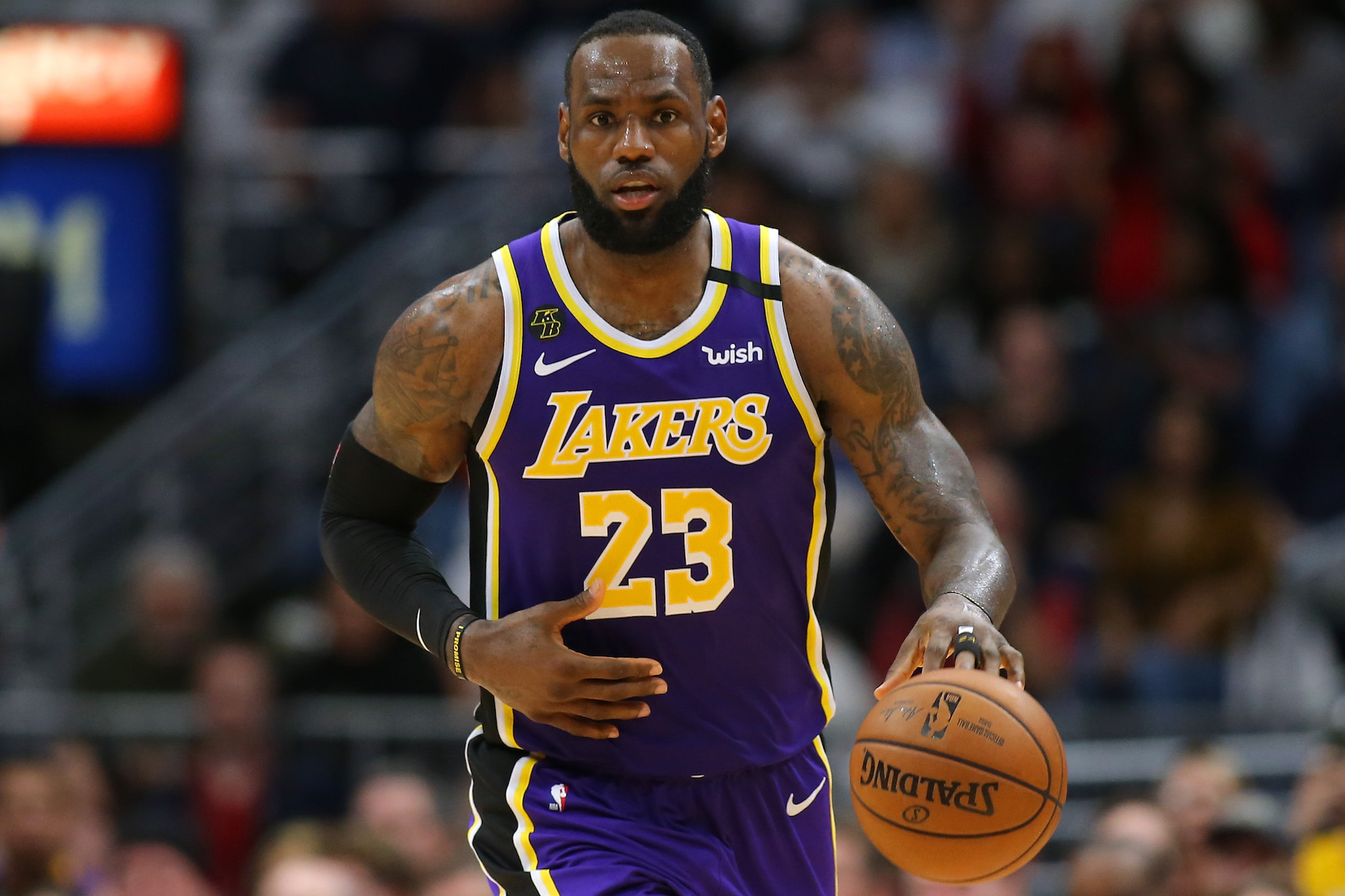 LeBron James Will Strengthen His Claim for Basketball's GOAT Title With 6 Wins During the 2020 NBA Playoffs
After 17 seasons in the NBA, no one can question LeBron James talent. During the 2020 postseason, however, he can state his claim as the playoff GOAT.
If you've watched basketball for any amount of time, you've heard the debates: is LeBron James or Michael Jordan the GOAT? While there probably won't ever be a consensus on the matter, there's no arguing with King James' talent. Even if he's not as great as His Airness, he's still a legendary player in his own right.
During the coming weeks, though, LeBron's historic resume will probably get even stronger. Unless something unforeseen happens during the 2020 playoffs, James will once again write his name in basketball lore.
LeBron James' legendary basketball career
Once an athlete hits a certain level of stardom, they usually become a divisive figure. Even LeBron James haters, however, can't take issue with the forward's body of work.
As long-time basketball fans will remember, James burst onto the national scene during his time at St. Vincent-St. Mary High School; seemingly overnight, national media descended on Akron, Ohio, desperate to cover the sport's next big star. Despite those lofty expectations, King James has lived up to the hype.
While leaving Cleveland in The Decision and forming a super team in Miami rubbed plenty of fans the wrong way, LeBron has rebounded from that potential setback remarkably well. After winning two titles in Florida, King James returned to the Cavs and won his third championship; now, he's chasing a fourth ring with the Lakers.
Beyond that silverware and his individual awards, the forward is still producing at a remarkably high level. 2019-20 was James' 17th season in the NBA, but he still posted strong numbers; while his average scoring dropped to 25.3 points per night, he also dished out a career-high 10.2 assists per game.
Closing in on the NBA playoff wins record
While baseball may be in a league of its own, every sport has plenty of historical records. In the world of basketball, LeBron James is about to claim another one for himself.
As Yash Matange explained on NBA.com, LeBron currently ranks third on the NBA's all-time postseason wins list with 156 total victories. If the Lakers can win two games during the 2020 playoffs, James will pass Tim Duncan and move into second place; six total Ws will take the top spot away from Derek Fischer.
While there are two sides to every story—you could argue that James has had the benefit of playing on a super team in Miami and has benefited from a weak Eastern Conference—legacies are, for better or worse, defined in the playoffs. If, 20 years from now, we can look back at the NBA's all-time playoff wins list and see LeBron James head and shoulders above the competition, that, rather than how he got there, will be remembered.
How far can LeBron James and his Lakers go this postseason?
As established above, LeBron James will claim the NBA's all-time playoff wins record if he and the Lakers can advance past the second round. While that shouldn't be impossible on paper, how far can the club advance in the postseason?
Despite their struggles in the Orlando bubble, the Lakers still ended the regular season as the top seed in the Western Conference. Their firepower alone should be enough to get past the Trail Blazers; 538 gives them a 91% chance of advancing, and those victories would move LeBron into second on the all-time list.
After that, though, things start to get trickier. Assuming favorites hold throughout the bracket, the Lakers will meet the Houston Rockets in the conference semifinal; if they advance, they'll presumably have a date with the Clippers to settle the Western Conference title.
Obviously, LeBron James will enter the 2020 NBA playoffs chasing a championship, rather than the all-time postseason wins record. If he manages to accomplish both those feats this summer, though, he'll strengthen his claim for basketball's GOAT title.
Stat courtesy of Basketball-Reference