From Lifting Up Cars With His Bare Hands to Intimidating Arnold Schwarzenegger in the Weight Room, the Tales of Wilt Chamberlain's Herculean Strength are Epic: 'He Was the Strongest Human Being Who Ever Lived'
Wilt Chamberlain is remembered today as the tall, lanky big man who could score 50 points and grab 25 rebounds every night without breaking a sweat. The NBA Hall of Famer's averages during his prime look more like typos than actual stat lines.
But the most impressive part about Chamberlain wasn't his ability to score at will over multiple defenders or grab every missed shot in a game. It was his Herculean strength that caused one of the smartest basketball minds in history to label him the "strongest human being who ever lived."
Lifting up cars with his bare hands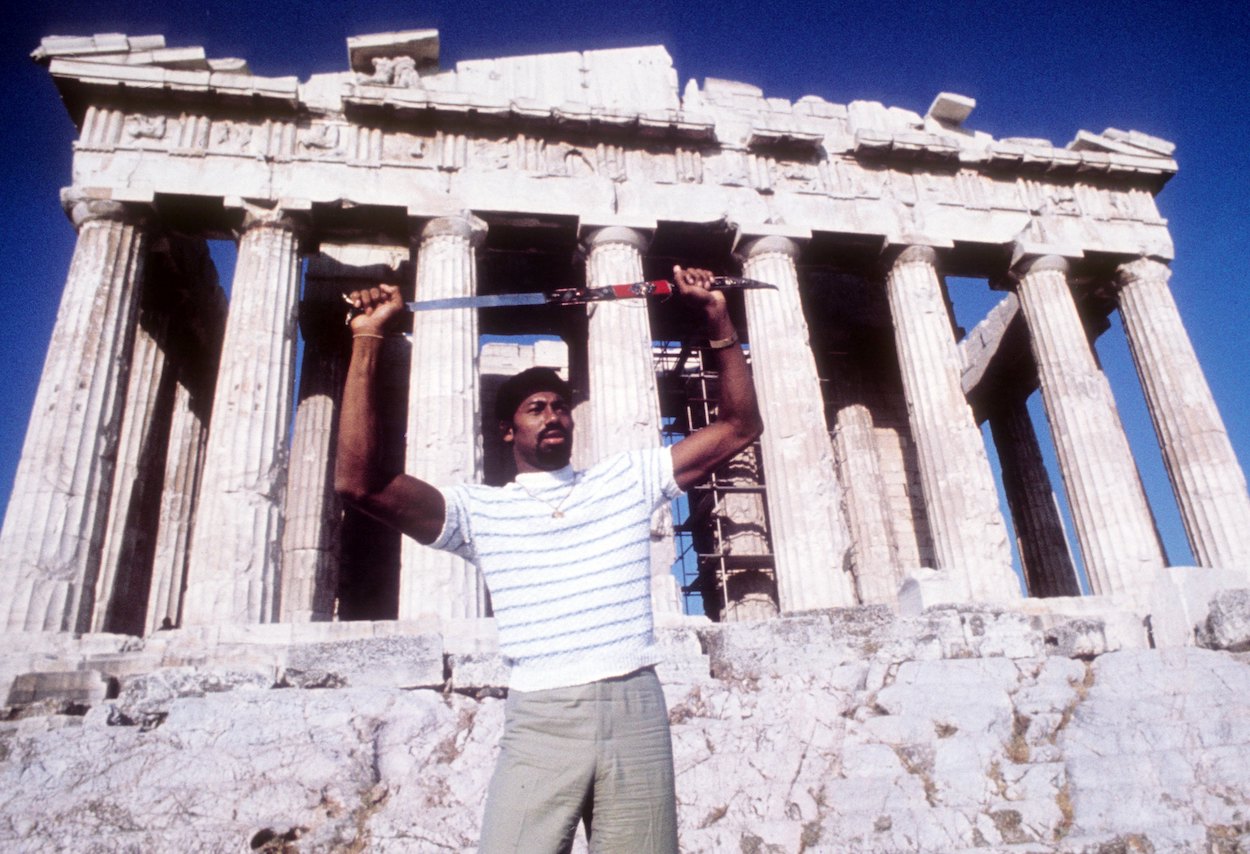 A midsize car can weigh over 3,000 pounds, but that was nothing for Chamberlain. According to an old newspaper clipping posted on Twitter, the basketball legend once tried to help former NBA PR chief Haskell Cohen change a tire by lifting up his car with nothing but his own bare hands.
"One day up here I found a flat on my car and no jack to change the tire," Cohen said. "Wilt was only 17 then, but he started to lift the back of the car off the ground with his bare hands when I stopped him. I was afraid the kid would give himself a hernia."
In another instance, Chamberlain picked up one of his teammate's Volkswagens off the ground with just one hand and placed it down gently at a different angle. The guy wasn't human.
Intimidating Arnold Schwarzenegger in the weight room
In an interview with Bill Simmons on the BS Report podcast in 2012, famed bodybuilder and former California governor Arnold Schwarzenegger told a ridiculous story about Chamberlain showing him up in the weight room.
"He came to the gym and he would do a tricep extension — the big guys, the strongest guys would do 120 pounds, let's say — he would come and do 150, 170 pounds," Schwarzenegger said. "That's how strong he was."
But not only that. Schwarzenegger also said Chamberlain would compete with Andre the Giant about who could make the bodybuilder look lighter.
"He lifted me up with one hard like nothing," Schwarzenegger said.
"I remember Andre the Giant and Wilt Chamberlain — we both went out to dinner several times in Mexico City when we did a movie down there — and both of them were joking about who could pick me up and make me look lighter and like a little fly. They were so powerful it was ridiculous."
Remember, Andre the Giant was over seven feet tall and weighed more than 500 pounds. And Chamberlain was just as strong? That's just plain scary.
Wilt Chamberlain was the "strongest human being who ever lived"
Other stories about Chamberlain's superhuman strength include fighting off a mountain lion with his bare hands, lifting 600 pounds of boxes out of a broken elevator with ease, and knocking out 230-pound Hall of Famer Clyde Lovellette with one punch.
But former Chicago Bulls general manager Jerry Krouse explained it best.
"I remember Wilt from my Baltimore (Bullets) days when I came into the league (as a scout)," Krause told the Chicago Tribune in 1999. He was the strongest human being who ever lived. Nobody was ever stronger than Wilt."
Don't believe Krause? Take it from Chamberlain's former Philadelphia 76ers teammate, Johnny "Red" Kerr.
"People talk about the strength of Shaq. I think Wilt could have picked up Shaq and thrown him through the hoop," Kerr told the Chicago Tribune. "That's no disrespect to Shaq, but Wilt was the strongest guy I ever played against."
We don't doubt it.
Like Sportscasting on Facebook. Follow us on Twitter @sportscasting19.