Lincoln Riley Fleeing the Oklahoma Sooners for LSU Makes Perfect Sense
Article Highlights:
Lincoln Riley is off to a 55-9 start as the head coach of the Oklahoma Sooners
LSU and Ed Orgeron will be parting ways at the end of the 2021 college football season
Speculation that LSU will pursue Riley has ratcheted up in recent days
Leave the crowd yearning for more. Every successful rock band and stand-up comic has heard that advice about their performances before, and some heed it. Athletes and coaches can be more stubborn about winding down a successful career, sometimes due to ego and other times over money.
There is seemingly no reason to do so, but Lincoln Riley just might leave the Oklahoma Sooners. If the speculation is to be believed, he'll coach the LSU Tigers next season.
Oklahoma football hasn't looked this good in a long time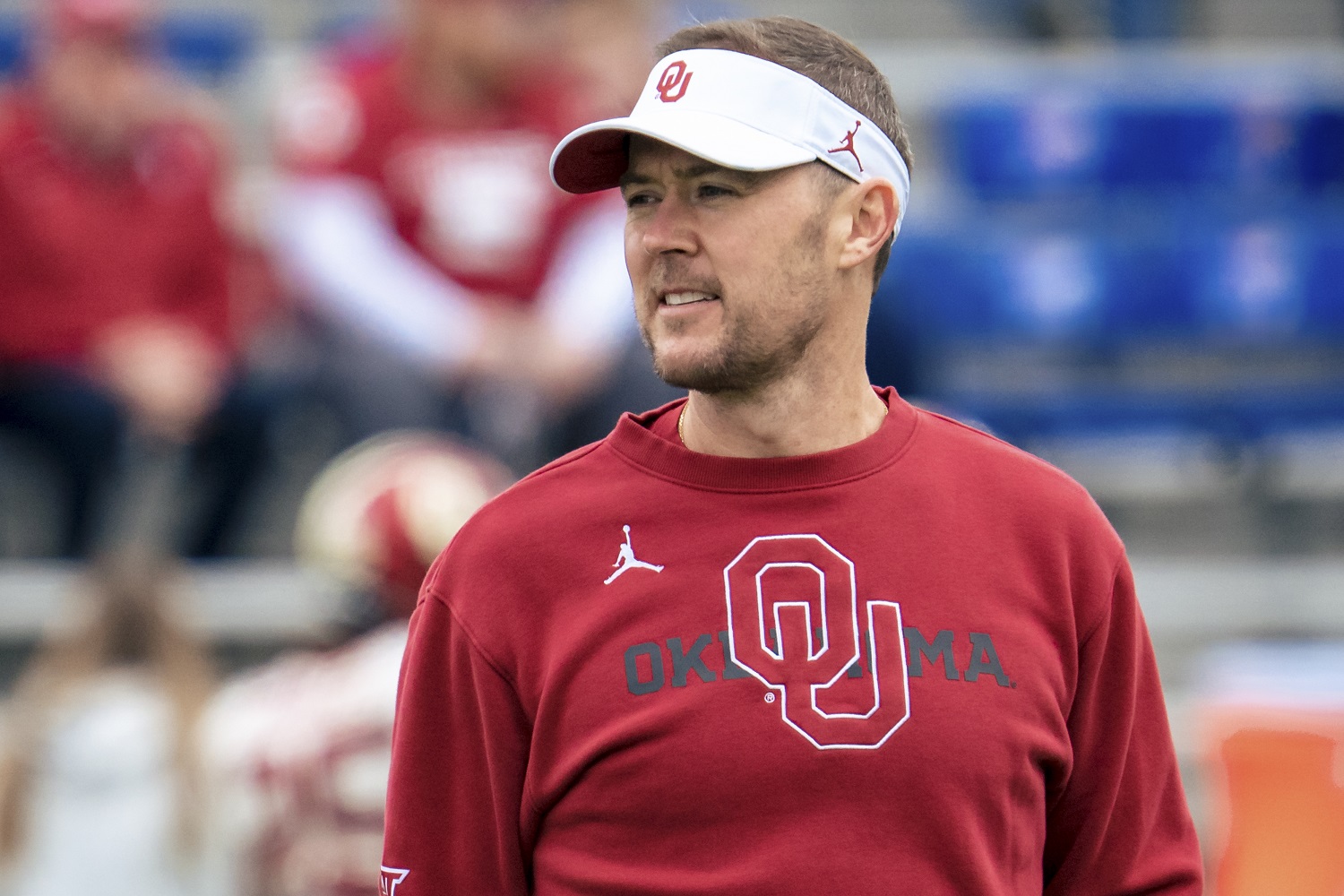 The Bud Wilkinson and Barry Switzer eras at the University of Oklahoma were something to behold. Wilkinson's Sooners won three Associated Press poll championships from 1947-63, and Switzer scored three more from 1977-88.
After a tough decade under Gary Gibbs, Howard Schnellenberger, and John Blake, the Sooners worked their way back under Bob Stoops. His second team, which went 13-0 in 2000, scored another national championship. Though they never reached the top again, the Sooners went 190-48 and reached a bowl game every year before Stoops left in 2016.
Lincoln Riley arrived from East Carolina in 2015 as the offensive coordinator. When Stoops departed after two seasons together, Oklahoma put the program in Riley's hands.
Riley is a sparkling 55-9, including 10-1 heading into Saturday night's Big 12 showdown against Oklahoma State. The Sooners have finished their seasons ranked third, fourth, seventh, and sixth under Riley.
He's operating near the top of his profession at the age of 38, meaning he has at least two decades of continued success ahead. It plays into why now is the perfect time to leave.
Lincoln Riley fleeing the Oklahoma Sooners for LSU makes perfect sense
Lincoln Riley has not won a national title, the only flaw on his record in four-plus years coaching the Oklahoma Sooners. All was well in 2021 until the 27-14 loss at Baylor on Nov. 13. In the era of the four-team playoff tournament, a late-season loss is about all it takes to end title ambitions.
That won't detract from Riley's reputation, particularly since he's been winning these past three seasons with players that he recruited and systems that he installed rather than what he inherited from Bob Stoops.
However, Oklahoma is heading toward an uncertain short-term future. Earlier this year, the Sooners and the University of Texas decided to leave the Big 12 for the SEC. Barring a deal between the conferences or a complete realignment of the Power 5 conferences, the move doesn't take effect until 2025.
The Longhorns are a mess, but Oklahoma is indisputably in a position to enter the SEC with a full head of steam, though there will be adjustments. The biggest will come in recruiting.
Not surprisingly, the Sooners thrive with talent from their home state and Texas. Given the Big 12's composition, many of those recruits know they'll play some games over four years close enough for their families to come see them. Going to the SEC opens the door to recruiting more aggressively in talent-rich Florida and Georgia. Conversely, Baylor, TCU, and Texas Tech can start playing geography against the Sooners as they go head-to-head for some Texas prospects.
Even some LSU folks think they're getting Lincoln Riley in 2022
Two years removed from a national championship, the LSU Tigers decided six weeks ago to terminate coach Ed Orgeron's contract at the end of the season. The program is in disarray. After a 5-5 mark in 2020, the Tigers carry a 5-6 mark into a game against Texas A&M on Saturday.
Jimbo Fisher (Texas A&M) and Billy Napier (Louisiana-Lafayette) garner frequent mentions as potential replacements. However, Lincoln Riley has suddenly been linked to the job. Naturally, there is nothing official coming out of the LSU athletic department, but the fact that so many people started name-dropping so suddenly raises suspicions that something is in the works.
In just the past few days, a slew of people with connections to LSU, including quarterback Walker Howard and basketball coach Will Wade, have started following Riley on Twitter. Potential LSU recruits have taken notice as well.
If they intend to try swaying Riley, they could come at him with a few thoughts:
LSU generally gets its pick of in-state recruits. Florida and Texas have more depth, but they also have more competition on signing day.
Death Valley's atmosphere on Saturday nights remains unrivaled.
Straightening out LSU both enhances Riley's reputation and creates new NFL interest. Also, he'd be in line for one of those 10-year contracts that have become the rage. A trip or two to the SEC championship game, and Riley could look forward to that contract rolling over every year with built-in raises.
Like Sportscasting on Facebook. Follow us on Twitter @sportscasting19.