Luka Doncic Has $33.5 Million Riding on 1 NBA Result
Luka Doncic is one technical foul away from a suspension, but the Dallas Mavericks sensation is also a week away from clinching a much-deserved $33.5 million bonus.
Doncic's third NBA season has been his best yet, and the Mavericks are very much looking forward to locking their star guard into a five-year extension, regardless of how much more expensive a certain NBA rule will make it.
Luka Doncic and the Mavericks have momentum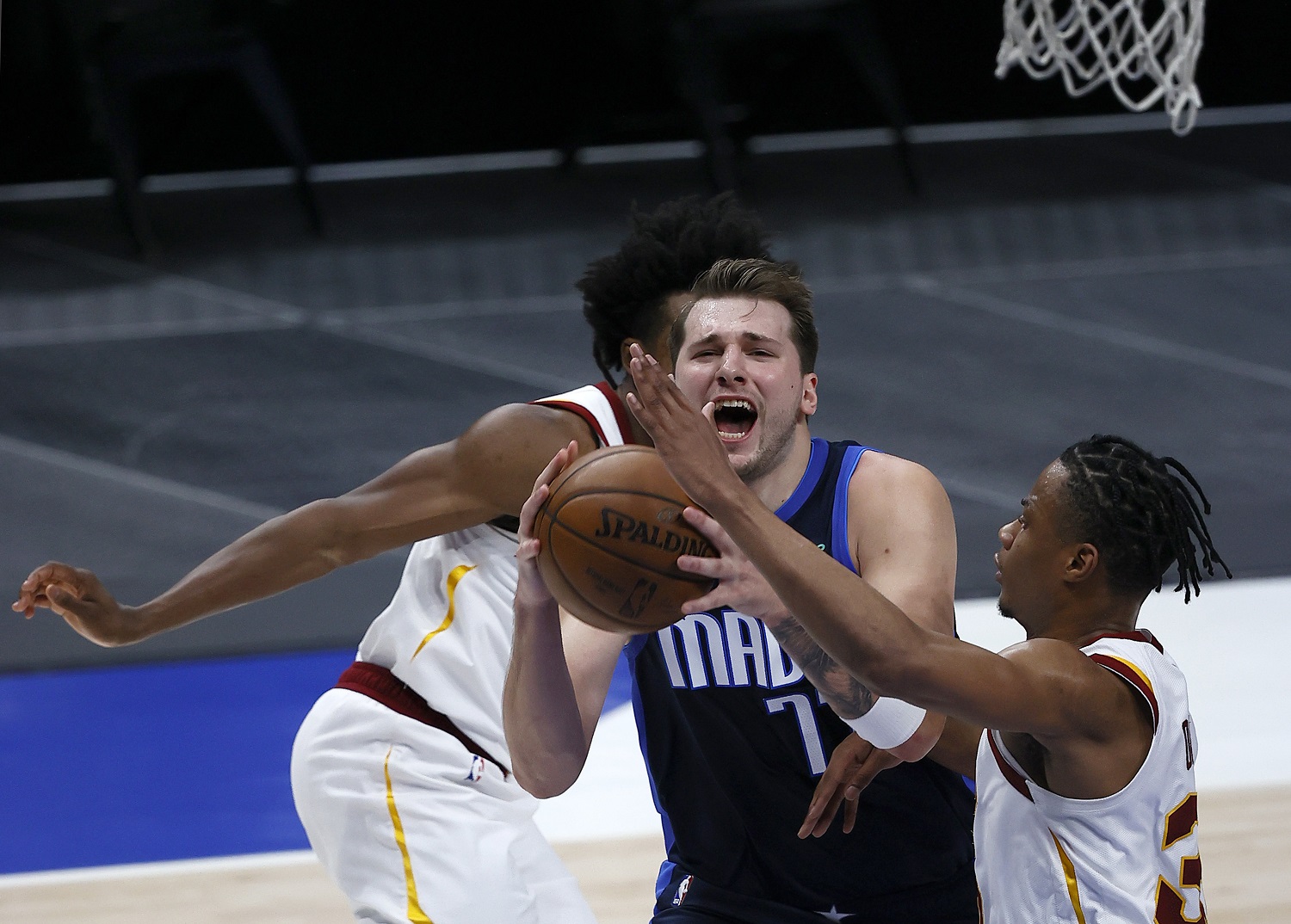 The Mavericks are sailing along as the NBA enters the final week of its regular season, though Dallas is in a slightly dicey situation in the short term.
A 147-116 thumping at the hands of the Golden State Warriors on Feb. 4, 2021, dropped Dallas to 9-14 for the season. However, the Mavericks have gone 31-14 since, with Doncic being the key. The 22-year-old guard is averaging 28.2 points, 8.7 assists, and 8.0 rebounds. And though those numbers are all down slightly from last season, Doncic has continued to improve his shooting. He's hitting 48.3% of his field-goal attempts, including 35.4% on 3-pointers.
At 40-28, the Mavericks begin the final week of the season in fifth place in the Western Conference standings, one game ahead of the Portland Trail Blazers and two up on the Los Angeles Lakers. Dallas' four remaining games are all winnable, which means the odds are slim that they'll slip down to seventh place and a spot in the postseason play-in.
Then again, they're only one Doncic tantrum away from having to worry a bit.
Doncic is closing in on a suspension
Doncic missed most of the second half after his ejection for a "flagrant foul 2" in the third quarter of the Mavericks' 124-97 rout of the Cleveland Cavaliers on May 9. Officials whistled Doncic for "an aggressive strike to the groin area" of Cavs guard Collin Sexton as the two battled for a rebound.
Sexton discounted the idea that Doncic acted maliciously, ESPN reported.
The "flagrant foul 2" does not add to Doncic's technical foul total. He has accumulated 15 technicals this season, one shy of an automatic one-game suspension. He picked up two technical fouls, triggering another ejection, in a May 2 loss to the Sacramento Kings.
With a two-game lead and four contests to go, the Mavericks are all but assured of avoiding the play-in. However, the thought of that lead somehow evaporating and then Doncic sitting out a suspension in a crucial game has to be at least mildly concerning.
Doncic has $33.5 million riding on one NBA result
With the NBA season winding down, voters are finalizing their ballots for the postseason awards. While MVP is the top honor, Doncic will be watching the voting for the all-league team. That's because there is substantial money on the line.
Doncic is wrapping up the third season of his four-year, $32.47 million contract, which means he becomes eligible to negotiate an extension this summer. Based on an assumed 3% annual growth in the salary cap, Spotrac.com projects Doncic being able to sign for about $168 million over five years.
However, Doncic is in a unique position because he made the All-NBA second team last season. If he is among the 15 players earning all-league honors again this season, Doncic will trigger the 30% add-on to supermax contracts. That would add approximately $33.5 million to his haul, bringing the total to about $201.5 million.
Philadelphia 76ers center Joel Embiid is in a relatively similar position. An all-league honor would allow him to tack on $27 million to the four-year, $160 million extension that the team will almost certainly offer.
All stats courtesy of Basketball Reference.