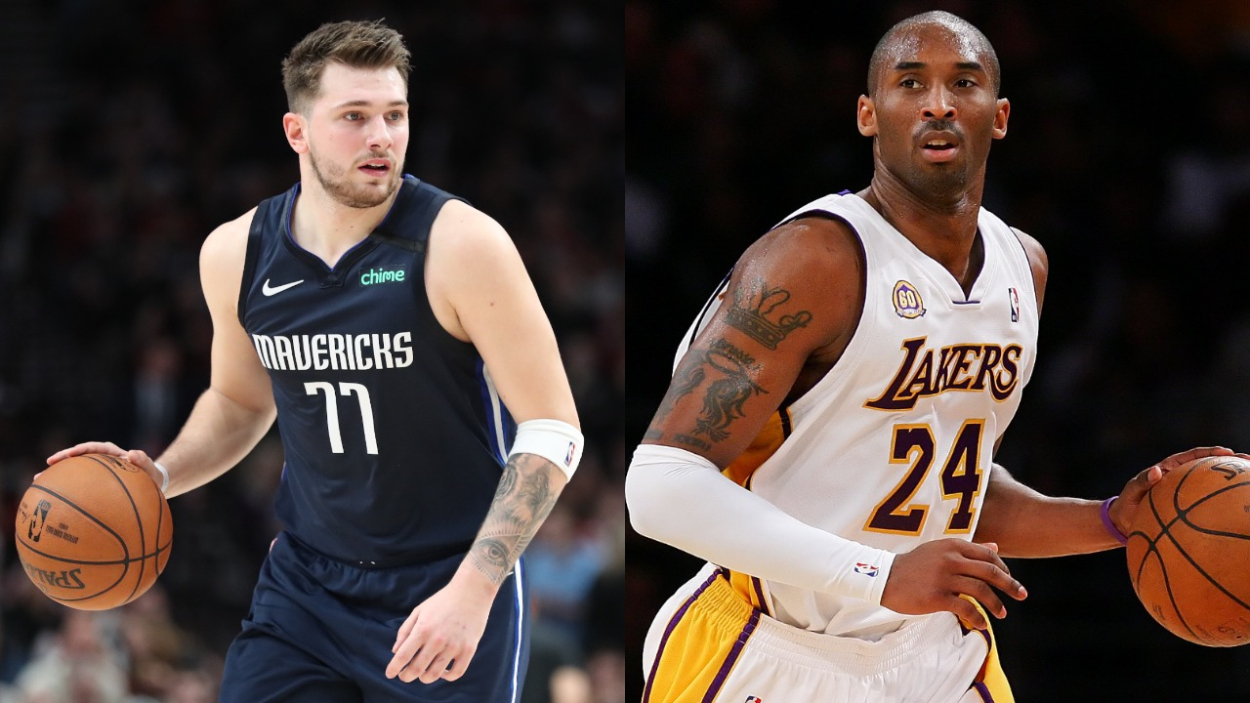 Luka Doncic Shares the Advice Kobe Bryant Gave Him Before His NBA Career Even Started
Luka Doncic has become a flat-out star for the Dallas Mavericks. Before his NBA career even started, though, Doncic received fascinating advice from the late Kobe Bryant.
Luka Doncic is one of the hottest young stars in the NBA. He can do a little bit of everything, and he isn't afraid of living legends like LeBron James and Stephen Curry.
In fact, his attitude toward those players is somewhat reminiscent of the late great Kobe Bryant.
Doncic was only in his second NBA season when Bryant died in 2020, but the two had already formed a relationship. Kobe even once talked trash to him in Slovenian.
And during a recent interview, the Dallas Mavericks star revealed a piece of advice the Los Angeles Lakers legend gave him before his NBA career even began.
Luka Doncic looked up to Kobe Bryant
Kobe Bryant's play on the basketball court didn't just leave an impression on Americans; it had a global impact.
And Luka Doncic, a Slovenia native, looked up to the five-time NBA champion.
"He said some bad words in my language," Doncic said of Bryant on TNT in 2020, discussing a 2019 interaction between them. "I was like, 'Who's talking to me in my language behind me?' I just looked behind me, and it was Kobe. It was something amazing. I will never forget [that] day. After the game, I took a picture with him. He was one of the guys I looked up to. That day was amazing, and I will never forget [it]."
But that wasn't the only time Doncic crossed paths with Kobe.
Bryant gave him advice before his NBA career even started.
Luka shared the advice Kobe gave him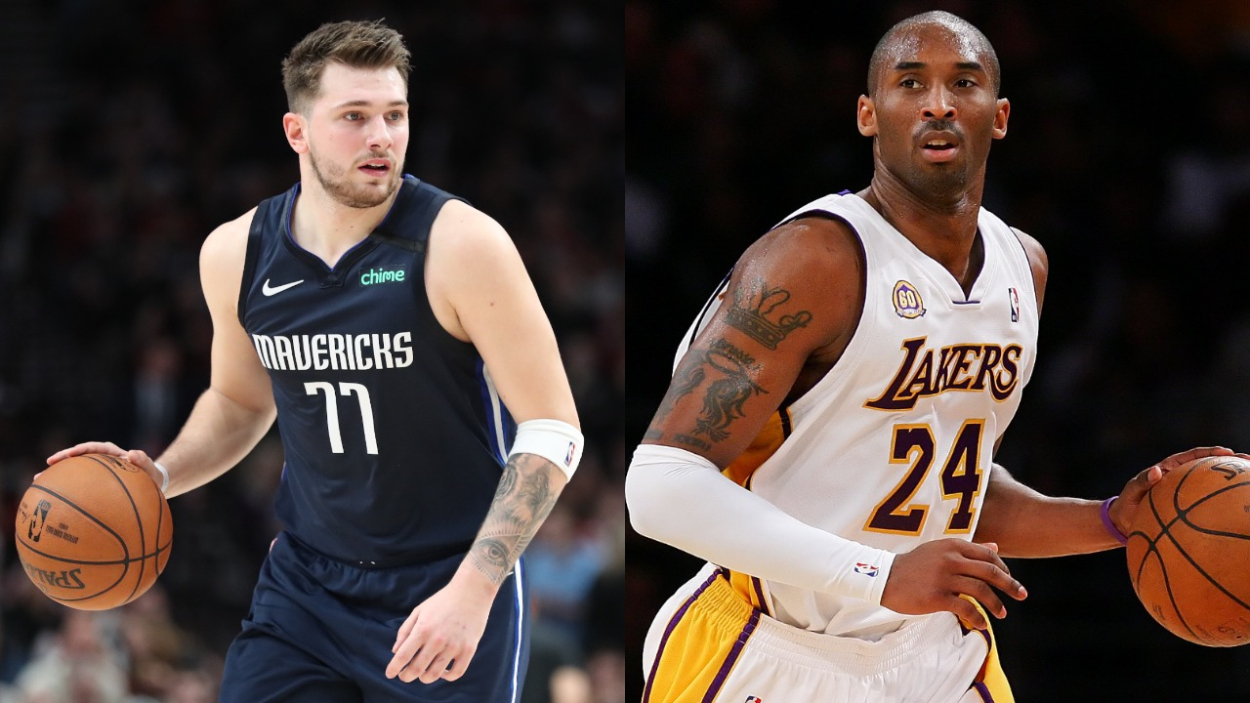 Luka Doncic recently discussed a plethora of topics with JJ Redick on The Old Man and the Three podcast. And he recalled one of his first interactions with Kobe Bryant.
"I met him before; it was in Portland just after I was drafted, it was the Nike campus," Doncic said on the March 18 episode. "He was there, and the one advice he gave me was, 'Watch out, they're gonna come after you because you're from Europe. They're gonna try and go after you.' And it was true."
It seems Doncic believes that some players have attempted to go after him in games because of his international success. But whether they have actually targeted him or not, it hasn't seemed to faze him.
He has taken Bryant's advice and ran with it.
Luka Doncic has taken on Kobe Bryant's Mamba Mentality in his own way
No, Luka Doncic isn't forcing his teammates into "blackout" workouts, or at least that we know of, but he still seems to have his own version of Kobe Bryant's Mamba Mentality.
He hasn't let the pressure of playing in another country hurt his performance. Doncic won the 2018-19 NBA Rookie of the Year Award, and he is a three-time All-Star. He has averaged 28.2 points, 8.9 rebounds, and 8.7 assists throughout the last three seasons.
And he isn't afraid of some of the league's biggest stars. Doncic even sometimes hunts them down when he's on offense.
"The best players, they gotta work on both ends," he said to Redick. "…They play the whole game; they handle the ball a lot. You just want to make them tired, work them on both ends of the floor and just go at them. You feel like, when you have the best player on you, you want to score? Yes or yes. It's a proud moment, too."
Doncic may not be as cutthroat as Bryant was; that's a hard level to reach. But he isn't afraid of big moments or star players. He will go at you no matter who you are and will likely have success while doing it.
That sounds pretty Kobe-esque to me.
Stats courtesy of Basketball Reference