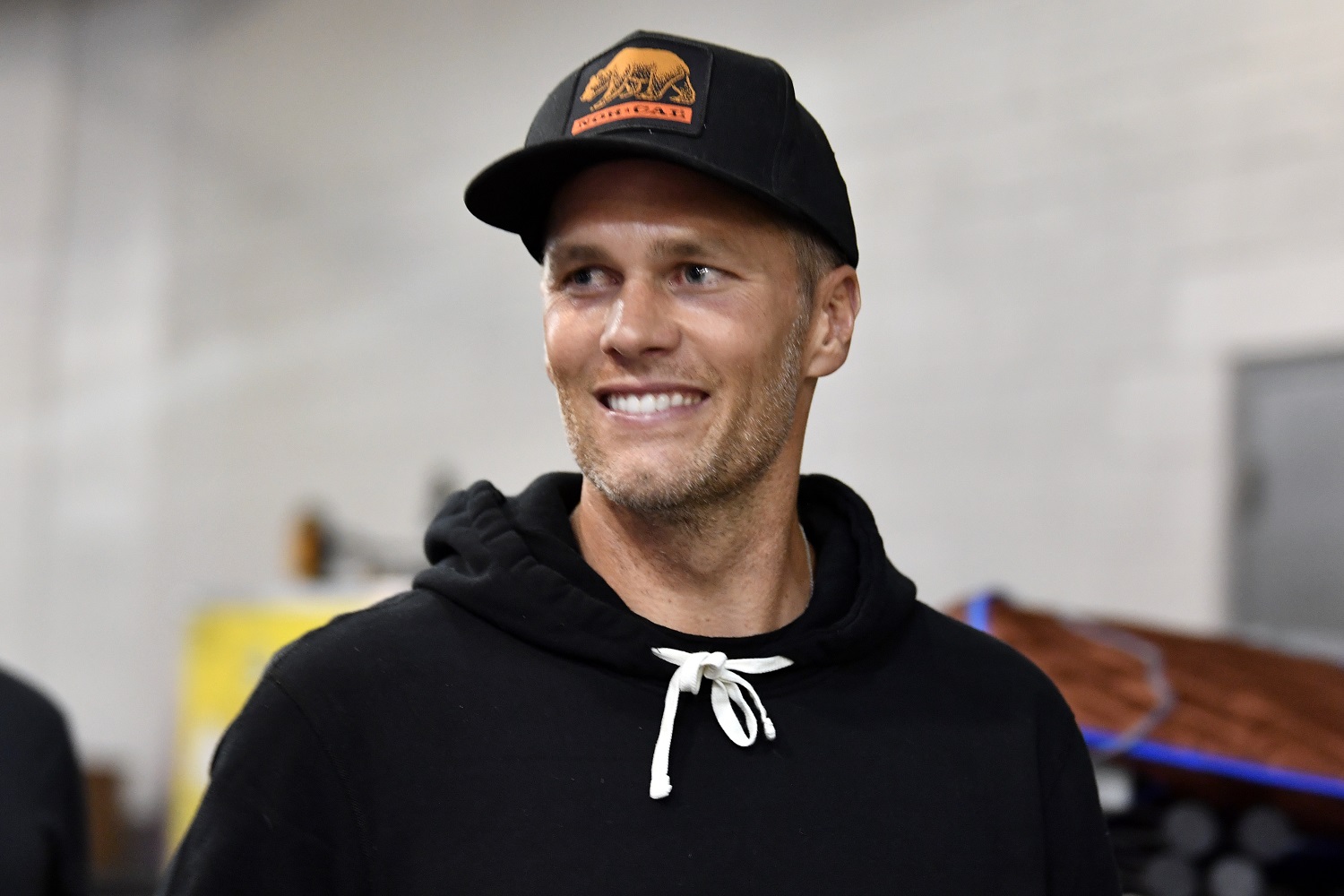 'Madden NFL 22' Has Dropped a Huge Hint About Its Next Cover
The 'Madden NFL 22' cover will be released Thursday, with EA Sports having dropped a strong hint that Tom Brady and one other star will share the honor.
Unless EA Sports is putting actual goats on the cover of its Madden NFL 22 game, football fans can safely assume that Tom Brady, widely acknowledged as the GOAT, has landed half of the coveted honor.
But giving away all the details about this year's cover for the popular game ahead of Thursday's splashy release wouldn't make sense for the manufacturer. So, who'll be joining the quarterback with seven Super Bowl rings on the cover – assuming that the EA Sports marketers aren't playing us with the same enthusiasm that fans play the video game?
The 'Madden NFL' cover is always a big deal
Any self-respecting marketing department strives to create anticipation leading up to a major announcement. In that respect, the gang at EA Sports has done its job by dropping a video teaser ahead of Thursday morning's reveal of the Madden NFL 22 cover.
The Madden game was one of the first major successes in the industry and remains one of the big sellers each year. The people who play it are typically more concerned with announcements in the spring about new features and enhancements. Then comes the summer revelation of player ratings, which cause controversy as real-life stars express disbelief at being underappreciated.
But the annual cover announcement has become big on a couple of fronts. First, it's a nice honor (and paycheck) for the player..
Second, there is a well-known cover jinx. In one six-year stretch, Barry Sanders retired abruptly, Eddie George logged one more solid season before wrecking a knee, and then Daunte Culpepper, Marshall Faulk, and Michael Vick all went down with significant injuries. More recently, the jinx tripped up running backs Shaun Alexander, Peyton Hillis, and Adrian Peterson.
Deciphering the 'Madden NFL 22' promotional video
The EA Sports promotional video features two white goats emerging from a barn. Hillis, the retired running back who graced the cover of Madden NFL 12, is watching while on his phone and says, "Yeah, they did it again."
Those would seem to be clues:
Two players will share the cover honor.
The goats – i.e., "Greatest of All Time" – suggest that the cover subjects will be huge stars.
Hillis saying "they did it again" suggests that the featured players have previously graced the game's cover.
Based on all that, Brady is an obvious candidate. EA Sports used him recently (2018), but how do you ignore the quarterback who just won his seventh Super Bowl?
Patrick Mahomes (2020 cover) and Rob Gronkowski (2017) seemingly would also be in the mix. Pairing Brady with either makes sense, even if Mahomes is too young to earn GOAT status just yet. Brady and Mahomes faced off in Super Bowl 55, and Gronk has been a longtime teammate going back to their days with the New England Patriots.
Does the fact that one goat appears smaller than the other suggest that a younger player (Mahomes) is the choice?
Three possibilities stand out above all the rest
Although we renew our reluctance to call Mahomes a GOAT after just three seasons as a starter, no one still active in the NFL comes close to Brady's credentials. Throw in a tweet by respected NFL observer Dov Kleiman saying that Brady and Mahomes were in Florida this spring taping content for EA Sports, and fans almost certainly have their answer regarding the Madden NFL 22 cover.
However, the Brady-Gronkowski connection is too strong to discount. Gronk will not go down as the greatest tight end ever, but he does have a more significant body of work – 10 NFL seasons and three Super Bowl victories – than Mahomes.
One other possibility remains a long shot. As noted, Brady stands alone among active players. Putting any other current standout on the cover with him risks triggering terabytes of social media criticism that the Madden NFL 22 cover actually features one GOAT and one pretty good player.
If EA Sports wants to throw a curveball, how about pairing recently retired veteran quarterbacks Philip Rivers and Drew Brees (who was on the 2011 cover)?
Both had great NFL careers. However, Rivers never appeared on the game's cover, which runs contrary to Hillis' "they did it again" comment.
That opens the possibility of Brady and Brees sharing the cover. Again, it's unlikely, but it's not out of the realm of possibility.
Which combination of NFL stars makes the most sense to you?
Like Sportscasting on Facebook. Follow us on Twitter @sportscasting19.