'Malice at the Palace' Branded Jermaine O'Neal Forever: 'You're Some Hoodlum That Doesn't Care About Life'
Of all the little-remembered facts about the "Malice at the Palace," the brawl between the Indiana Pacers and Detro it Pistons, there's a nugget from two years before the fateful game that stands out. In the spring of 2002, voters presented Jermaine O'Neal with the NBA's Most Improved Player Award and selected Ben Wallace as the runner-up.
Both O'Neal and Wallace had just finished their sixth season in the NBA, a point at which leading the voting – ahead of third-place finisher Steve Nash – confirms a second wind for a career that might otherwise be winding down.
More than a decade and a half later, the basketball community wonders what might have been had Wallace washed out of the league before 2004 instead of continuing on through 2012.
Netflix takes an in-depth look at 'Malice at the Palace'
Netflix has dropped Untold, a documentary series covering topics as varied as Caitlyn Jenner and Mardy Fish. One episode examines the Nov. 19, 2004, brawl between the Pacers and Pistons at The Palace of Auburn Hills. The fracas started with a shove on the court and turned into combat between players and courtside spectators.
The mayhem began with 45.9 seconds to play and the Pacers leading, 97-82. Indian's Metta Sandiford-Artest, known as Ron Artest at the time, came in from behind to foul Wallace on a layup. The Pistons center registered his anger over a swipe across the back of his head with a huge shove of Sandiford-Artest, causing the benches to clear.
The damage to that point was relatively minor, and with players milling around, Sandiford-Artest lay on the scorer's table. Sandiford-Artest was erratic, so the behavior didn't seem to be inconsistent with his personality. What wasn't known at the time was that he was using a coping mechanism he learned to de-escalate a tense situation.
Sandiford-Artest brushed off Wallace flinging wristbands at him, but a fan threw a beer moments later. He jumped off the table and chased down the fan as he retreated into the stands. Complete chaos ensued as teammates Stephen Jackson, Reggie Miller, Eddie Gill, David Harrison, Jamaal Tinsley, and Fred Jones all followed him into the stands behind the benches.
As most of the action spilled back onto the court, a pair of fans moved in to confront Sandiford-Artest, who punched one of them. O'Neal then moved in and delivered a blow squarely to the head of the other while slipping and falling backward.
Jermaine O'Neal took a financial hit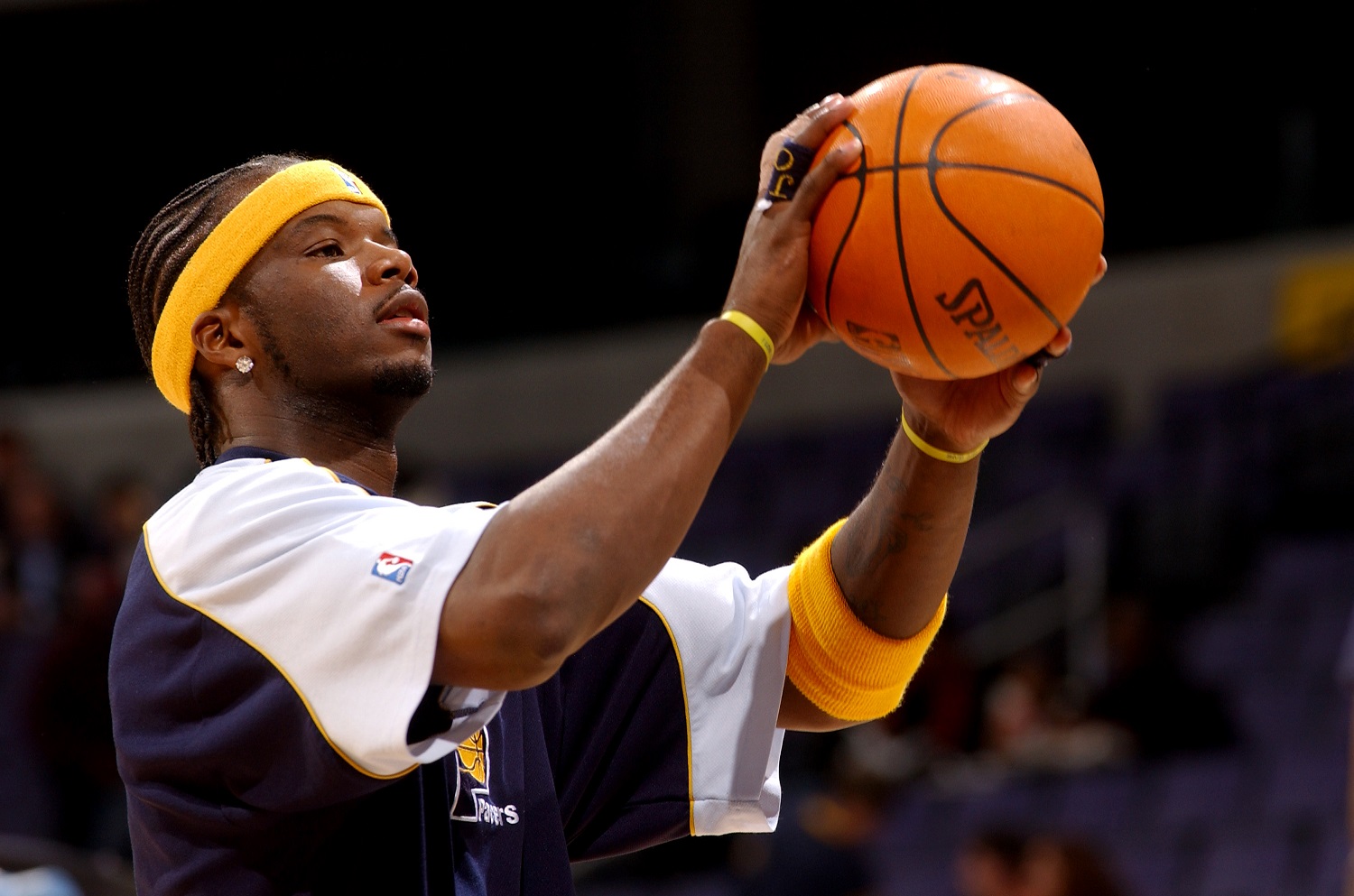 Pacers players struggled to make it back to their locker room through a gauntlet of fans throwing cups and bottles at them .
The real trouble was just beginning.
Sandiford-Artest and O'Neal led the list of five Pacers players charged. All received sentences of probation and a small fine. On the other hand, the NBA's penalties were severe.
Sandiford-Artest's suspension lasted 86 games, including 13 in the playoffs, and cost him just short of $5 million in lost salary. Commissioner David Stern docked Jackson 30 games, which amounted to $1.7 million in lost salary.
Stern also suspended O'Neal for 25 games. The player won in arbitration, cutting the penalty to 15 games. Still, O'Neal lost $2.7 million.
Miller was playing his final season as the Pacers got off to a 7-2 start. Observers rated them as potential NBA champions, but the suspensions ripped key components from the lineup. Indiana finished 44-38 and bowed out to the Pistons in the Eastern Conference semifinals.
Jermaine O'Neal: 'You're some hoodlum that doesn't care about life'
O'Neal made his NBA debut for the Portland Trail Blazers at 18 years old, straight out of high school in South Carolina. He rode the bench in Portland, totaling 817 points over four seasons before a trade to the Pacers kickstarted his career.
The 6-foot-11 forward and center averaged 18.1 points and 10.1 rebounds over his first four seasons with Indiana, heading into the fateful 2004-05 season. He remained with the Pacers through 2008 and bounced around with five other NBA teams through 2014.
He has spoken relatively little about "Malice at the Palace" in the years since, but O'Neal felt compelled to participate in the documentary.
"People's perception and the information out there isn't necessarily the truth," he told Complex.com.
He added: "When you walk away from this thing with people looking at you sideways, like you're some hoodlum that doesn't care about life, that's a real problem for me."
O'Neal admitted to being "aggressive as a player," but he logged 1,011 games before retiring without much more than the typical fines for technical fouls on his record. Still, the one game in Auburn Hills saddled him with a reputation.
"It's a very sensitive subject for me," he said. "I have so much love and respect for the Indiana Pacers, for the NBA, for fans, because they do support us in many ways. But it was a tough night, bro. It was a really tough night.
And it all started with a shove on a meaningless layup in a nearly meaningless game.
All stats courtesy of Basketball Reference.