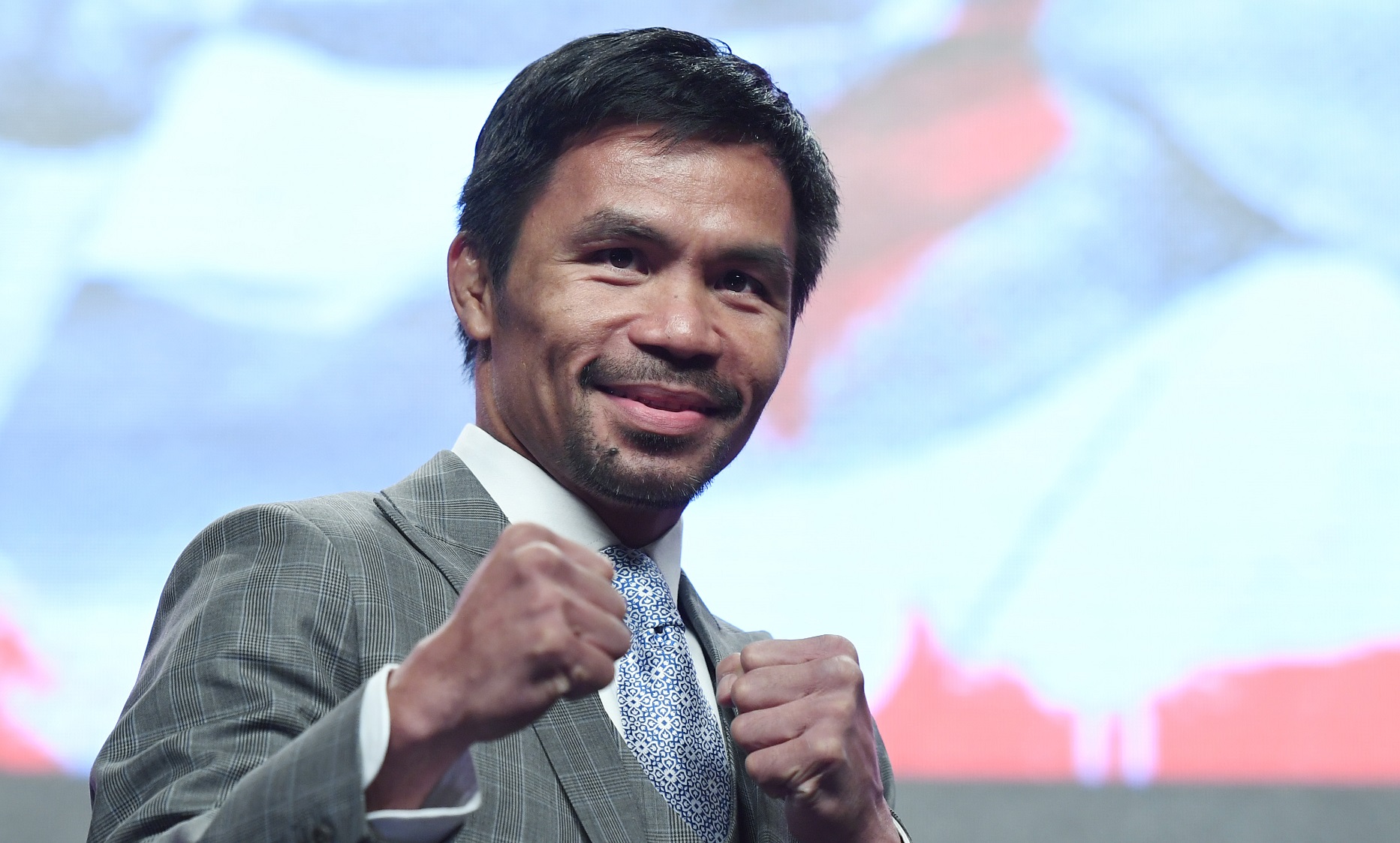 Manny Pacquiao's Father Killed and Ate the Boxing Champion's Dog
Multi-time world boxing champion Manny Pacquiao's autobiography details the story of his father killing and eating the future boxer's dog.
"Reversal of fortune" doesn't even begin to describe the life and career of boxing champion Manny Pacquiao, whose ascent to international fame now includes his status as a senator in the Philippines.
Pacquiao was motivated to succeed by his determination to escape childhood poverty. He was inspired by one especially horrible episode in his life.
Manny Pacquiao earned his reputation as an all-time great
Though not officially retired, time is running out on Manny Pacquiao's boxing career even as rumors swirl about a potential fight with UFC star Conor McGregor. Pacquiao has fought six times since losing his WBO welterweight championship to Floyd Mayweather Jr. in May 2015, and his record as a pro stands at 62-7-2 with 39 knockouts.
Pacquiao earned world championships in a record eight weight classes, including four of the original eight divisions. He also holds the distinction of capturing titles in four decades and has defeated 22 fighters who possessed world titles beforehand or afterward.
Pacquiao became a money-making machine for the sport. The Mayweather fight shattered all pay-per-view records with 4.6 million purchases that generated $437 million. His appeal at the box office has helped him build an estimated $220 million net worth.
His first task was to overcome terrible poverty
Manny Pacquiao was born in a thatched hut in the Filipino farming town of Kibawe, which he described in his 2010 autobiography as lacking even basic medical care. With his father frequently away while harvesting coconuts, it was up to Pacquiao's mother to provide for her six children.
Pacquiao's parents separated when he was in sixth grade, and he would later drop out of high school in order to help provide for the family. By that time, Pacquiao had already been introduced to boxing by an uncle in a home gym. The boxer's autobiography cites watching James "Buster" Douglas stun undisputed heavyweight champion Mike Tyson as a life-altering moment.
With prospects in Kibawe bleak, the future boxing champion moved to Manila and barely scraped by while living on the streets. Still, Pacquiao worked his way up the amateur ranks in the Philippines, compiling an impressive 60-4 record. He turned professional in January 1995 as a 16-year-old, winning 23 of his first 24 bouts.
The breakthrough came two weeks before Pacquiao's 20th birthday when he knocked out Thailand's Chatchai Sasakul in the eighth round to capture the WBC flyweight championship in just his second fight outside the Philippines.
Manny Pacquiao's father killed and ate the future champ's dog
A portion of Manny Pacquiao's success as a fighter and then as a political figure in his homeland can be traced to anger toward his father over an act of unspeakable cruelty that he chronicled in his autobiography.
Pacquiao was one of six children in the family and possibly the least outgoing of the siblings. He focused much of his attention on a stray dog that he adopted.
Pacquiao recalled an incident that began with his father returning home drunk. The two argued, and Pacquiao's father killed his dog. The future fighter's father then ate the innocent pet as Pacquiao watched, unable to stop his father.
"He killed my dog," Pacquiao wrote. "He took the puppy I found and killed it. To a young boy, that was unforgivable — it was stealing something I loved, which is far more terrible than stealing money."
The incident prompted Pacquiao to run away and became one of the memories firmly ingrained in his memory that inspired him on the way to becoming a world champion.