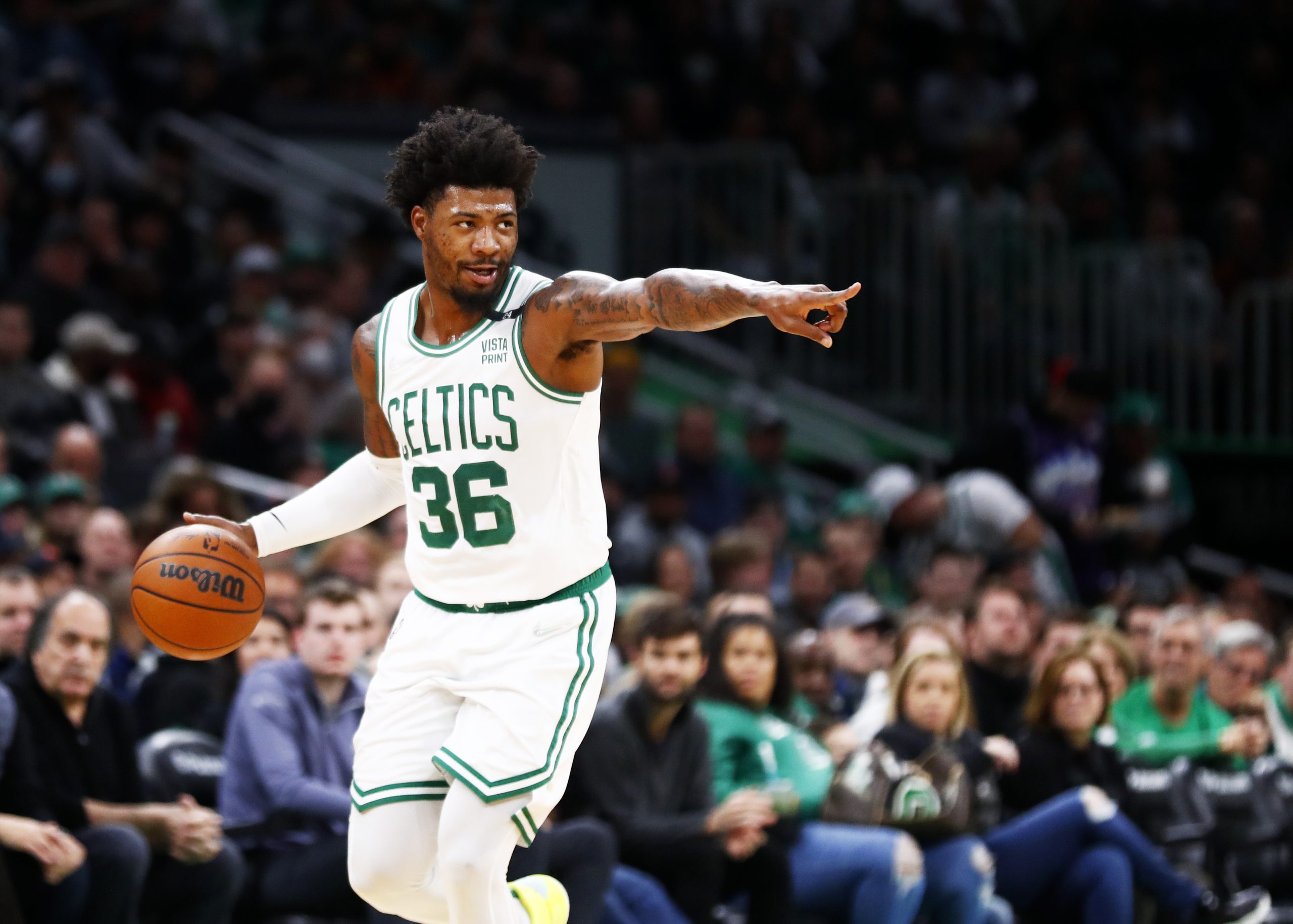 Marcus Smart Explains Personal Success During Boston Celtics Hot Streak: 'I'm Finally in the Right Position'
Marcus Smart and the Boston Celtics continue to shine on the basketball court.
It's tough to find any flaws with the Boston Celtics these days. In the past, Marcus Smart would take the heat for his shooting, but nobody is taking any heat during their recent success.
Roles are being played to perfection. There's no talk of chemistry issues. As they say, winning cures everything.
Smart has played a big role in Boston's resurgence, and he recently explained why he believes he's thriving.
Marcus Smart is running the show for the red-hot Boston Celtics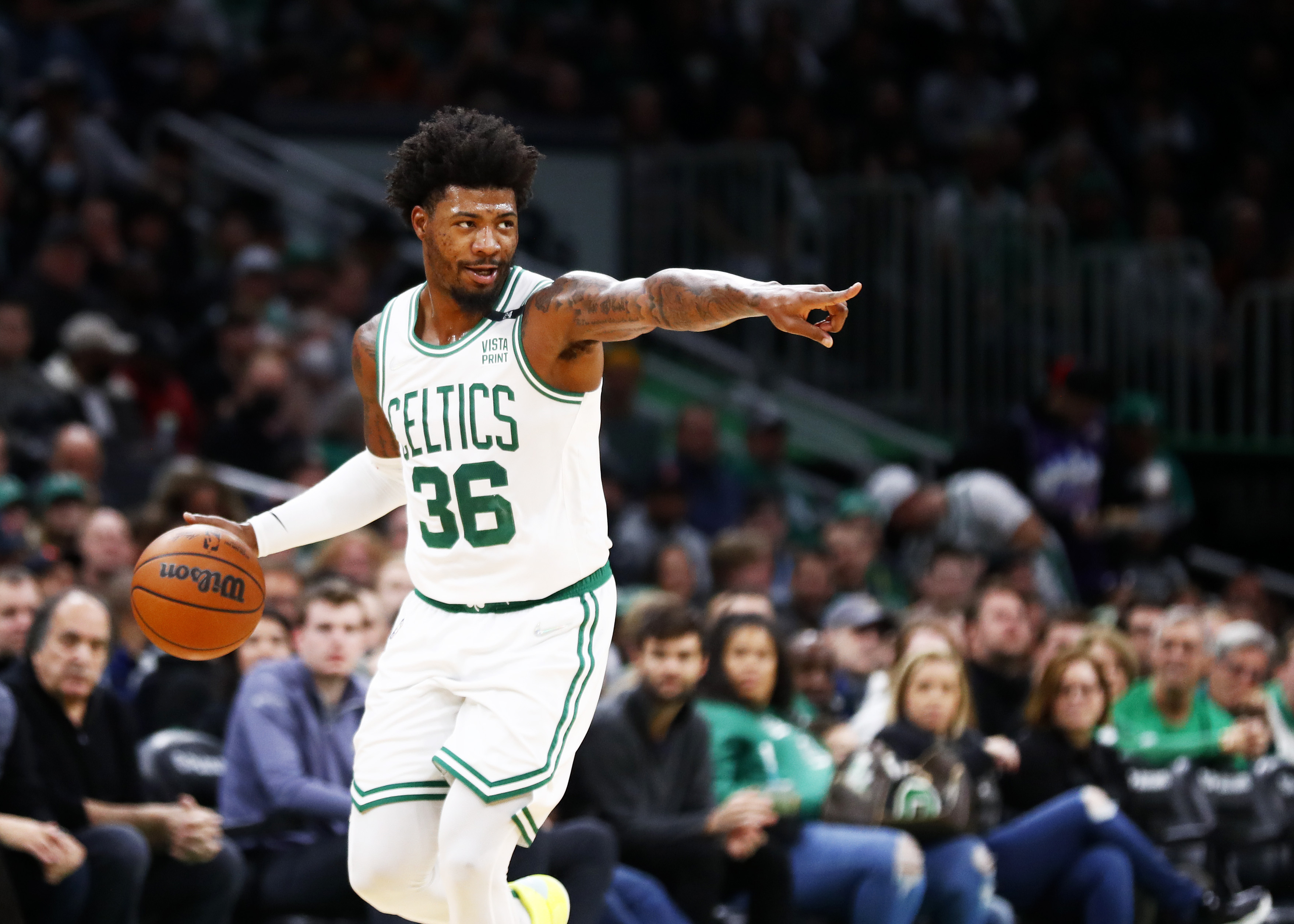 The Celtics were happy to see 2021 go away. As soon as the calendar turned to 2022, the Celtics went from pretenders to contenders.
First-year coach Ime Udoka said he called his team out for their lack of mental toughness after a 108-105 loss to the New York Knicks in early January. In that game, the Celtics blew yet another big lead late in the game. Ever since Udoka questioned his team's mental toughness, the Celtics have become a new squad.
They are 28-7 since then. Although he doesn't get the credit Jayson Tatum and Jaylen Brown get, Smart's play has been just as important as Tatum and Brown's scoring. Brown gave Smart his due.
"Marcus has been great, man," Brown said after Wednesday night's 125-97 win over the Utah Jazz, per CLNS Media. "Marcus has been running the show. We trusted him to be the point person and he's made it easier for everybody. Tip my hat off to Marcus. Marcus has done a great job.
"We believe in him, we empower him. What he does on both sides of the ball has been great for us. It's a big reason why our team has really, really turned it around. So, give credit where credit is due. Marcus has been a huge anchor on offense and defense for us that has led to the results that we see now."
Marcus Smart feels right at home during the Boston Celtics win streak
One thing that can always be counted on with Smart is that he'll bring it every night. Nobody will ever question his effort on the court.
His biggest criticism has been his shooting. He's more of a distributor than a shooter, and now he's able to play that role full-time as the team's point guard. In years past, Kemba Walker ran the show, and Smart was a man without a position.
He dished out a career-high 13 assists in the win over the Jazz and credits his success to playing the role he's most comfortable with.
"My whole career, I've been a point guard," Smart said, per CLNS Media. "Went to college as a point guard, got drafted as a point guard, and to be actually used as a point guard, I can say that's just where it's at.
"I'm finally in the right position and it fits me and it also helps this team. So it's something I've been doing my whole life, something I'll continue to do."
Smart runs the show and takes what the defense gives him
Smart has always been known for his defense. He's not afraid to step in and take a charge. He'll also have no problem guarding the other team's best player, regardless of the size difference.
Smart never goes into a game with a specific plan. If the defense lays off him, he'll take the shot. If not, he'll look to set up his scorers and run the offense.
"It's taking what the defense gives me," Smart said. "A lot of teams are playing me for the pass, and that's when I have to become a little selfish and take those shots.
"But really just create, beat my guy, wait for the other guy to help up, and especially with the way my teammates were going, hitting a couple of shots early, get it back to them and keep them hot."
For now, the Celtics are playing their roles to perfection, and it's paying off in a big way.