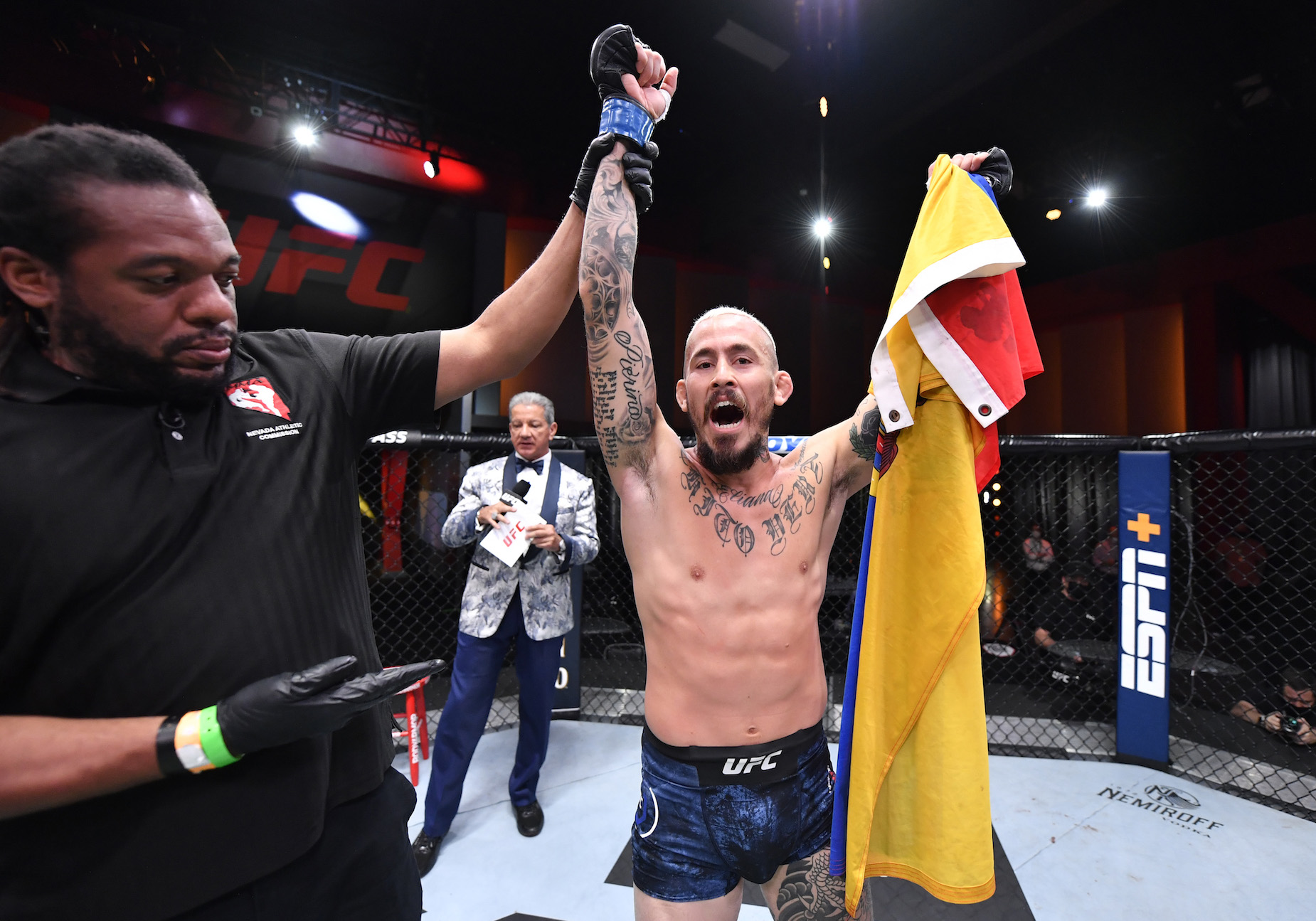 Marlon Vera Believes That 'Joe Rogan Has the Best Advice' for UFC Success
After his upset victory over Sean O'Malley at UFC 252, Marlon Vera explained that he followed 'the best advice' from Joe Rogan.
While Marlon Vera may not be the biggest name in the world of UFC, he took care of business at UFC 252. Heading into his bout with Sean O'Malley, the colorful up-and-comer received most of the attention; once they stepped into the octagon, though, it was Vera who came out on top. After the match, the Ecuadorian UFC fighter he followed "the best advice" from one particular source: Joe Rogan.
Although Rogan might not be everyone's cup of tea, he's been involved with UFC for years. His advice, however, wasn't anything specific to Marlon Vera. In fact, it's something that we can all follow in our day-to-day lives.
Marlon Vera's professional fighting career
As mentioned above, Marlon Vera has never received Conor McGregor levels of media attention. Despite that reality, the Ecuadorian has still been a solid professional fighter.
Vera cut his teeth on the amateur circuit and in smaller regional fight series before scoring a spot on The Ultimate Fighter: Latin America. While he didn't win the competition, he did well enough to ink a proper UFC contract.
Things didn't start off incredibly well for Vera, though, as he lost his first UFC bout at the hands of Marco Beltran; he rebounded with a solid submission victory over Ramon Salazar, but tasted defeat again at UFC Fight Night 84.
From there on, Vera's career settled into a familiar pattern. He would win a few fights, only to suffer another loss once things started rolling again. Heading into UFC 252, he boasted a 15–6–1 record; the Ecuadorian, however, would have no problem taking care of business.
Upsetting Sean O'Malley at UFC 252
Heading into UFC 252, Daniel Cormier, Stipe Miocic, and Sean O'Malley got most of the headlines; it almost seemed like Marlon Vera was simply there to fill out the card. The Ecuadorian, however, had other ideas.
While Saturday night's bout was supposed to be another step in O'Malley's inevitable, albeit slow-burning rise to stardom, fate intervened. In the opening exchanges, Sugar Sean suffered a foot or ankle injury; before long, his mobility and balance were compromised. After throwing a combination, he simply hit the mat.
That opportunity was all Vera needed; he seized upon his opponent's weakness and went to town. With 20 seconds left in the first round, Herb Dean called the fight; the Ecuadorian bantamweight claimed victory while O'Malley left the octagon on a stretcher.
Marlon Vera followed 'the best advice' from Joe Rogan
While Marlon Vera benefited from some luck at UFC 252, he still claimed victory over Sean O'Malley. After the fight, the Ecuadorian provided some insight into how he approached the bout; apparently, so advice from Joe Rogan helped him come out on top.
"Joe Rogan has the best advice—don't read comments, don't read negativity. I feed myself with positivity, my family, my friends," Vera explained, according to Brett Okamoto of ESPN. "I know who are the real fans, who are the hardcore ones. I don't have time to be going back and forth with people, those guys are empty guys. Every time you answer them, they win, if you don't answer them, you're winning in life, so I'm in a good spot. I've said this before the fight, I'll say this right now, I'm in good spirits. I'm a person that works hard for me, for my family, for my country and when you work the way I work, your dreams come true."
While positivity and good spirits don't win a fight in isolation, everything seemed to work out for Marlon Vera at UFC 252. Now, it will be up to him to keep that momentum going the next time he steps into the octagon.