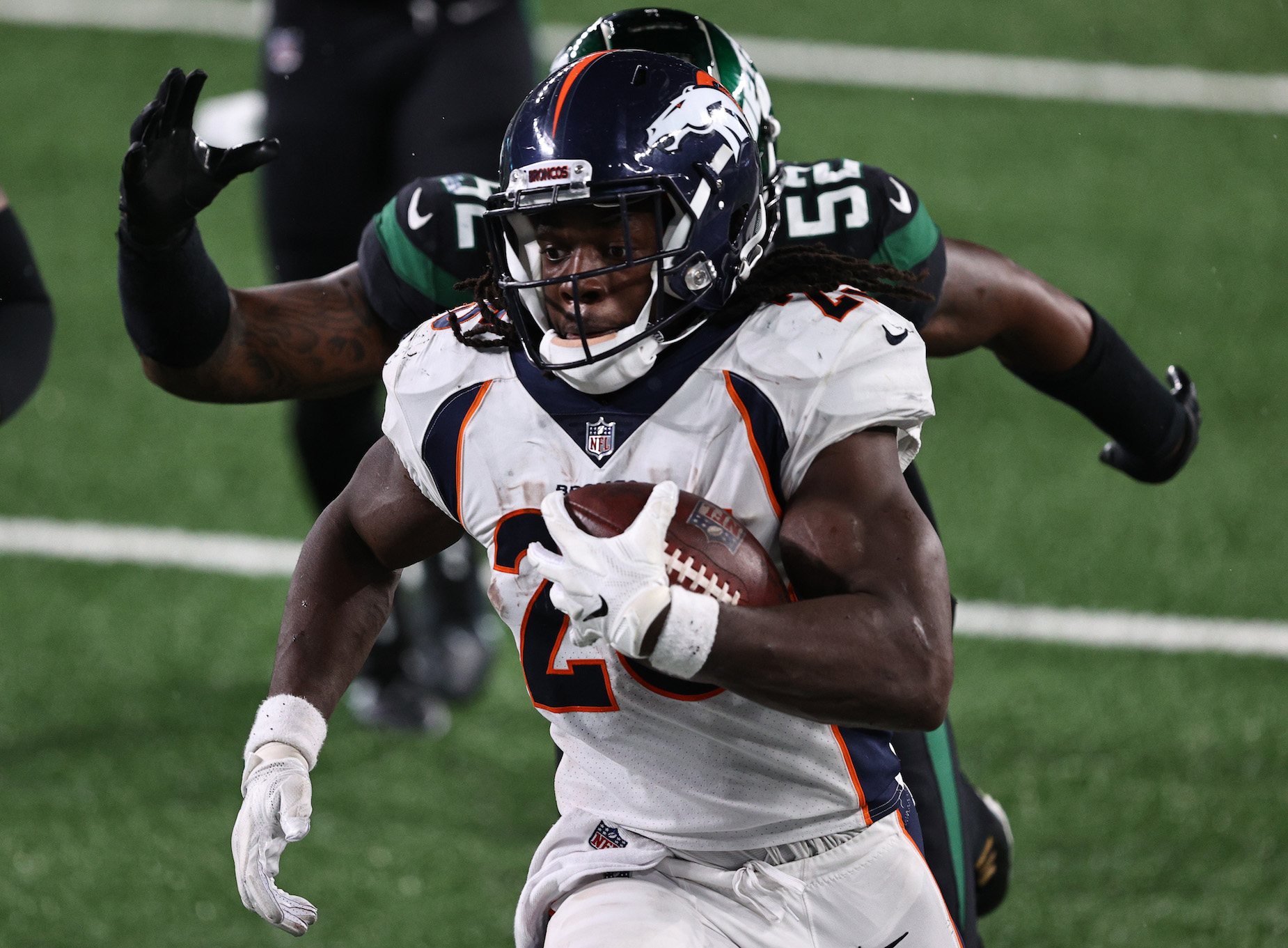 Melvin Gordon May Have Just Cost Himself $5 Million With a Single Mistake
Last season, Melvin Gordon held out, hoping for more money. In the present, however, he might have blown $5 million with a single bad decision.
While running backs might not be the focal point of most NFL offenses anymore, some are still able to earn a nice payday. One of those fortunate men was Melvin Gordon; after a failed holdout in 2019, he joined the Denver Broncos on a two-year, $16 million contract. That money, however, could already be at risk.
On Tuesday, October 13, Gordon was pulled over and cited for driving under the influence. That single mistake could cost the running back as much as $5 million.
Melvin Gordon's NFL career has brought him to the Denver Broncos
On paper, Melvin Gordon has the talent to be a game-breaking talent. Unfortunately for the running back, however, he hasn't always been able to consistently put it all together.
After high school, Gordon headed to the University of Wisconsin and suited up for the Badgers squad. While his first year on campus blighted by injury, the running back improved with each passing campaign. As a senior, Gordon was truly a force to be reckoned with, piling up 2,587 yards, 29 rushing touchdowns, and finishing second in Heisman Trophy voting.
On the back of that success, Gordon entered into the 2015 NFL draft, joining the San Diego Chargers as the 15th-overall pick. His rookie campaign, however, was a bit of a disappointment, as it featured zero rushing touchdowns and a season-ending knee injury.
While Gordon improved after that slow start, he shot himself in the foot during the fall of 2019. Hoping for Ezekiel Elliott-level money, the running back held out; a new contract, however, never materialized. He eventually returned to action and, after missing the first four weeks of the season, posted a disappointing stat line.
The Denver Broncos running back was cited for DUI
After his disappointing 2019 season with the Chargers, Melvin Gordon hit free agency. While he couldn't command league-leading money, he did secure a two-year, $16 million contract with the Denver Broncos.
The running back has gotten off to a solid, if unremarkable start in Colorado, rushing for 281 yards and three touchdowns through four weeks of action. His season, however, may feature an unplanned hiatus.
As reported by ESPN, Gordon was pulled over late at night on October 13. The running back was ticketed for speeding and also cited for driving under the influence; he's scheduled to appear in court on November 11.
While it's not clear what consequences Gordon will face, there will presumably be some punishment from either the Broncos or the NFL. "I'm disappointed, but my own two kids have disappointed me at some points in their life, but I never stopped loving them," head coach Vic Fangio explained. "And he's one of us, we're going to love him, but there will be some consequences to this, to what happened [Tuesday] night."
Melvin Gordon could have cost himself $5 million with a stupid mistake
It goes without saying that driving under the influence is a bad decision, whether you get caught or not. Melvin Gordon's mistake, however, may carry an additional penalty.
As reported by ProFootballTalk in February, the new CBA increased the punishment for DUI from a two-game suspension to a three-game ban. That change would take some extra money out of Gordon's bottom line.
"If Gordon serves a three-game suspension, he would have to forfeit 3/17 of his salary ($176,471) and 3/32 of his $4 million signing bonus ($375,000) for a total hit of $551,471," Mike Kils of KUSA-TV explained. "There is also the possibility his $4.5 million guaranteed salary he has coming in 2021 would become voidable."
Last season, Melvin Gordon held out, hoping to add more money to his bank account. A year later, he might have blown $5 million with a single mistake.
Stats courtesy of Sports-Reference and Pro-Football-Reference