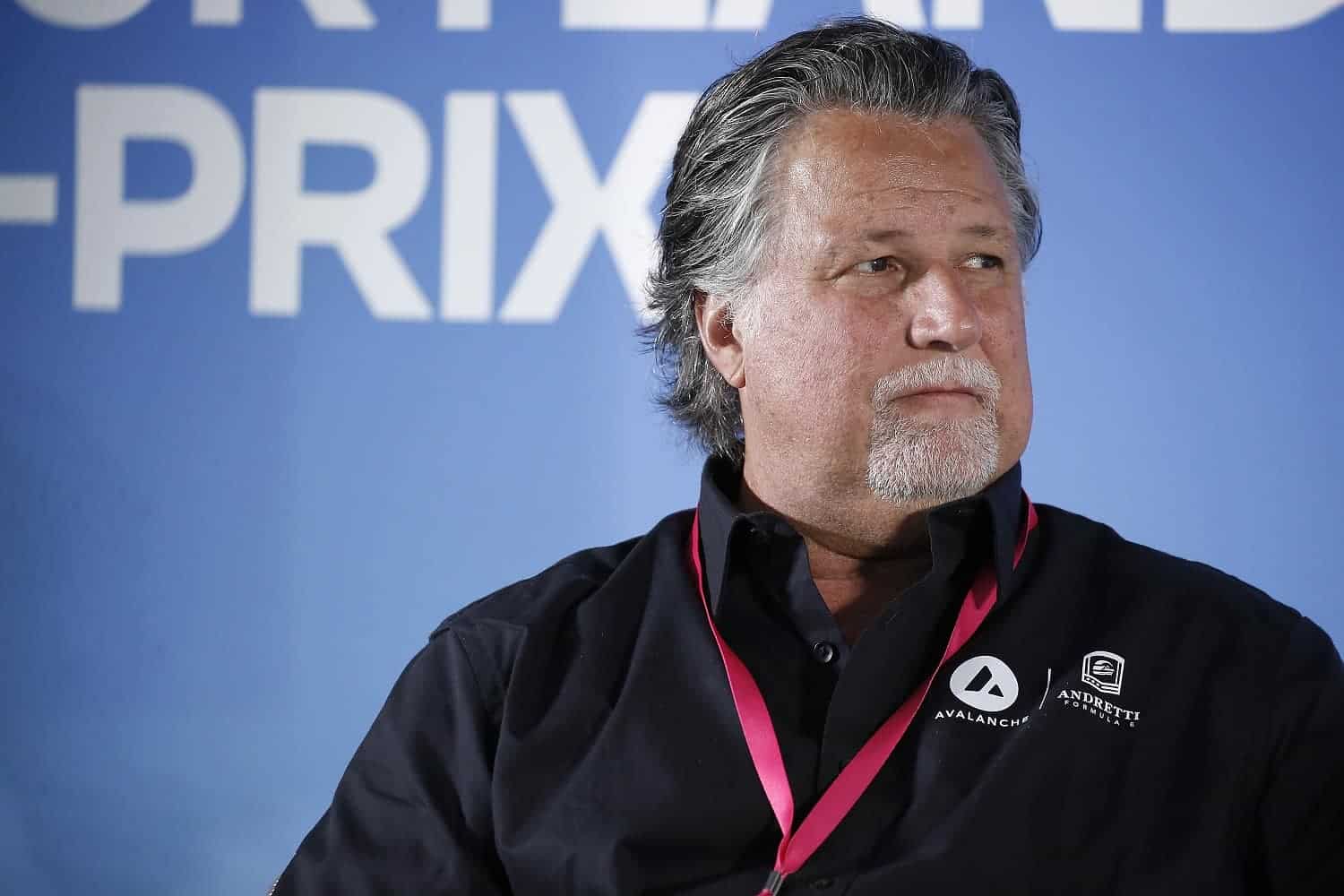 Michael Andretti May Have Found His Path to NASCAR Team Ownership
Michael Andretti's new partner has stepped up his presence in NASCAR with a surprising sponsorship deal.
Sponsorship announcements are commonplace during the NASCAR season, but one Spire Motorsports announced this week caught our attention. An intriguing – albeit indirect – connection to Michael Andretti suggests this might be his proverbial foot in the door for joining the Cup Series as an owner.
Yes, it's conjecture at best. But enough pieces fit together to revive the speculation about the prominent racing figure's pathway to both Formula 1 and NASCAR.
Talk about Michael Andretti and NASCAR has been out there for years
The combination of the family name and his own accomplishments as a driver and owner requires racing observers to take notice when Michael Andretti's name pops up in conjunction with racing news.
Andretti Autosport cars have won the Indianapolis 500 five times and the IndyCar Series title four times, and the organization has a presence in several other series around the world. And though he raced a season in Formula 1, that series and NASCAR have been notably absent from the organization's operations.
Andretti has spent the past two years campaigning first to buy a stake in an F1 team, then proposing to start one from scratch. He's been asked frequently if NASCAR also fits into his plans, and the response has been that he needs to get F1 squared away first.
This might be the week where his vision for expansion finally takes root on both fronts.
Michael Andretti is a step closer to his Formula 1 dream
The Associated Press reported this week that Mohammed Ben Sulayem, president of the FIA, says the bid submitted by Andretti Global in collaboration with General Motors stands out over proposals from at least five other hopefuls should a Formula 1 expansion be approved later in July.
"We have in the regulations that we can go up to 12 teams," Ben Sulayem said.  "I'm not breaking (rules). But do we allow anyone to enter? No. But how on earth can we refuse GM?"
Though American-based Liberty Media operates Formula 1, it is up to the FIA to decide whether the international series can expand beyond the current 10 teams. Liberty Media CEO Greg Maffei recently reversed himself by saying expansion could be welcomed. The remaining obstacle for Andretti is that most current F1 owners do not see the $200 million expansion fee as sufficient.
However, Andretti appears closer than at any point in the past two years to joining F1. If that happens, then entering the NASCAR Cup Series might be next even if it's not immediate. The first step in that direction potentially came this week when Spire Motorsports announced a substantial new sponsorship deal for drivers Corey LaJoie and Ty Dillon.
Spire Motorsports announced an interesting new sponsorship
Gainbridge, an insurance industry business, signed this week to sponsor the Spire Motorsports cars of Cup Series drivers Corey LaJoie and Ty Dillon. The deal covers 16 races, alternating between the two Chevys throughout the rest of the season. It is an unusually large commitment to pop up in midseason, likely helped by LaJoie's best start to a year.
However, the backstory is more interesting than the sponsorship details.
Gainbridge is operated by Group 1001, whose CEO and president is Dan Towriss. Under his leadership, Gainbridge has invested in event sponsorships and stadium naming rights. More significantly, however, Towriss bought a stake last year in Andretti Autosport, which went unnoticed until this spring's IndyCar race at Long Beach.
Despite its interest in other racing series, Gainbridge hadn't signed a NASCAR sponsorship deal before underwriting Nick Sanchez's ride in the Craftsman Truck Series this season. The combination of that deal and the late partnership with Spire Motorsports so late in the year is interesting.
It's still a big leap from sponsoring cars to taking an ownership stake in a team. Still, the timing of the news Andretti might be close to his Formula 1 deal, followed by his new partner taking an aggressive step into NASCAR feels more than coincidental.
There's no reason to believe anything dramatic might happen while Cup Series owners are negotiating with NASCAR on their next contract, but the Gainbridge connection to Spire bears watching.
Got a question or observation about racing? Sportscasting's John Moriello does a mailbag column each Friday. Write to him at [email protected].