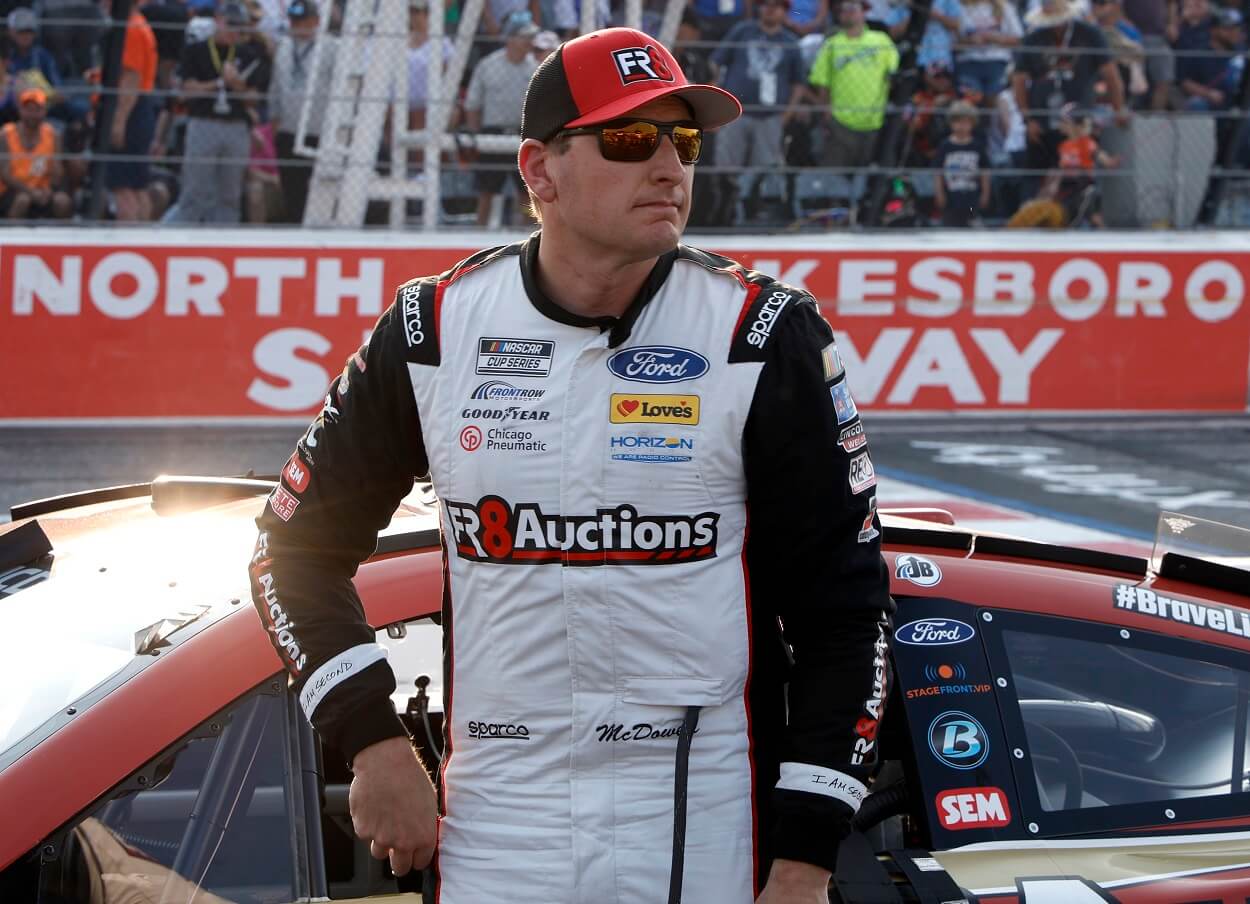 Michael McDowell Might Not Actually Benefit From a Move to Stewart-Haas Racing
Michael McDowell is one of the pending free-agent drivers that SHR could pursue if Aric Almirola decides to retire at the end of the season.
Michael McDowell could be one of the potential suitors for Stewart-Haas Racing if Aric Almirola decides to retire at the end of the season. But the organization's recent performance suggests the grass at SHR might not actually be greener than McDowell's current home at Front Row Motorsports.
On the surface, SHR would seem to be a step above FRM. Co-owned by NASCAR Hall of Famer Tony Stewart and Gene Haas, the organization operates four full-time cars in the NASCAR Cup Series while FRM runs two.
SHR has also won 69 races and two championships since it debuted in the Cup Series in 2009. The Bob Jenkins-owned FRM operation has won three races since 2005 and none since McDowell's Daytona 500 triumph in 2021.
Stewart-Haas Racing has struggled mightily the last three years
However, Stewart-Haas Racing has won only four races among its four teams since the start of the 2021 season and has no victories through the first 16 races of this season. SHR is one of the organizations that has most underperformed compared to expectations for a company with a successful track record that fields the maximum number of cars that NASCAR rules allow.
Almirola won the only race for SHR in 2021 when he went to Victory Lane at New Hampshire Motor Speedway in the No. 10 car he has piloted since 2018, and he has only two top-five finishes since that victory. His teammate Kevin Harvick finished fifth in the final points standings that season but did not win a single race after he had led the series with nine victories the year before. He ranked 10th in the series with 217 laps led in 2021, and Chase Briscoe led the organization in 2022 with 280 laps led, which tied for 12th.
Briscoe scored his first Cup Series victory in the March 2022 race at Phoenix Raceway early in his sophomore season in the series. Harvick won back-to-back races at Michigan International Speedway and Richmond Raceway in August, but he led only 119 laps throughout the entire season, which were the fewest of any season across his 22-year career.
Briscoe led the organization with a ninth-place finish in the 2022 points standings, and he was the only SHR driver not named Harvick to finish inside the top 10 in the points standings since Clint Bowyer finished ninth in 2019. Instead, it has had three of its four cars finish 20th or worse in the points standings each of the last two seasons.
McDowell has enjoyed his most success since joining Front Row Motorsports in 2018
Michael McDowell, meanwhile, has finished 23rd or higher in the standings each of the past three years. He actually would have finished three points ahead of Almirola for 20th a year ago if not for a 100-point penalty his No. 34 team incurred after NASCAR officials found improper modifications to his car for the July 24 race at Pocono Raceway.
McDowell currently sits 19th in the points standings with three top-10 results, including a seventh-place finish in the most recent race at Sonoma Raceway. Almirola finished 28th in that event, has only one top-10 finish this season, and is 26th in the points standings. In fact, all three SHR drivers aside from Harvick, who is fifth in the standings without a win, are 25th or worse in the points standings through the first 16 races of the season.
Even McDowell's mostly full-time teammate Todd Gilliland is 24th in the standings with four finishes of 11th or better in his 13 starts this season for FRM.
McDowell has driven for FRM since the start of the 2018 season, and the 38-year-old driver has had arguably the six best seasons of his 16-year Cup Series career since he joined the organization. He has tallied 27 of his 32 career top-10 finishes and six of his seven top-fives in the No. 34 Ford.
SHR could have a busy Silly Season if Almirola decides to retire
Almirola is not the only SHR driver possibly set to leave at the end of the 2023 campaign. Harvick already announced before the season began that he would retire from full-time competition after the championship race in November at Phoenix. McDowell is an unlikely candidate to replace Harvick in the No. 4 car because SHR is reportedly close to a deal with current Xfinity Series driver Josh Berry to take over that ride in 2024.
Other options for the No. 10 car could include younger drivers such as Gilliland, Harrison Burton, Erik Jones, Corey Lajoie, Zane Smith, or Riley Herbst. Ricky Stenhouse Jr., at age 35, could be a possibility after his Daytona 500 win in February and current 14th position in the points standings. 
McDowell, however, could be a shorter-term signing if the organization wants to eventually find the next up-and-coming prospect for the No. 10 car that could still have big-spender Smithfield as its sponsor even after Almirola leaves.
SHR might be able to provide Michael McDowell a larger salary and a multi-year contract that he has not had with FRM, but an uptick in performance compared to his current lower-budget team is far from guaranteed.