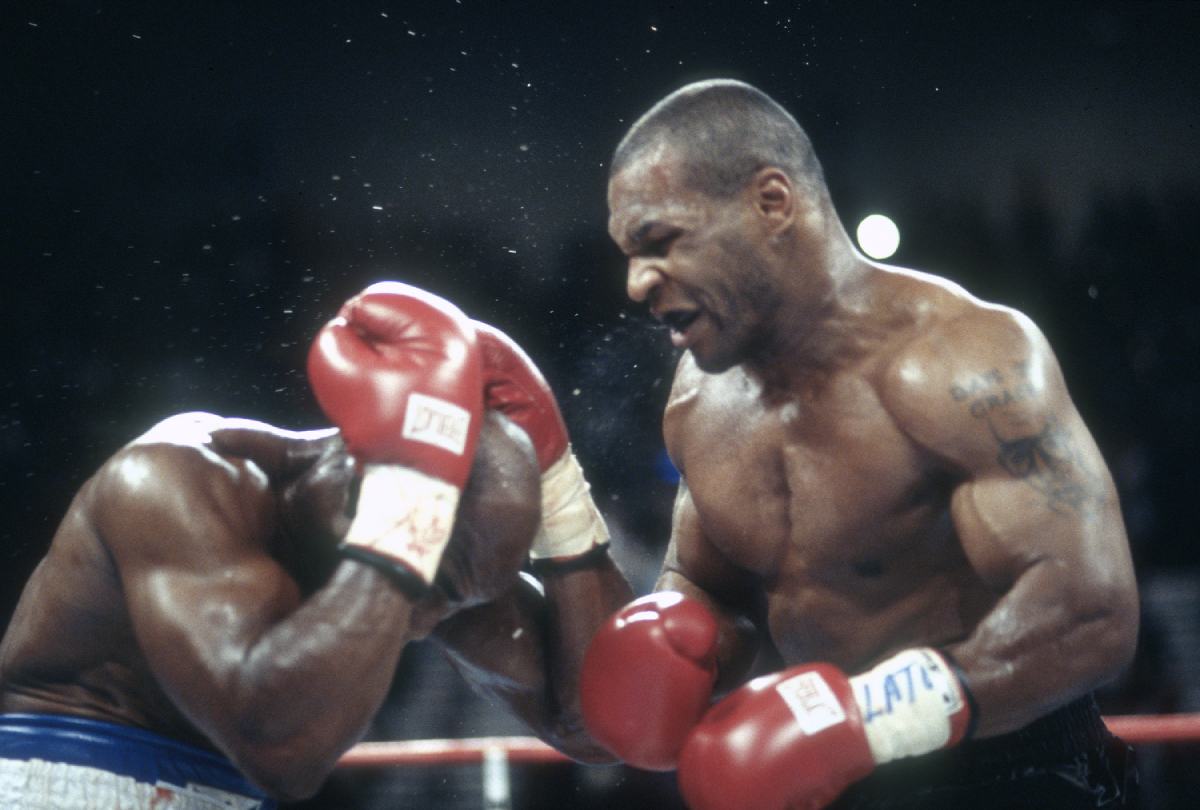 Mike Tyson Reveals Two People Who Had a 'Hypnotic Effect' on Him While in Prison
Former heavyweight boxing champion Mike Tyson reveals two people who had an 'hypnotic effect' on him while he was in prison.
It would be an understatement to say that Mike Tyson has had some ups and downs in his life. The former heavyweight champion of the world has endured numerous peaks and valleys, ranging from claiming boxing titles to serving time in prison. While Tyson spent three years in a cell, he leaned on two public figures to help save him.
Mike Tyson jumping back into the ring
The 54-year-old Mike Tyson is coming out of retirement and getting back into the ring in November. Tyson will be fighting against another retired former champion, 51-year-old Roy Jones Jr. The exhibition match was originally scheduled for Sept. 12, but has been pushed back to Nov. 28, 2020, to spruce up the Thanksgiving Day weekend.
"Changing the date to November 28th will give more people the opportunity to see the biggest comeback in boxing history," Tyson said in a statement. "This temporary inconvenience will last longer than Roy Jones Jr. He better be ready, I'm coming full force."
Jones Jr. said he's ready to go. He was one of the boxing greats during his prime, winning four world titles in four different weight classes. "I'm ready and I stay ready, November 28th is gonna be epic," Jones said.
Tyson spent nearly three years in prison
In March of 1992, Mike Tyson was convicted of rape and sentenced to 10 years in prison. According to The New York Times, the judge suspended the last four years of his sentence and he was set to serve no more than six months. Tyson was released after serving three years and six weeks of his sentence.
Nine months before his release, Tyson attempted to have his sentence reduced, according to The New York Times. Tyson told the judge he was a changed man. "I was young, I was arrogant, I didn't treat people correctly," he said. "I've changed."
After his prison release, Tyson resumed his boxing career, but he was never the same. Although he cruised in his first match against Peter McNeeley after his release to improve his overall record to 42-1, he struggled after that. Tyson had 15 fights after the McNeeley bout and went 8-5 win a pair of no contests.
Tyson names two people who had 'hypnotic effect' on him in prison
During the latest episode of the podcast "Hotboxin' With Mike Tyson," well-known sportscaster Jim Gray was the guest. As the episode went on, it was Gray taking over and asking Tyson the questions. One of the questions revolved around Tyson's many tattoos. Gray asked, "Why do you have a tattoo of Days of Grace with Arthur Ashe and Chairman Mao (Zedong, the former Chairman of the People's Republic of China?"
"I'm just very fascinated with both of them," Tyson said. "I think they are awesome individuals. "When I was in prison, it was almost like a hypnotic effect they had on me in how to better myself and strengthen myself for revenge against myself.
Gray then asked what it was Tyson learned from them. "I learned that we are all going to make mistakes in life, but when we make those mistakes, we allow those mistakes to become a blueprint to a bigger part of our success."