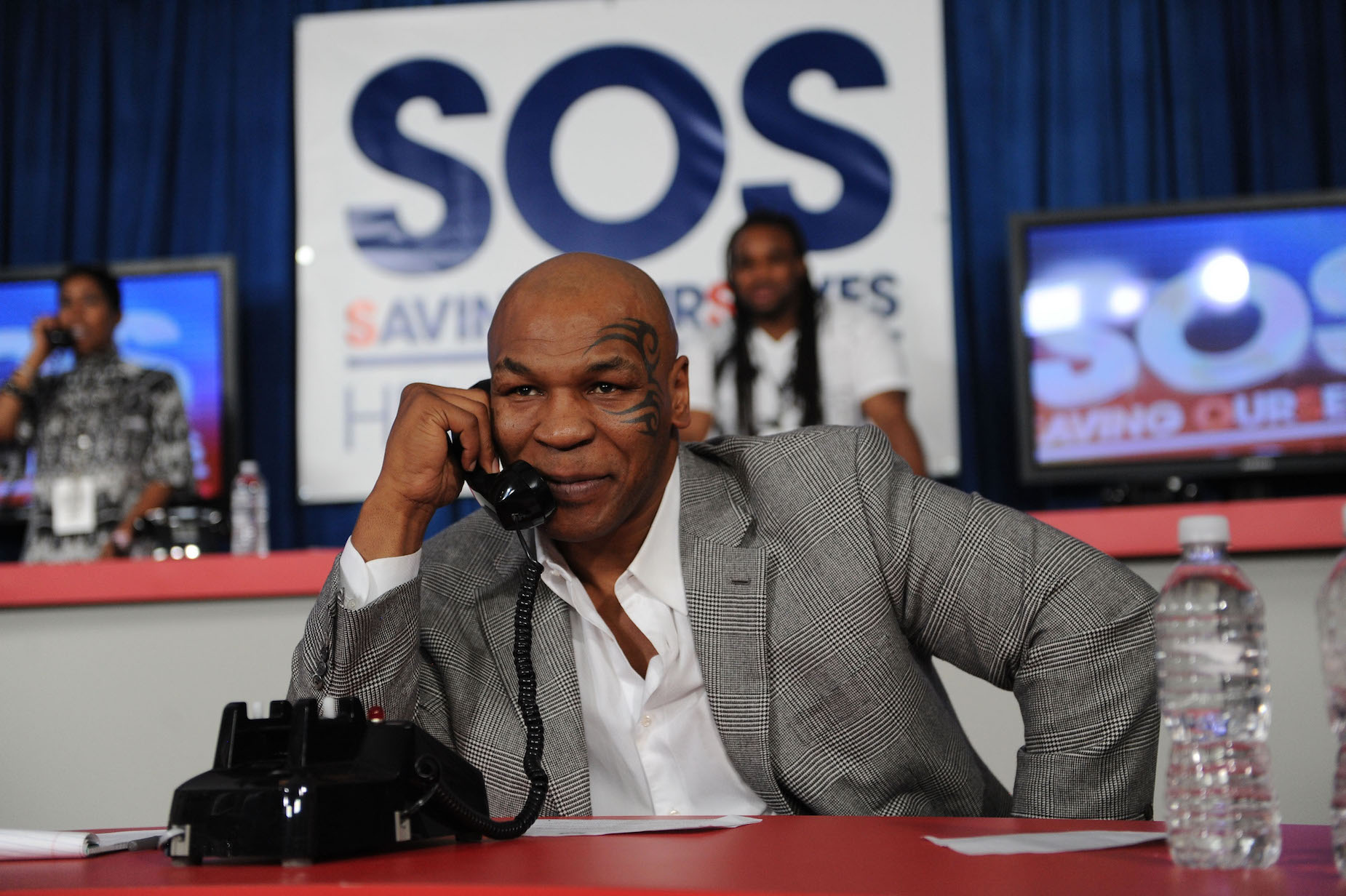 Mike Tyson Went To Extreme Lengths, Including 'Getting a Santeria Priest' in an Attempt To Avoid Prison
While Mike Tyson was an unstoppable force in the ring, he once went to extreme lengths and hired a Santeria priest in an attempt to avoid jail time.
Whether you know him from his time in the ring or his more recent forays into popular culture, virtually everyone has heard of Mike Tyson. For better or worse, the former heavyweight champ is a colorful character. Those unique choices even extended beyond the ring and into the legal sphere.
In 1992, Tyson was convicted of rape. Before his sentencing, though, Iron Mike went to some extreme lengths, including "getting a Santeria priest," in an attempt to avoid jail time.
Mike Tyson's iconic boxing career
These days, you're more likely to find Mike Tyson in front of a camera or microphone than in the boxing ring. During his prime, though, Iron Mike lived up to his title of 'the baddest man on the planet.'
Although he fought as a kid in Brooklyn, Tyson's first exposure to the sweet science came at the Tyron School for Boys. There, he crossed paths with Bobby Stewart, a former boxer working as a counselor. The veteran fighter recognized Mike's potential; he introduced the teenager to Cus D'Amato.
Working with the veteran trainer, Tyson developed into a legitimate fighter; while he always had plenty of punching power, D'Amato, improved Iron Mike's defensive technique. With that combined skillset, the world was his oyster.
Tyson claimed two Junior Olympic gold medals then, in 1985, entered the professional ranks. In the blink of an eye, Iron Mike became the most fearsome fighter around; while things eventually collapsed in dramatic fashion, he still piled up 44 knock-outs, made millions of dollars, and towered over the heavyweight landscape.
A lifetime of legal issues
While Mike Tyson came to dominate the boxing landscape, that isn't the entirety of his story. Over the years, the boxer had plenty of run-ins with the law.
According to Rob Tannenbaum of Rolling Stone, Tyson had been arrested 38 times by the time he turned 13. While most kids were going to school and playing sports, "he found his identity by robbing houses, beating people up, and doing drugs." Those issues eventually landed him in Tyron, where he learned to box and started down the road to stardom.
As a celebrity, though, Tyson didn't become a model citizen. A partial rap sheet from the CBC details everything from illegal drag racing to hitting a parking lot attendant.
As spelled out by the New York Times, Tyson also faced rape charges in 1991. "Former heavyweight boxing champion Mike Tyson has been accused of raping a woman at an Indianapolis hotel during a visit to the city last week, authorities in that city said yesterday," the report read. "A woman reported she was sexually assaulted by the 25-year-old fighter on July 19, Indianapolis police spokesman Andrew Stoner said."
Mike Tyson went to some extreme lengths to avoid jail time
After the ensuing trial, Tyson was found guilty. Ahead of the sentencing, however, he went to some extreme lengths to try and avoid jail time.
"Calvin, my close friend from Chicago, told me about some hoodoo woman who could cast a spell to keep me out of jail," Tyson explained in his book, Undisputed Truth. The spell, however, required Iron Mike to urinate in a jar, place five $100 bills inside, let it sit for three days, then allow the woman to pray over it.
Tyson ultimately decided he wasn't interested. "I had a reputation for throwing around money but that was too much even for me," he wrote.
After passing on a "voodoo guy" who "wanted [Tyson] to wash in some weird oil and pray and drink some special water"—he declined because he preferred to drink Hennessy and didn't want to water it down—the boxer ultimately "settled on getting a Santeria priest."
"We went to the courthouse one night with a pigeon and an egg," Tyson recounted. "I dropped the egg on the ground as the bird was released and I yelled, 'We're free!' A few days later, I put on my gray pin-striped suit and went to court."
Needless to say, those methods didn't work. Mike Tyson was sentenced to 10 years in prison, which was later reduced to six years behind bars. As documented by the New York Times, he served three years and six weeks at the Indiana Youth Center before leaving on probation.