Mike Tyson's Lone Positive as a Child Was Getting Free Lunch
There's no debating Mike Tyson had a rough childhood. He spent plenty of time at a juvenile detention center after many criminal acts. That childhood, however, helped develop him into the heavyweight boxing champion of the world. When pressed about the positives in his younger days, Tyson could only come up with one, and that was getting free lunch.
Mike Tyson was arrested numerous times before becoming a teen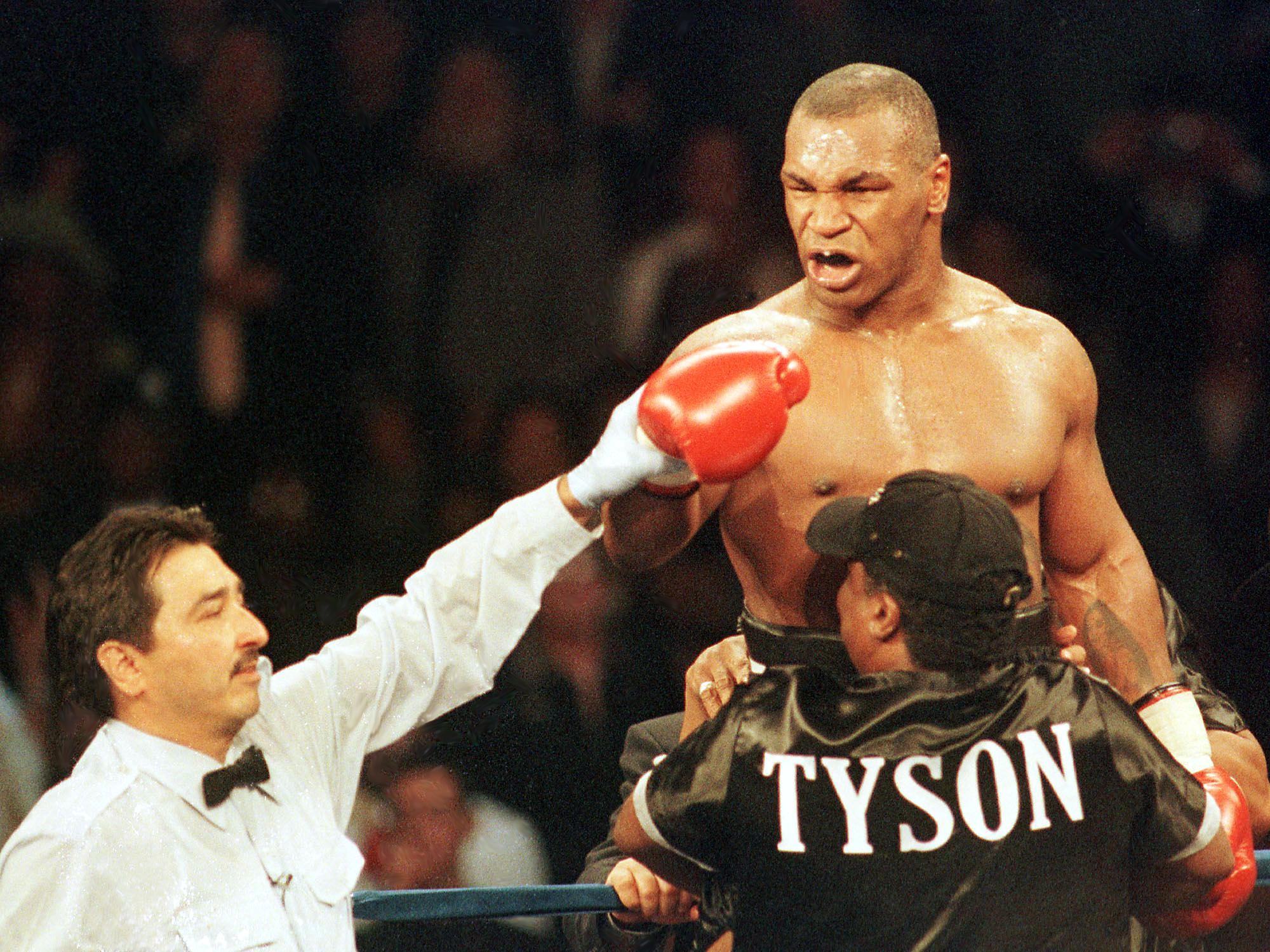 Mike Tyson said he never wanted to let his mother down. She was the one who was always there to bail him out when he was in trouble. Tyson grew up in the Brownsville section of Brooklyn, New York, where the crime rate was extremely high. He did his part to help raise that crime rate.
"I didn't want to let my mother down," he said on the IMPAULSIVE podcast with Logan Paul back in December. "My mother really did a lot. Always going to police stations to get my a** out. She would beat my a** so bad, in front of the police. I've been arrested 40 times before I was 12. My mother was so humble and proud and I was arrogant."
Tyson rattled off the things he used to do that would get him arrested at 12 years old. "Burglaries, pick-pocketing, snatching jewelry," he said. "One-punch knockout and then go in their pocket, robbery." Tyson wound up spending the better part of his youth at the Tryon School for Boys, a juvenile detention center.
Tyson's mother died when he was 16
Mike Tyson spent a lot of time at the Tryon School for Boys, a juvenile detention center in Johnstown, New York. It was there when he learned how to box. A man named Bobby Stewart, who was a counselor at the school and a former boxer, took Tyson under his wing and showed him how to box.
Stewart eventually introduced Tyson to legendary boxing trainer Cus D'Amato. When Tyson was 16 years old, his mother died. Tyson's mother had been raising him on her own after the man Tyson had considered his father, Jimmy Kirkpatrick abandoned the Tyson family.
When Tyson's mother died, D'Amato took care of Tyson and became his legal guardian. D'Amato helped mold Tyson into the boxer that turned into the youngest heavyweight boxer of all time at 20 years old. Tyson went on to become the most feared boxer of his time and finished his pro career with a record of 50-6 with 44 knockouts.
Tyson struggled to find the positives in his childhood
During an interview with billionaire Alki David on Mike Tyson's podcast Hotboxin' With Mike Tyson, the exchange got a little heated. The conversation was about Tyson's childhood, and Tyson was bringing up all the bad events that took place. David told him to find the positives.
"So you talk about all the negative sh*t, right?" David said to Tyson. "What about the positive sh*t?"
"I don't know that," Tyson responded. "Tell me something that…" Tyson was interrupted by David, who said it was bull that nothing positive happened.
Tyson lashed out with an expletive-filled rant, "F*ck you, you don't know me," he said. "I went to free lunch. They fed us. I'm sorry. That's the way it was. It was just normal to me."