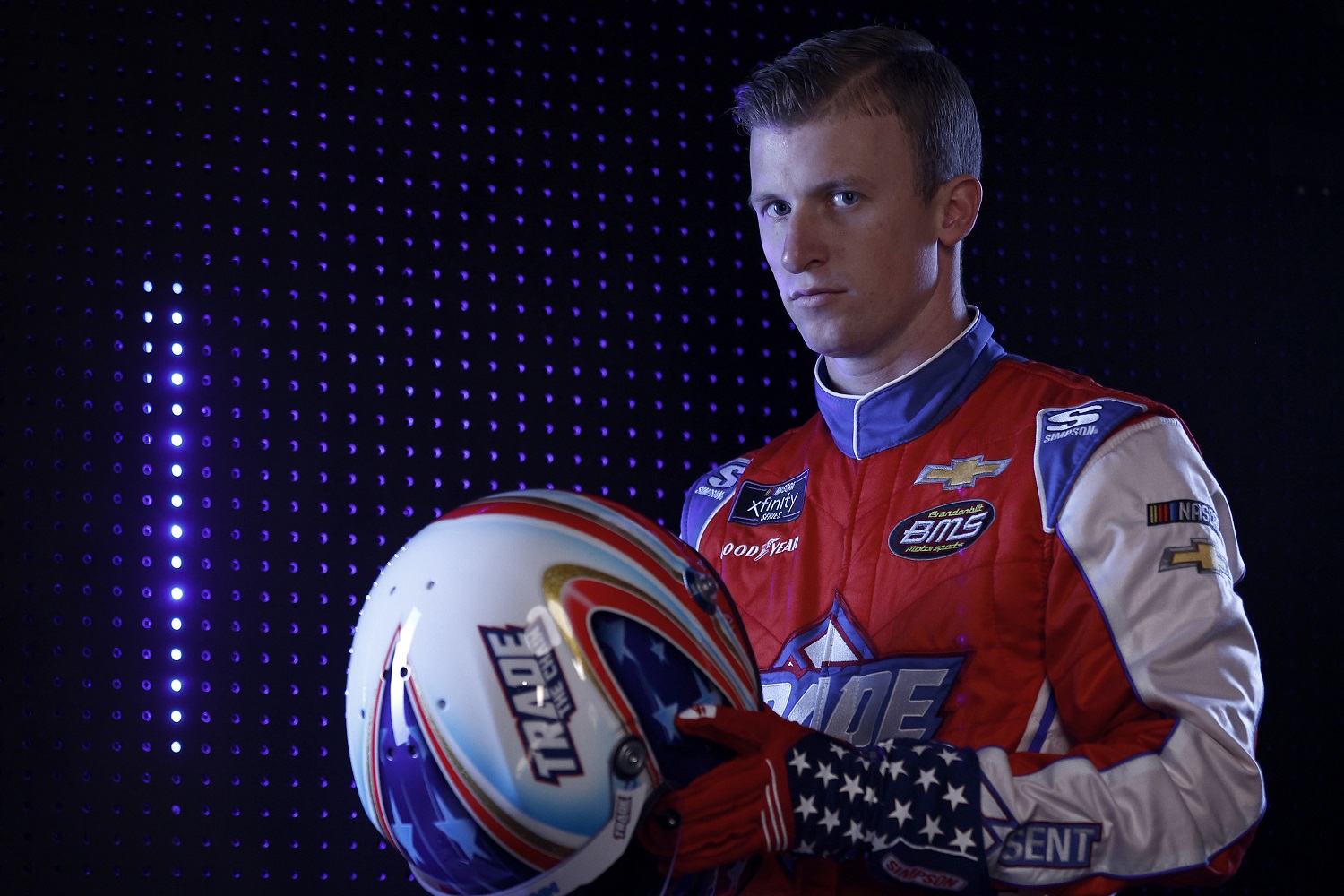 NASCAR Driver Brandon Brown's Cryptocurrency Lifeline Has an Anvil Attached to It and Got Thrown off a Cliff
Xfinity Series driver Brandon Brown made headlines with a controversial deal with LGBcoin. Now, the value of the cryptocurrency is plummeting.
Remember that eight-figure deal Xfinity Series driver Brandon Brown signed with a cryptocurrency company after NASCAR nuked their original car sponsorship arrangement? Well, Brown should check his bank account to see how many of those digits still reside to the left of the decimal point.
A Feb. 11 report by an online news site characterized the MAGA-themed coin as a "total dumpster fire." Recent developments raise questions about the long-term viability of Brown's team as NASCAR heads to Daytona for the first points races of the season.
Brandon Brown became an accidental sports celebrity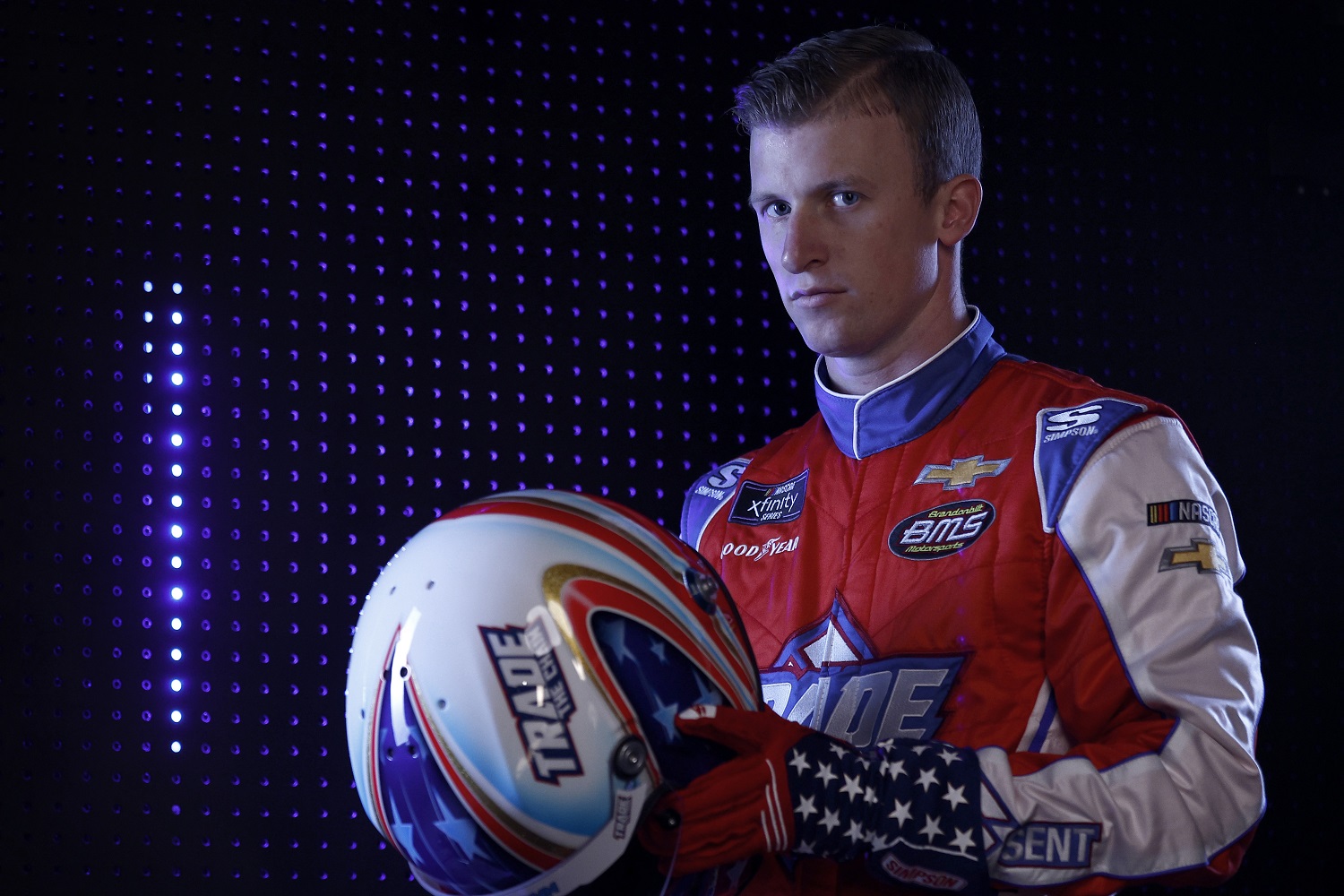 Little did Brandon Brown know that breaking through for his first NASCAR Xfinity Series victory at Talladega on Oct. 2, 2021, would create so much strife. The win should have meant at least a brief financial cushion for a family-run racing team that sometimes didn't know from one month to the next whether it would be able to continue competing.
The Talladega victory should have meant appreciable financial support for a driver who has finished 15th, 11th, and 16th in points in his three full years in the Infinity Series. Instead, it triggered fresh national political bickering.
An NBC reporter interpreted a fan chant in the grandstand as "Let's go Brandon." In fact, it was R-rated commentary aimed at President Joe Biden and ahead of the curve of his approval rating in polling the past four months.
Potential sponsors understandably worried about the ramifications. They didn't want to associate with an anti-Biden driver (an inaccurate perception) even though Brown had done nothing to stir up controversy. His mistake was winning in front of a crowd that was going to chant no matter what.
Late last year, after his continued insistence that he did not want to be political, Brown accepted a sponsorship from LGBcoin, a cryptocurrency company that, despite denials to the contrary, had a political leaning.
Brandon Brown's purported multimillion deal is looking shaky
There were several twists to the Brandon Brown/Let's go Brandon story, but the biggest headlines came when NASCAR, citing an aversion to political statements on cars, told the driver's team that LGBcoin could not be a sponsor in the upcoming season.
Brown and the company restructured their deal into an endorsement contract rather than a sponsorship. LGBcoin could still benefit from Brown's NASCAR fame, just not directly. Brown signed a two-year deal worth a reported "eight figures," according to Fox Business. He reportedly accepted a combination of cash and coin.
Unfortunately for Brown, the cryptocurrency portion of the arrangement now looks nearly worthless. The Daily Beast reported over the weekend that LGBcoin has lost 99.5% of its value in the past month. The trading sites CoinMarketCap and Crypto calculated the total value of the 330 trillion (yes, trillion) coins at just a few thousand dollars.
"They tried to monetize on a viral outbreak," said David Silver, an attorney who represents cryptocurrency investors. "Did it surprise me when something without value shot up and immediately shot down upon release? No."
From more than $6.5 million to less than $10,000
According to The Daily Beast, LGBcoin's peak liquidity pool value, an important metric, was more than $6.5 million at the start of the year. Now, it's under $10,000. Even long-established cryptocurrencies are vulnerable to vast fluctuations. Bitcoin has traded for as little as $28,893 and as much as $68,789 in the past year, closing Tuesday at $44,252.
An individual investor could go bankrupt in a hurry by buying high and selling low. But when the viability of a business is dependent upon a coin's value, that can be a problem. If Brandonbilt Motorsports is relying on Brandon Brown's cryptocurrency money for a meaningful part of its operating budget in lieu of sponsorships that didn't get renewed or negotiated, then the No. 68 Chevy could make it to the finish line of a bunch of races now but not finish the season later.
If that's the case, then the team and its driver must accept some of the blame for how they handled budgeting and sponsor relationships. But the whole issue still comes down to a few seconds of awful reporting by NBC in the aftermath of that victory at Talladega.
Like Sportscasting on Facebook. Follow us on Twitter @sportscasting19.