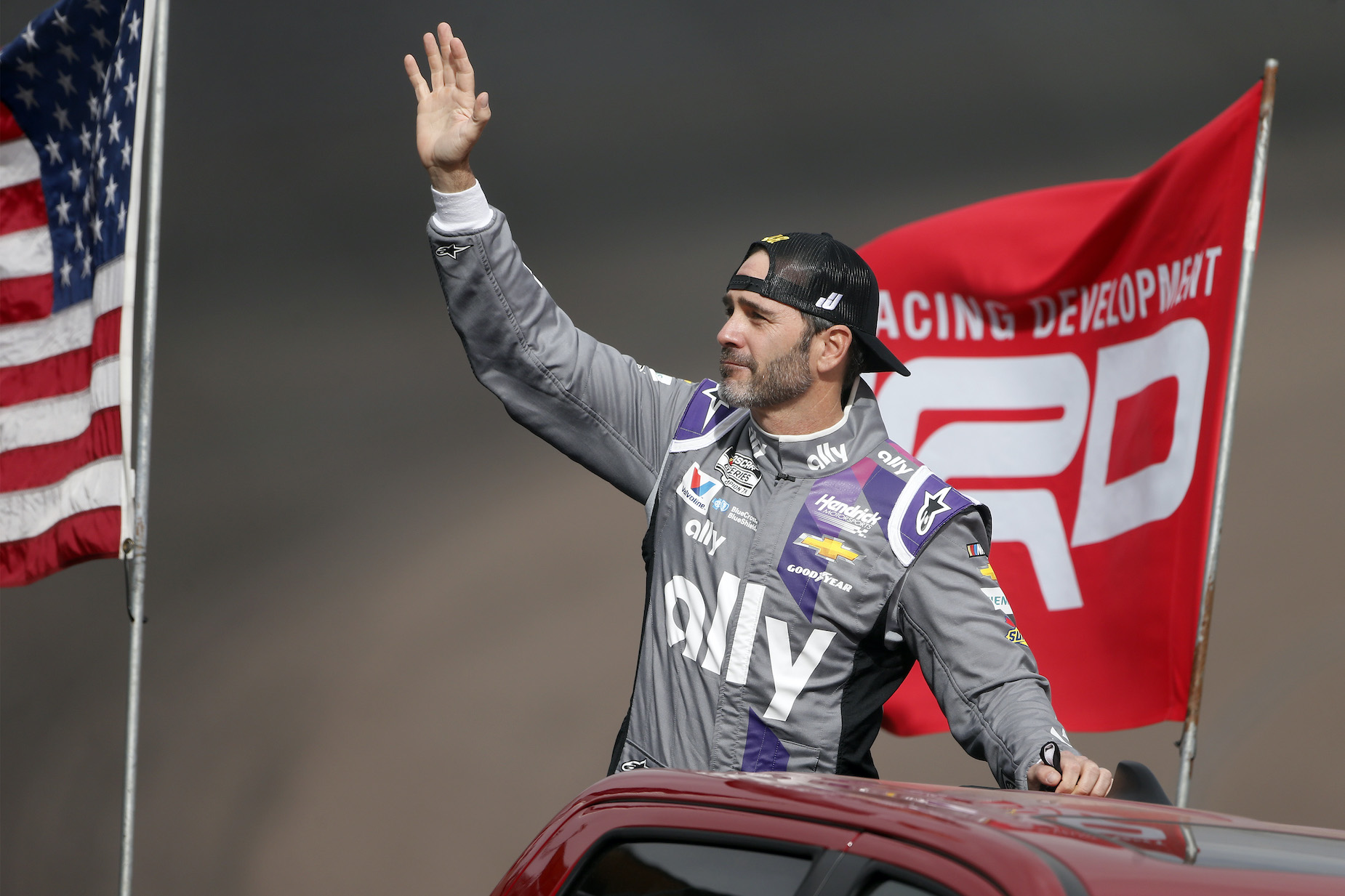 NASCAR Star Jimmie Johnson Once Impressed in a Prestigious Race Without Breaking 10 Miles per Hour
While Jimmie Johnson turned in quite the NASCAR career, he can also thrive at much lower speeds.
Part of the appeal of motorsports is the sheer speed of it. While races may go for hours, every vehicle moves at a break-neck pace; that forces everyone to be on the ball, as a single error can ruin the entire race. During his time on the NASCAR circuit, Jimmie Johnson had no problem handling that pressure.
While he proved to be a legitimate Cup Series star, Jimmie Johnson can also thrive at lower speeds. In fact, he once made headlines with an impressive performance in a prestigious race without breaking 10 miles per hour.
Jimmie Johnson was one of NASCAR's greatest winners
Whether it's fair or not, professional athletes are judged on the number of championships they win. By that standard, Jimmie Johnson is one of the best drivers to ever climb behind the wheel of a stock car.
After cutting his teeth in off-road racing—we'll talk more about that later—Johnson joined the American Speed Association in 1997. He made his NASCAR debut the following year, taking part in the Busch Series; in 2002, he stepped up to the Cup Series, signing on with Hendrick Motorsports.
Johnson took to NASCAR quite naturally, finishing second in the overall points standings in both 2003 and 2004. After the legendary 'milk and cookies meeting,' though, he took things to the next level.
At the end of the 2006 Cup Series campaign, Johnson claimed his first Cup Series crowns; that victory was the first of five-straight titles. He'd then add two more before retiring, tying Richard Petty and Dale Earnhardt's all-time record with seven.
Finding success in other motorsports, too
Although winning seven Cup Series titles is an impressive show of skill, Jimmie Johnson's motorsports career doesn't stop there. Over the course of his life, the driver has taken control of quite a variety of vehicles.
As a boy, Johnson raced motorcycles; his winning ways actually started there, thanks to a modified bike that allowed him to race with a broken leg. He then moved into off-road racing where, despite some bumps in the road, he won plenty of silverware.
Jimmie Johnson, however, wasn't done there. During the 2008 season, he took part in a single Truck Series race; he'll also be climbing behind the wheel for Chip Ganassi Racing in 2021 and 2022 as a part-time IndyCar driver.
Jimmie Johnson also turned in an impressive performance at the 2019 Boston Marathon
No matter which motorsport Jimmie Johnson has competed in, he's usually been moving at pretty high speed. In 2019, however, he turned in an impressive performance without breaking 10 miles per hour.
While NASCAR drivers may not seem like conventional athletes, Johnson smashes through any potential stereotypes. He's a runner and triathlete and, in 2019, put himself to the test by entering into the Boston Marathon.
As documented on NASCAR.com, Johnson reached the finish line in an unofficial time of 3 hours, 9 minutes, and 7 seconds. That put him in 4,155th place overall, 3,746th among males, and 641st in his age bracket.
To make things even more impressive, Johnson competed in a NASCAR race two days before the marathon. He finished 12th, then headed up to Boston to run.
While he didn't break 10 miles per hour during the Boston Marathon—his average speed worked out to roughly  8.24 mph—Jimmie Johnson still turned in quite a performance that day. No matter the type of race, it seems like you can count on the NASCAR veteran to take care of business.