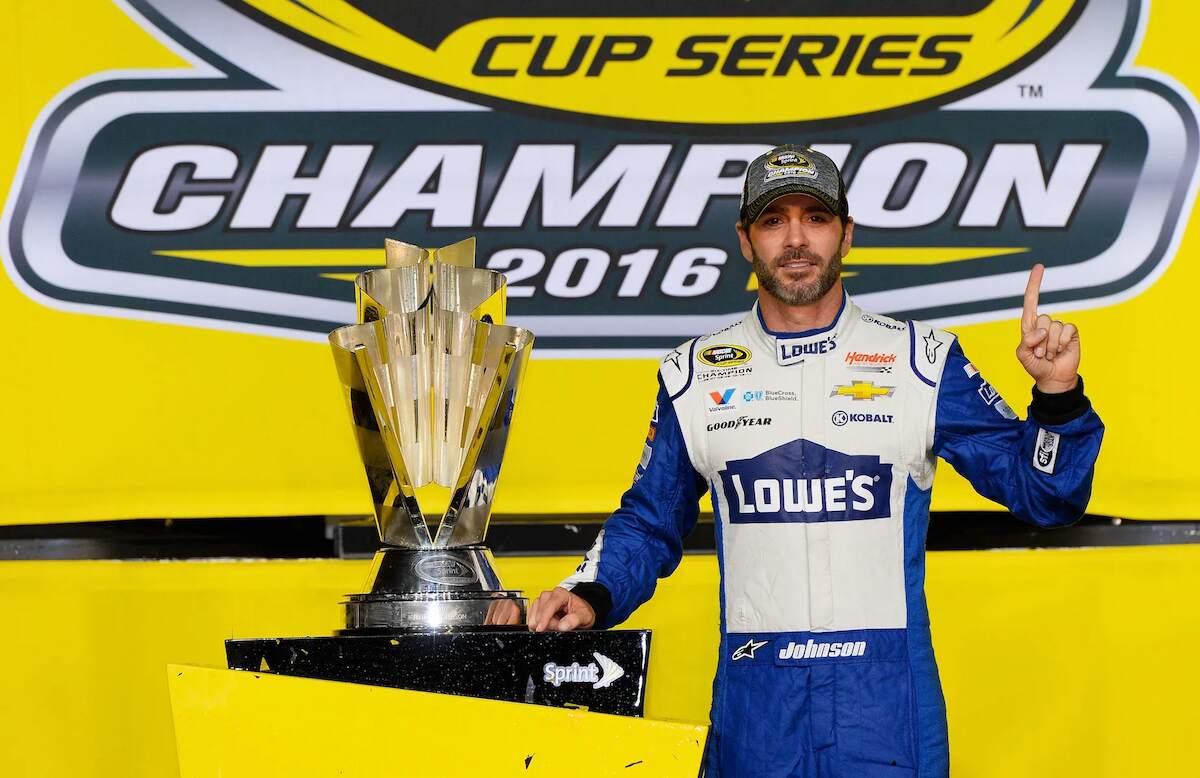 Jimmie Johnson Owes His Legendary NASCAR Success to a Childish Meeting Over '2 Mickey Mouse Plates, a Gallon of Milk, and a Bunch of Cookies'
Jimmie Johnson's incredible NASCAR success started with a childish meeting over milk and cookies.
In the world of motorsports, few names are bigger than Jimmie Johnson. During his time on the NASCAR circuit, the California native captured an incredible seven Cup Series championships. During the early days of his career, however, he needed to learn a bit about both maturity and what it took to succeed at the highest level.
Thankfully for Jimmie Johnson, though, that's when Rick Hendrick stepped in. One fateful meeting, combined with some milk and cookies, helped get the young driver on the path to success.
Jimmie Johnson's road to NASCAR success
When you hear the name Jimmie Johnson, you probably imagine him dominating the stock car racing scene. In the early days of his career, however, he competed in a different arena.
As a child, Johnson proved to be a capable motorcycle racer, even powering through a broken leg to claim a championship. He eventually moved into off-road racing, where, despite some bumps in the road, he kept up his winning ways.
In 1997, Johnson decided to start driving on asphalt and joined the American Speed Association. The following year, he made his NASCAR debut in the Busch Series. He then stepped up to the Cup Series in 2002, climbing behind the wheel for Hendrick Motorsports.
A fateful meeting over milk and cookies
During his first few years on the Cup Series circuit, Jimmie Johnson put together some impressive campaigns but couldn't make it over the hump. Those promising results, however, didn't mean that everything was perfect behind the scenes.
"When I look back on really '04 through '06 and being crowned the champion, that's probably one of the toughest stretches of time that I've experienced," Johnson explained in a video shared on Ally Racing's Twitter account. In addition to missing out on two chances to claim the Cup Series title in 2004 and 2005, the driver was also butting heads with crew chief Chad Knaus.
With things getting close to boiling over, Rick Hendricks intervened. His plan for clearing the air, however, wasn't exactly conventional.
"At the end of '05, in the offseason, Rick sat Chad and I down," Johnson continued, "And literally pulled out two Mickey Mouse plates, a gallon of milk, and a bunch of cookies and made us dunk our cookies in the milk and eat off of our Mickey Mouse plates and insisted that we did that. And we're like, 'What is going on here?' And he delivered his point of, 'If you're gonna act like kids, I'm gonna treat you like kids."
The 'milk and cookies meeting' changed the course of Jimmie Johnson's NASCAR career
In isolation, Rick Hendrick's tactics can sound a bit silly. In reality, however, that milk and cookies meeting changed the course of Jimmie Johnson's NASCAR career.
"That was a very important part for us to recognize our behavior," Johnson explained. "We needed to change. I had stuff to do on my side. Chad did on his. We spent the offseason really drilling down on that."
While an early tech inspection violation took Knaus out of action for the start of the 2006 season, Johnson got off to a hot start. When the season concluded, he had finally made it over the hump and claimed a Cup Series championship. He and his crew chief would go on to win six more titles, forming one of the best partnerships in NASCAR history.
And to think, it all started with a gallon of milk and some Mickey Mouse plates of cookies.