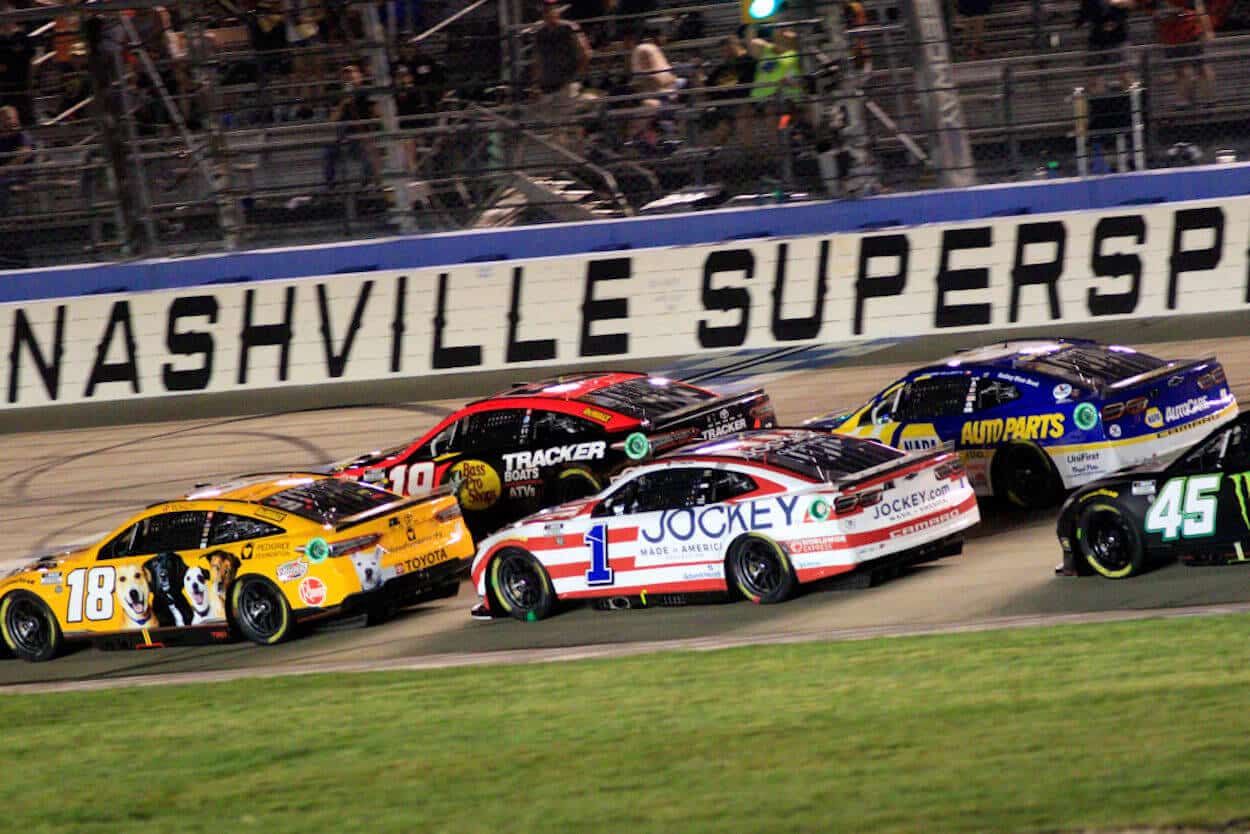 NASCAR Moving the Nashville Cup Race From Sunday Evening to Sunday Night Was a No-Brainer
While NASCAR has largely moved away from night races, Nashville SuperSpeedway is bucking that trend. And it's for the best.
Remember a decade or so ago when it seemed like every NASCAR Cup Series track that didn't have lights was adding them and planning to host a night race in the near future?
Yeah, those days have long since passed. For reasons that NASCAR has never really bothered explaining, the sport has largely moved away from night races in the last few years in favor of more traditional Sunday afternoon time slots for its premier division.
Thankfully, one of the tracks that's bucking this trend is Nashville Superspeedway — the 1.33-mile concrete oval set to host Sunday's Ally 400.
For the first time in its three years as a Cup Series venue, Nashville is scheduled to turn the lights on for a Cup race and will do so when NASCAR's premier division convenes in the Music City this weekend.
Rest assured that the later start time — which track officials announced last November — is by design. And in just a moment, we'll explore some reasons why making this weekend's event a night race was quite simply a no-brainer.
Pushing Nashville's start time back is doing everyone a favor
The green flag for Sunday's NASCAR Cup Series race in Lebanon, Tennessee, just outside of Nashville, is scheduled to wave shortly after 7 p.m. EST. That's roughly two hours later than this event's scheduled 2022 start time, and the change should make the summertime temperatures considerably more manageable for both fans and competitors alike.
During last year's Cup Series weekend at Nashville, temperatures pushed into the mid-90s and created quite the sweltering environment for all in attendance. However, the temps dipped considerably in the Cup Series race — won by Chase Elliott — which was supposed to occur in the day but ended up being postponed to night due to persistent rain showers.
This Sunday's forecast calls for average daytime temperatures of 90 degrees in Lebanon, with a substantial drop-off to 69 degrees at night. While the entire race won't be run in the dark, at least half of it will — which will undoubtedly make conditions much more tolerable and lower the risk of those in attendance becoming overheated or dehydrated.
More forgiving weather isn't the only reason we should all be thankful for this weekend's revised schedule, however.
With Nashville now a night race, more NASCAR tracks will hopefully turn the lights on
Last season, NASCAR slated only four of 36 points races on the Cup Series calendar to take place primarily after the sun went down.
These races were the late summer race at Daytona, the fall night race at Bristol, the Coca-Cola 600 at Charlotte, and the Southern 500 at Darlington.
This year, NASCAR made the Bristol dirt race (the one in the spring) a nighttime affair and did the same for the July Atlanta race and Sunday's event at Nashville.
While seven night races aren't that many in the grand scheme of things, it's good to see NASCAR adding a few more races under the stars. And that's not just because night racing breeds cooler temperatures.
It's also because night racing, generally speaking, is more exciting than day racing. Not only do races held after the sun goes down tend to make drivers more aggressive on the track and prone to retaliate if they believe they've been wrongly drilled in the bumper or the door, but there's just something pretty cool about seeing sparks fly — both literally and figuratively.
Hopefully, it's just a matter of time before tracks that once hosted night races — like Richmond, Martinsville, and Texas — go back to prime time. But in the meantime, I'm glad that NASCAR and Nashville have seen the light about having this Sunday's race go down in the dark.